Putin is being forced to face investigation and jail for calling the conflict a "war."
Russian President Vladimir Putin faces investigation after explicitly describing his "military special operation" in Ukraine as a "war".
The Russian president on Thursday publicly described the conflict in Ukraine as a war for the first time since he ordered a full-scale invasion nearly a decade ago.
Putin and other Kremlin officials had previously avoided using the word while insisting the "special military operation" was necessary to protect Russians living in Donetsk and Luhansk — two of the four Ukrainian regions that Putin targets later wanted to annex for Russia.
Shortly after the start of the war in Ukraine, Russia criminalized media that described the conflict as a "war" after passing a law against the "spreading of fakes" about the Russian military in early March.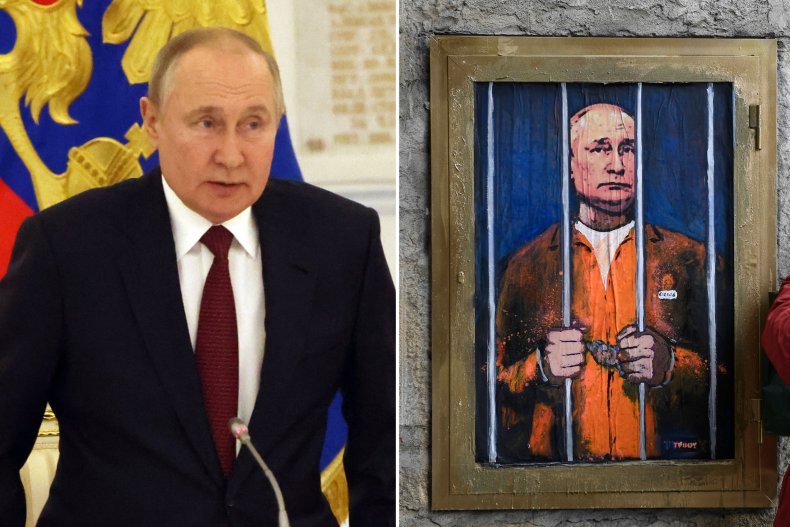 A number of Russian opponents of the war have been prosecuted and sentenced to prison for calling the "special military operation" a war or for speaking critically of the conflict. Some urged Putin to meet the same standards soon after his statement on Thursday.
Nikita Yuferev, a St. Petersburg lawmaker who is in exile for his anti-war views, on Thursday sent a letter to Russia's attorney general alleging that Putin was breaking the law by "spreading information that Russia started a war Has".
Yuferev argued that Putin should be punished with fines and "prison terms of five to ten years" and called on prosecutors to investigate the Russian president and enforce the "Law on Spreading Fakes About the Actions of the Russian Army."
"War was not declared," Yuferev said in one tweet when sharing the letter. "Several thousand people have already been convicted for such words about the war. I have appealed to the authorities to involve Putin for spreading fakes about the army."
His Russian exile colleague Georgy Alburov, an associate of the imprisoned Putin opposition leader Alexei Navalny, also called on Thursday for Putin's imprisonment because of the statements. Alburov argued that Putin should get the same treatment as his critic Alexei Gorinov, who was prosecuted and jailed last summer for "spreading fakes."
"Alexei Gorinov was sentenced to 7 years for calling the war a war at a rally," Alburov said tweeted, based on an English translation. "Vladimir Putin today also publicly referred to the war as a war at work. So either let Gorinov out or put Putin in prison for 7 years."
In addition to criticism and demands for equal treatment from Russians opposed to the war, Putin also faces difficulties in satisfying Russians who are strongly in favor of invading Ukraine.
After the loss of around 100,000 soldiers in the conflict, backlash to military backlash has forced the Russian president recently to "intensify efforts to make peace with the critical pro-war nationalist community," the Institute for War Studies said on Wednesday.
news week has reached out to the Russian Defense Ministry for comment.
https://www.newsweek.com/russia-president-vladimir-putin-faces-calls-investigated-jailed-calling-ukraine-conflict-war-1769190 Putin is being forced to face investigation and jail for calling the conflict a "war."