Putin knows he made a "mistake" with Ukraine, will never admit it: Stavridis
Russian President Vladimir Putin "realizes that he made a mistake in invading Ukraine," former NATO allied commander-in-chief James Stavridis said on Sunday during The Cats Roundtable radio show on WABC 770 AM.
"Did Putin realize he made a mistake, or does he still think he did the right thing?" host John Catsimatidis asked the former NATO leader.
"I think in the dark, quiet hours at two in the morning when he wakes up he realizes he made a mistake. Publicly he will never admit that. Never. He will continue to perpetuate this fiction Ukraine is being run by 'Neo-Nazis "Reigns. Ridiculous, obviously," Stavridis replied.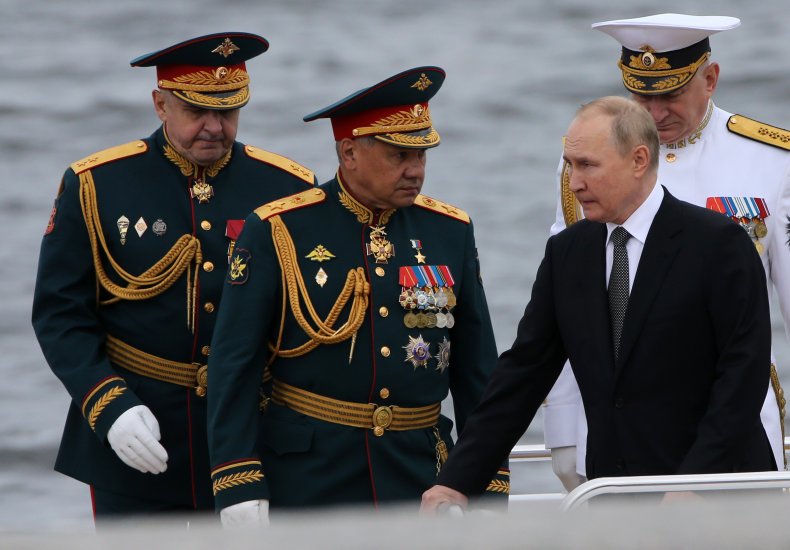 "Putin will claim that somehow NATO cornered him in this conflict. Everything that happened is Vladimir Putin's responsibility, including the invasion, the sanctions that followed, the military repulsion. I think he knows in his heart he'll never admit it publicly," he continued.
Stavridis was also asked when he thinks the war will end. He said both sides were at least six months away from finding a solution. However, he said what "drives us to negotiate" is the "difficulties Putin faces while eloping troops" and the destruction of Russian military equipment.
"He burns through his skills. I would say in six months he will be in very serious distress," the former NATO leader said of Putin. "On the other side of the battlefield, Zelensky must recognize that the West's patience and the continued flow of money and arms are not infinite. I think these two factors will ultimately lead the sides to come to some sort of negotiation. ."
news week has asked the Russian Foreign Ministry for comment.
In an interview last month, Stavridis said he believes the war between Russia and Ukraine will likely end in four to six months and have a similar ending to the Korean War.
"I see this heading towards an end to the Korean War, that is, a truce, a militarized zone between the two sides, ongoing hostilities, some kind of frozen conflict. Look for it in a four to six month period. Neither side can sustain it much beyond that," he said at the time.
In an interview last week, Kurt Volker, a distinguished fellow at the Center for European Policy Analysis (CEPA) and former US special envoy for the Ukraine negotiations, said he believes Russia is in a "weak position" in the war and is suffering military casualties and political isolation.
https://www.newsweek.com/putin-knows-he-made-mistake-ukraine-will-never-admit-it-stavridis-1733490 Putin knows he made a "mistake" with Ukraine, will never admit it: Stavridis