Putin reveals how many Russian troops were killed in the counteroffensive
Russian President Vladimir Putin accidentally revealed on Monday how many Russian troops may have been killed since Ukraine began its long-awaited counteroffensive in June.
Putin made the remark in an interview with Chinese media, claiming that Ukraine's losses during its counteroffensive were eight times higher than Russia's.
Ukraine's counteroffensive is now in its fifth month, with particularly heavy clashes occurring along front lines in the Donetsk and Zaporizhzhia regions. However, political strategist Radu Hossu said Russian troops were being "pulverized" in the ongoing battle for Avdiivka, about 90 kilometers (56 miles) south of Bakhmut.
"Since June 4th [Ukraine's counteroffensive] has continued. So far there are no results, there are only big losses [for Ukraine]"Putin told China Media Group in an interview published by Russian state news agency Tass.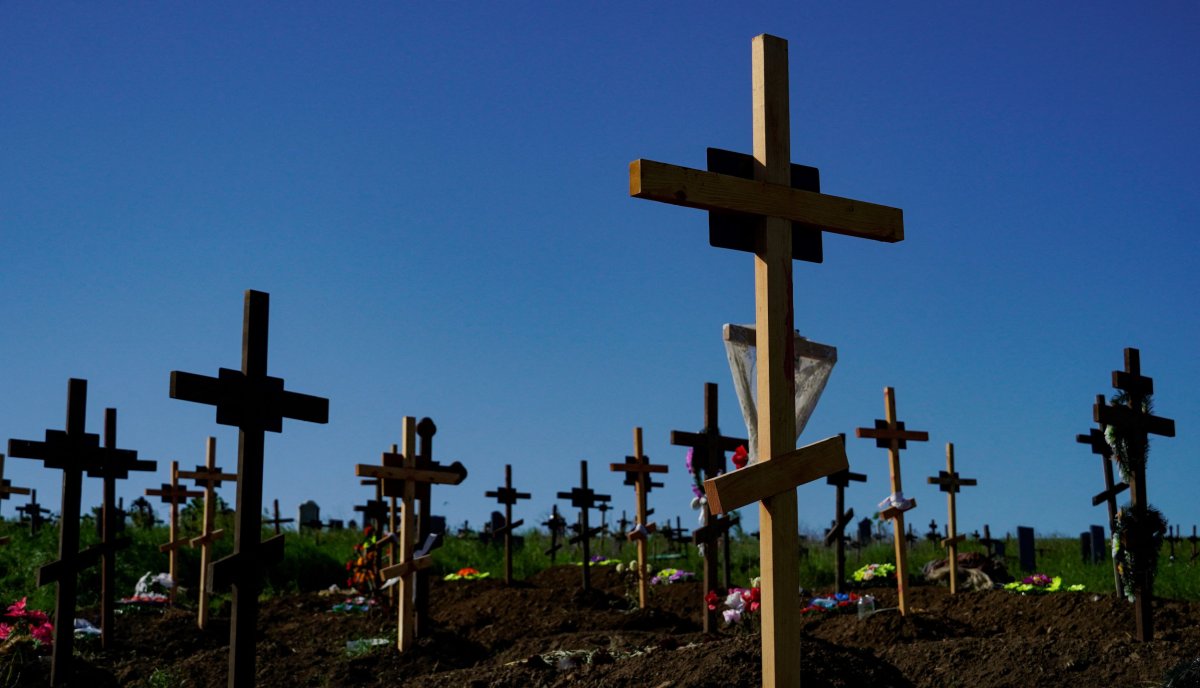 "The losses are simply enormous – about one in eight," Putin said.
On October 5, Putin said that Ukraine lost 90,000 soldiers in its counteroffensive, suggesting that Russian losses exceed 11,000 military personnel.
Newsweek could not independently verify the figures and has emailed the Russian Defense Ministry for comment.
The death toll on both sides continues to rise amid Ukraine's fierce counteroffensive to retake Russian-occupied territories. According to the General Staff of the Armed Forces of Ukraine on Monday, Moscow lost 860 soldiers in the last 24 hours, bringing the total to 288,630.
Estimates of the death toll vary, with Kiev's numbers typically exceeding those of its Western allies.
Russia itself rarely publishes figures on troop losses. In September 2022, Russian Defense Minister Sergei Shoigu said that 5,937 Russian soldiers had been killed in the war in Ukraine since the end of February 2022.
A joint investigation by the BBC's Russian service and independent Russian news channel Mediazona on October 13 has so far identified the names of 34,412 Russian military personnel who have died in the war in Ukraine. It states that the actual number of losses is higher than the figures given in the investigation.
Independent Russian news agency Mozhem Obyasnit analyzed Russia's draft federal budget for 2024 to 2026 and found last week that Russia is providing funds for the families of 102,700 military personnel killed in Ukraine. The figures have not been independently verified Newsweek.
Ukraine also avoids publishing casualty figures for its armed forces. However, Western intelligence estimates suggest they are also significant. In April, a leaked U.S. Defense Intelligence Agency assessment estimated that Kiev suffered 124,500 to 131,000 casualties, including 15,500 to 17,500 dead and 109,000 to 113,500 wounded.
Do you have a tip for a world news story? Newsweek should cover? Do you have a question about the Russia-Ukraine war? Let us know at worldnews@newsweek.com.