Putin should not be allowed to negotiate, Zeit: General retired
The West and the whole world should get used to the idea that Ukraine is winning the war against Russia by fighting on the battlefield and not through negotiations, according to former commanding general of the United States Army Europe Ben Hodges.
Hodges has been very vocal on Twitter, calling on his former boss General Mark Milley for negotiation talks. Hodges tweeted on Sunday: "Why would Chairman Milley or anyone with access to more information than I have been urging Ukraine to negotiate now to 'consolidate their gains'? end this."
Hodges believes Ukraine will win the war "the old-fashioned way" on the battlefield, adding that bargaining pressure comes from people who don't understand Moscow.
On Wednesday, Secretary of Defense Lloyd J. Austin and Milley, the chairman of the Joint Chiefs of Staff, held a press conference to update on the war in Ukraine. Milley reiterated his position for Ukraine to negotiate with Russia, saying: "There could be a lot of activity in winter, but usually tactical operations will slow down a bit due to the weather. President Biden and President Zelenskyi themselves have said there will be a … political solution."
Milley added: "The President of the United States has made it very, very clear to us: It is up to Ukraine to decide how and when or if to negotiate with the Russians and we will continue to support them for as long as it is necessary." "
This is what Anton Gerashchenko, adviser to the Minister of Internal Affairs of Ukraine, said news week on Saturday: "I think negotiations are only possible if there are those who stick to the agreed terms and clear guarantees. Putin's Russia cannot offer them. They are war criminals and pathological liars."
This week, Ukraine faced a major missile attack from Russia as world leaders met at the G20 summit in Bali, Indonesia. NATO leaders responded to the attack by saying: "We condemn the barbaric missile attacks carried out by Russia on Tuesday on Ukrainian cities and civilian infrastructure."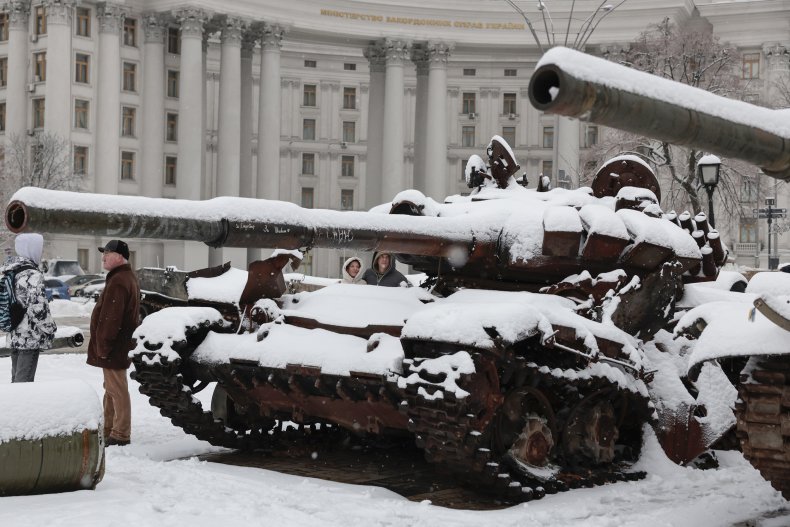 Also on Tuesday, a rocket landed in Przewodówon, Poland, killing two people. The rocket attack is the first incident from the Russian war in Ukraine, which began at the end of February, to directly hit a NATO member. Initial reports from the Associated Press suggested it was a Russian missile, prompting NATO allies to come together. However, President Joe Biden and Polish President Andrzej Duda have since conceded that it was likely a Ukrainian missile fired at an incoming Russian missile.
Taking to Twitter after reports of the incident, Biden said: "I spoke to President Andrzej Duda of Poland to express my deep condolences for the loss of life in eastern Poland. We will remain in close contact to determine appropriate next steps and move forward."
On Friday, the Institute for the Study of War (ISW) reported that Russian Telegram channels are actively discussing a second wave of mobilization by Russian President Vladimir Putin. The ISW referred to chatter on social media noting a draft subpoena received by a St Petersburg resident who was reportedly asked to show up for mobilization in January.
Rajan Menon, director of the Grand Strategy program at Defense Priorities, said news week on Saturday: "The concern that this war will drag on, spiral out of control and perhaps even result in Russia using nuclear weapons is understandable. However, Putin has made it clear that Russia will not withdraw from any of the Ukrainian territories it has occupied."
Menon continued: "Ukraine's leaders are therefore understandably opposed to engaging in negotiations that would amount to partitioning their country – especially as they believe the dynamics on the battlefield now speak in their favour."
https://www.newsweek.com/putin-should-not-allowed-negotiations-time-retired-general-1760859 Putin should not be allowed to negotiate, Zeit: General retired