Putin will not provoke NATO into 'reckless' nuclear rhetoric, Chief says
NATO Secretary General Jens Stoltenberg has reportedly vowed that the defense alliance would not engage in "the same reckless and dangerous nuclear rhetoric" as Russian President Vladimir Putin.
Stoltenberg's comments were caught up with Reuters Editor-in-Chief Alessandra Galloni at the United Nations General Assembly on Wednesday. The NATO chief described Putin's apparent nuclear threat as "dangerous and reckless rhetoric" in a televised address on Wednesday, according to Reuters.
"The only way to end this war is to prove that President Putin will not win on the battlefield. If he realizes that, he needs to sit down and negotiate a reasonable deal with Ukraine," he was quoted as saying by the news agency.
Putin announced on Wednesday that a partial mobilization will take place in Russia to send additional soldiers to fight in Ukraine, where counter-offensives in the southern Kherson region and eastern Kharkiv region have reportedly chopped off Russian soldiers, equipment and Russian-held territory. The Russian president said the order would only apply to Russian citizens who are currently in reserve and those who have served in the army and have "certain military specializations and relevant experience".
He also stated that the mobilization was necessary to "protect the sovereignty, security and territorial integrity of Russia".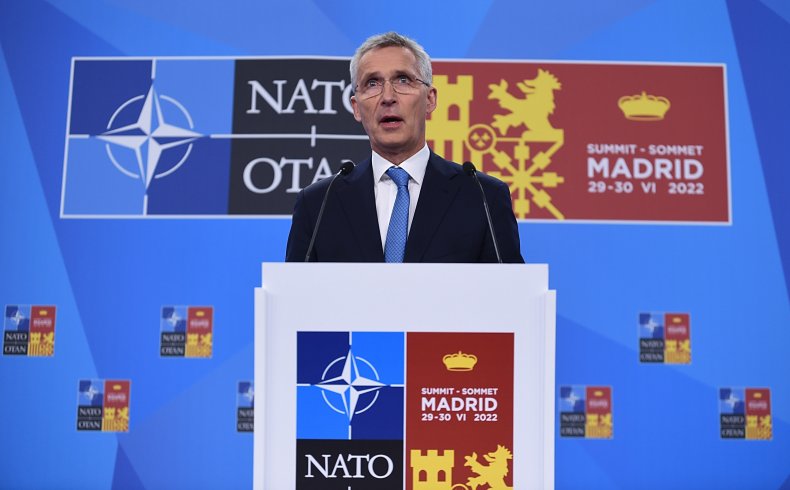 In the same speech, Putin said he was ready to respond to the West's alleged "nuclear blackmail" with his country's own weapons, implying that nuclear strikes might be possible.
He accused high-ranking representatives of the NATO states of discussing the possible use of "weapons of mass destruction – nuclear weapons – against Russia".
While Putin's ongoing invasion has yet to spread beyond Ukraine's borders, fears are mounting that the conflict could spark a wider war between Russia and NATO. Guests and hosts of Russian state television have repeatedly suggested and even encouraged Russian nuclear strikes against NATO countries.
A Russian TV presenter said Russia should have fired a nuclear missile at Britain during Queen Elizabeth II's funeral earlier this week. Another Russian television personality warned in June that continued NATO support for Ukraine in the midst of war would trigger a "massive nuclear strike" that only "mutants" would survive.
Addressing the UN General Assembly on Wednesday, US President Joe Biden criticized Russia for "irresponsible nuclear threats to use nuclear weapons" and stressed that a nuclear war "cannot be won and must never be fought".
news week turned to the Kremlin and NATO for comment.
https://www.newsweek.com/jens-stoltenberg-nato-response-vladimir-putin-nuclear-rhetoric-1745103 Putin will not provoke NATO into 'reckless' nuclear rhetoric, Chief says