Putin's crushing of Ukraine's sovereignty and the war isn't even over
Russian President Vladimir Putin on Wednesday signed a decree easing the procedure for residents of two Russian-occupied territories in Ukraine to acquire Russian citizenship and Russian passports. Meanwhile, Kyiv was quick to condemn the decree, saying the move violated Ukraine's sovereignty.
Putin's decree applies to the Kherson and Zaporizhia regions, which form a land link between the eastern part of Ukraine and the Crimean peninsula. Russian forces took control of both regions shortly after Putin launched his military campaign in late February.
According to the Associated Press, Russian Deputy Prime Minister Marat Khusnullin visited the regions last week and said both regions could become members of "our Russian family."
Putin previously relaxed citizenship requirements in Ukraine's Donetsk and Luhansk regions, collectively known as Donbass, in 2019. Russian state media company TASS reported that the new decree will simplify the citizenship process and waive the usual requirements for foreigners. These standard requirements, which do not apply to residents of Kherson and Zaporizhia, are to have lived in Russia for five years, have proof of income and pass a Russian language exam.
Applicants from the regions will also be informed of the decision within three months of submitting the application.
The Ministry of Foreign Affairs of Ukraine condemned the accelerated naturalization plan.
"Illegal passporting in Kherson and Zaporizhia, as well as in Crimea and in the temporarily occupied areas of Donetsk and Luhansk oblasts is a gross violation of the sovereignty and territorial integrity of Ukraine, the norms and principles of international humanitarian law, and the obligations of the Russian Federation as an occupying power …" the ministry said in a statement.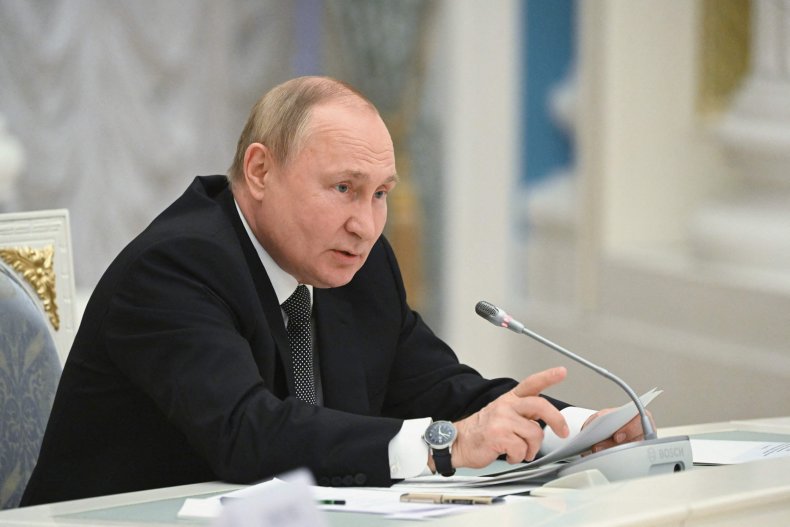 "The decree of the Russian President is legally null and void and will have no legal consequences. This decision will not affect the Ukrainian citizenship of residents of the temporarily Russian-occupied territories.
"The forced passporting of Ukrainians in Kherson and Zaporizhia is further evidence of the criminal aim of the Russian war against Ukraine – the capture of Ukrainian territories for their further occupation and integration into Russia's legal, political and economic space."
The AP reported that Putin's decree could allow Russia to "strengthen its grip on a territory that lies between eastern Ukraine, where Moscow-backed separatists occupy some areas, and the Crimean peninsula, which Russia captured in 2014."
According to TASS, the new decree for Zaporozhye and Kherson came into force after Putin signed it on Wednesday.
news week asked the Ministry of Foreign Affairs of Russia and the Ministry of Foreign Affairs of Ukraine for an opinion.
https://www.newsweek.com/putins-chipping-away-ukraines-sovereignty-war-isnt-even-over-1710191 Putin's crushing of Ukraine's sovereignty and the war isn't even over