Putin's invasion of Ukraine is a 'world war' with no 'end' in sight: Pope
Pope Francis made a grim prediction over the weekend about the Russian invasion of Ukraine, labeling the conflict a "world war" with no "end" for some time.
The religious leader, who turned 86 on Saturday, revealed his thoughts on the war in a new interview with the Spanish newspaper. ABCwhich was released on Sunday.
"I do what I can. They don't listen," said the Pope. "What is happening in Ukraine is frightening. There is tremendous atrocity. It's very serious.
The pope, who has repeatedly spoken out against the ongoing conflict, also said he sees "no short-term end [the war in Ukraine] since it is a world war."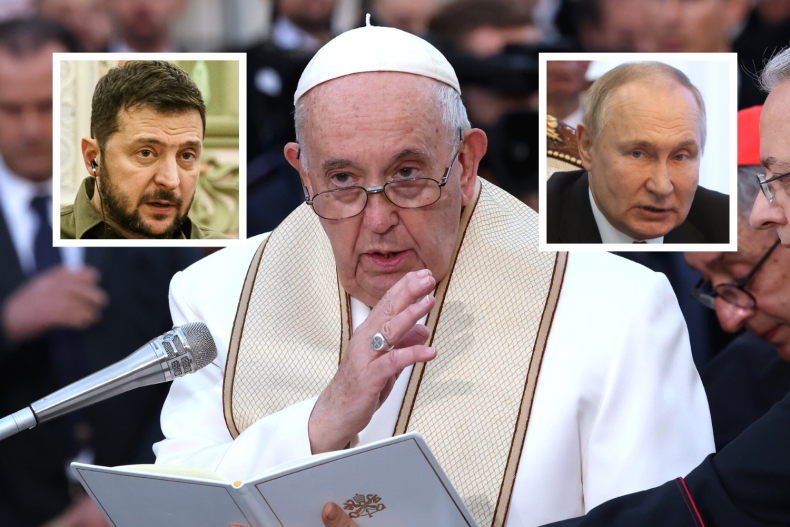 Meanwhile, Russian President Vladimir Putin is reportedly growing concerned about his ability to control his nation's narratives surrounding the war. Moscow has recently been hit by international sanctions and has seen heavy frontline casualties against Ukrainian forces.
The pope also revealed in the interview that he had been in contact with a religious adviser to Ukrainian President Volodymyr Zelenskyy.
He also spoke of writing a letter of resignation shortly after his elevation to the pope in 2013 if he ever became seriously ill or had an accident. He currently suffers from sciatica, underwent colon surgery in 2021 and is confined to a wheelchair due to persistent knee pain.
When asked what gift he would like for Christmas, he told the Spanish daily: "Peace in the world. How many wars are there in the world! The war in Ukraine touches us more closely, but we also think of Myanmar, Yemen, Syria, where fighting has been going on for 13 years."
This isn't the first time the religious leader has urged a permanent truce between the warring nations. In August he said the globe was going through a "third world war" which he was gradually fighting out.
Pope Francis has also previously touted efforts to pray for Ukrainian citizens.
news week reported Thursday that Russia's Foreign Ministry said it had received an apology from the Vatican for some of the Pope's recent statements. In November, the pope called two ethnic minorities in Russia the "cruelest" soldiers fighting in Ukraine.
"In general, perhaps the most cruel are those who are from Russia but do not belong to the Russian tradition, like the Chechens, the Buryats and so on," the pope told the Catholic monthly America.
news week reached out to the Vatican for further comment.
https://www.newsweek.com/putins-invasion-ukraine-world-war-no-end-sight-pope-1767990 Putin's invasion of Ukraine is a 'world war' with no 'end' in sight: Pope