Putin's Lyman defeats major setback as undermanned forces lose city: Britain
Russia's defeat in the strategically important Ukrainian city of Lyman is a "significant political setback", according to the British MoD.
Russia's loss of Lyman, located in the Donetsk region and used as a transport and logistics hub, dealt a fresh blow to Russian President Vladimir Putin as he escalated the war by annexing four regions of Ukraine.
The Russian Defense Ministry confirmed that it had "pulled back to more advantageous lines," Russia's state-run news agency RIA reported.
In a daily intelligence briefing on Sunday, Britain's Defense Ministry said Lyman was "likely defended by undermanned elements of Russia's western and central military districts, as well as by contingents of voluntarily mobilized reservists".
"The force probably suffered heavy casualties while retreating out of the city along the only road still in Russian hands," she added.
The city is important, the report said, because it "has an important crossroads across the Seversky-Donets River, behind which Russia has tried to consolidate its defenses."
It noted that Russia's withdrawal from Lyman "also represents a significant political setback given its location in Donetsk Oblast, a region that Russia allegedly wanted to 'liberate' and has attempted to illegally annex".
Moscow's withdrawal from Lyman has prompted further criticism of Russia's military leadership by some Russian officials, British officials said.
"Further losses of territory in illegally occupied areas will almost certainly intensify this public criticism and increase the pressure on senior commanders," the briefing continued.
Ukrainian forces have recaptured large areas in a counteroffensive that began in September.
Faced with mounting casualties, Putin ordered a partial military mobilization and annexed four regions of Ukraine, including Donetsk.
On Saturday, footage of Ukrainian soldiers raising their flag on the outskirts of Lyman, which has been occupied by Russia since May, was widely circulated on social media.
"The Ukrainian flag is already in Lyman," said Ukrainian President Volodymyr Zelenskyy in his late-night address.
"In the past week there were more Ukrainian flags in Donbass. In a week there will be even more."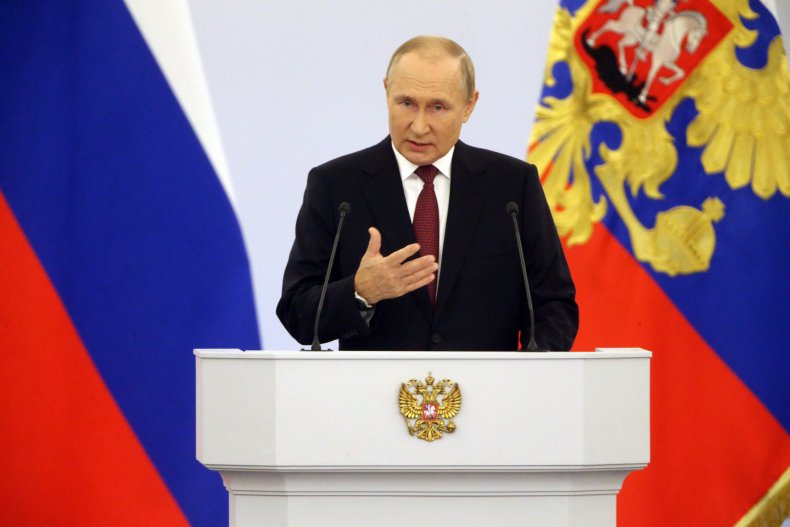 That comes a day after Putin announced the annexation of four Ukrainian regions after holding so-called referendums in occupied areas of Ukraine that were condemned around the world.
"Russia is violating international law, trampling on the United Nations Charter and everywhere showing its contempt for peaceful nations," President Joe Biden said in a statement on Friday.
"Make no mistake: these actions have no legitimacy. The United States will always respect Ukraine's internationally recognized borders."
news week asked the Ministry of Defense of Russia and the Ministry of Defense of Ukraine for comment.
https://www.newsweek.com/vladimir-putin-lyman-defeat-major-setback-undermanned-forces-uk-1748204 Putin's Lyman defeats major setback as undermanned forces lose city: Britain