Putin's supporters complain that old Russians are being sent to war
Russian President Vladimir Putin's allies complained on state TV about sending old Russians to the Ukraine war after he announced a partial mobilization of troops last week.
The Russian leader ordered the mobilization last Wednesday after his military struggled to achieve key objectives in Ukraine's "special military operation" that was launched on February 24. Ukraine met Russian soldiers with stronger than expected defenses and has launched counter-offensives to retake occupied territories in recent weeks.
As casualties mounted, Putin turned to partial mobilization to send 300,000 reserve troops to Ukraine's front lines. Conscription should only apply to private soldiers up to the age of 35, junior officers up to 50 and senior officers up to 55.
But Vladimir Solovyov, host of Russian state television, and Margarita Simonyan, editor-in-chief of state media company RT, said some privates in their 60s were called to fight in Ukraine on Russian state television on Monday night. A clip of their discussion was posted to Twitter by BBC journalist Francis Scarr.
Notably, neither Solovyov nor Simonyan blamed Putin for older Russians being called up for duty, instead blaming lower-level recruiting officers.
"We all read that the first wave would consist of privates, sergeants and warrant officers up to the age of 35. But do I have to show you how many draft papers are distributed to 45- or 43-year-old privates? " asked Simonyan, and Solovyov interfered that he saw a 62-year-old man being called up for duty.
Simonyan then continued: "Basically, something needs to be done about it. And we shouldn't piss people off."
Solovyov suggested either shooting recruiting officers recruiting older Russians or sending them to fight in the eastern European country themselves, although Simonyan said she was opposed to shooting the officers.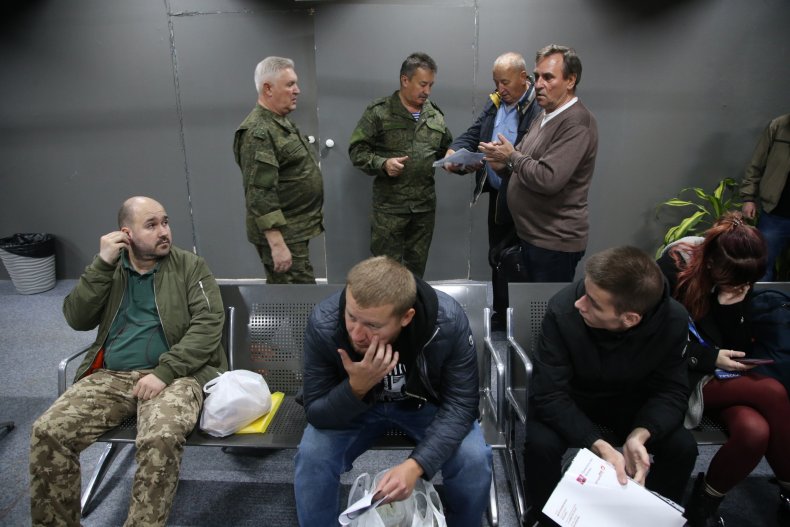 "I would just pull them out publicly, a few of those military recruiting agencies," Solovyov said. "Especially that smartass in Novosibirsk. Grab that recruiting officer by the ear and send him to the Donbass front."
It was not immediately clear who Solovyov's chosen recruiting officer was in Novosibirsk – a city of more than 1.5 million in Siberia that has been home to protests in recent days in response to the mobilization.
Russian resistance to Putin's mobilization
Dissent in Russia is rare as the Kremlin cracked down on free speech in the first weeks of the war. But protests opposing mobilization dotted cities across the country last week as thousands risked persecution to voice their opposition to the war.
According to OVD-Info, an organization that tracks the arrests of anti-war protesters in Russia, from September 21-25, 2,365 Russians were arrested during anti-mobilization protests.
Nor were all of Putin's conscripts considered particularly helpful to his mission. A 63-year-old man with diabetes and a serious brain injury was among those called to the fight after doctors told him he was fit for duty.
Meanwhile, other conscripts were caught on video who appeared to be drunk. A man was seen staggering on an airport runway before boarding a mobilization flight while others were asleep or refusing to form lines.
news week contacted the Russian Foreign Ministry for comment.
https://www.newsweek.com/putins-supporters-complain-old-russians-are-being-sent-war-1746381 Putin's supporters complain that old Russians are being sent to war