'QAnon Whack Job' GOP gubernatorial candidate bottom in Maryland: poll
Maryland's Republican Gov. Larry Hogan's comments regarding Republican gubernatorial nominee Dan Cox's intellectual acuity and his affinity for conspiracy theories are likely to impact the race.
A new poll released by Goucher College shows Cox, a former President Donald Trump-backed Maryland state delegate, attorney and small business owner, is 22 points behind Democratic challenger Wes Moore with less than two months to go before the election. Moore is a combat veteran, Rhodes Scholar, and former CEO of a nonprofit dedicated to fighting poverty.
Hogan has declined to endorse either Cox or Moore. He has called Cox a "QAnon Whack Job" and a "Crazy Job".
Hogan has maintained a strong base across party lines, garnering over 70 percent approval in January, including 61 percent approval from Democrats and 69 percent approval from independents.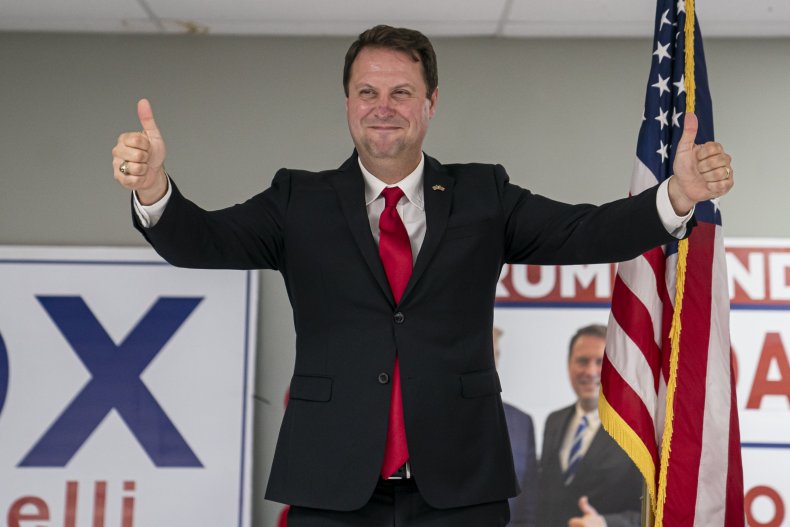 Maryland is considered a largely liberal state. President Joe Biden defeated Trump by more than 33 percentage points in the 2020 election.
"I don't think he's mentally stable," Hogan told radio station WGMD in August when asked about Cox. "Half the Republicans don't support the guy because he's crazy."
A total of 1,008 adults and 748 likely voters were surveyed by the Sarah T. Hughes Center for Politics at Goucher College. The Baltimore Banner and WYPR between September 8 and 12, with 53 percent of voters backing Moore. About 9 percent of voters remain undecided, and the margin of error for likely voters was plus or minus 3.6 percentage points.
Carter Elliott, Moore's communications manager, narrated news week that Cox "is too extreme for Maryland".
"The choice in this election is so clear that Governor Larry Hogan — the leader of Dan Cox's own party — said he wouldn't even give Dan Cox a tour of the governor's office," Elliott said. "Given that Dan Cox literally attempted to undermine our democracy on January 6th, it makes sense why Marylanders — including the governor — resent his divisive policies, dangerous rhetoric, and anti-American actions."
Of the likely voters surveyed, 69 percent said they were "determined" on their candidate, while less than 3 in 10 respondents said they could change their minds.
Mileah Kromer, director of the Sarah T. Hughes Center for Politics, said news week that "the numbers demonstrate the tremendous contrast between the two candidates".
"Larry Hogan was a candidate who could win Democratic votes, and he had a consistent approval rating of over 50 percent of Democratic approval," Kromer said. "What we're seeing with Dan Cox is a close nod to former President Donald Trump."
Kromer said that while the peak of Trump's approval rating across the country never surpassed the low 30s, it was "particularly bad among Democrats" who have expressed satisfaction with Hogan.
Trump's endorsement of Cox might have gotten him an opportunity to face Moore in November, she added, but it leads to an uphill battle.
According to the survey, Cox's favorable ratings are 20 percent lower than Moore's. About 35 percent of respondents also have a perception that Cox is an "extreme or extreme right" candidate, which is higher than those who see him as "conservative" or "moderate."
Moore was considered "progressive or liberal" by 36 percent of respondents and "moderate" by 22 percent of respondents. Kromer described him as a "unifying force" among centre-left voters.
"Hogan is a different type of Republican than Donald Trump," Kromer said. "In Maryland, about 18 percent of voters are independents, and Hogan won over 60 percent of that group. Cox has a hard time reaching Democrats and Independents… The math is, you just can't have a robust turnout. They need crossover voices."
Cox, whom Trump called an "America-first patriot" before his first victory, has vowed "never again to abandon our bodies, our churches and our businesses to a state of lockdown," a reference to COVID-19 protocols.
The Republican is also an election denier who attended the Jan. 6, 2021 rally at the US Capitol that turned into a riot.
"[Cox] Always had an incredibly tough fight," Kromer said. "I think it's an incredibly tough fight in general, and I think you have to be an exceptional candidate like Larry Hogan in Maryland in general."
The problem for Cox is one of ideological alignment, she added.
"This race gave Hogan voters little incentive to vote for Cox and gave Democratic voters who voted for Hogan great incentive to return to the Democratic Party," Kromer said. "That's what's happening here. The voters are just coming home."
news week reached out to the Cox campaign and Hogan's office for comment.
https://www.newsweek.com/qanon-whack-job-gop-gubernatorial-candidate-down-big-maryland-poll-1744672 'QAnon Whack Job' GOP gubernatorial candidate bottom in Maryland: poll