Queen Elizabeth II applauded on the palace balcony at the Platinum Jubilee Parade
Queen Elizabeth II appeared on the balcony of Buckingham Palace to loud cheers during the opening of her Platinum Jubilee.
The 96-year-old monarch overcame recent health problems to take the salute at Trooping the Color in a unique way, not from the parade ground but from above as thousands of Britons turned out to celebrate their historic reign.
Prince Charles, Prince William and Princess Anne accepted the salute from the parade ground as the pomp and pageantry was broadcast to an international audience.
Elizabeth is the first in British royal history to celebrate a platinum jubilee, marking her 70 years on the throne.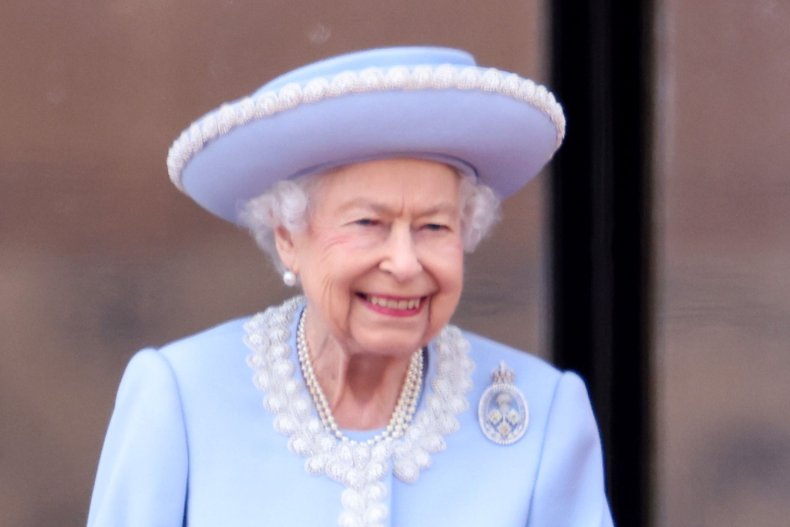 The big milestone wasn't the day's only first, however, as it was also the first royal carriage procession of Prince George, Princess Charlotte and Prince Louis.
Prince George's godfather Jamie Lowther-Pinkerton told the BBC: "I loved the way they dipped their heads in the paint as they walked by and learned young. Absolutely right, fantastic."
It was also Meghan Markle's first anniversary as Duchess, although, having given up her royal duties, she was scheduled to watch from the Duke of Wellington's former office rather than the balcony where senior family members gathered.
Similarly, it was Prince Harry's first Trooping the Color as a royal maverick, having quit his duties in 2020.
However, when Elizabeth appeared on the balcony, there was still no sign of the California-based post-royal couple.
The Duke and Duchess of Sussex were banned from the balcony but allowed a prime spot to view the pageantry with other non-working royals.
The palace move elevated her above the status of Prince Andrew, who retired in the wake of the Jeffrey Epstein scandal but kept her among those royals still performing official duties.
Katie Nicholl, royal editor of Vanity Fair, told the BBC: "That balcony gig is always incredibly important.
"You can read as much about who is on the balcony as who is not. We know that there will be 17 members of the Royal Family alongside the Queen and they will be working members of the Royal Family.
"I think this is also an opportunity for the Queen to thank those she calls her deputies for working tirelessly every day for Her Majesty the Queen, not just here in the UK but around the world ."
Lowther-Pinkerton, former aide-de-camp to Prince William and Prince Harry, told the BBC: "I think this parade, like anything else, is a confirmation of the relationship not only between Her Majesty and Her Foot Guards, but also the people of Britain, the crowds on the Mall and there's this beautiful triangulation going on."
For more royal news and commentary, click here news week's The Royal Report Podcasts:
https://www.newsweek.com/queen-elizabeth-applauded-buckingham-palace-balcony-platinum-jubilee-trooping-colour-1712335 Queen Elizabeth II applauded on the palace balcony at the Platinum Jubilee Parade