Radical anti-'Cop City' activist arrested after allegedly ramming stolen vehicle into traffic and sending truck flying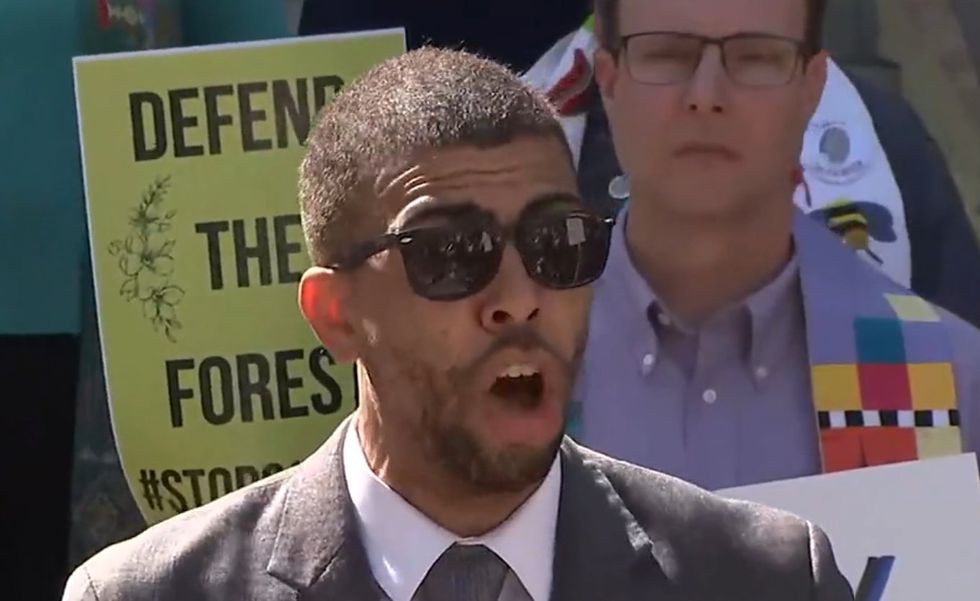 A prominent critic of the Atlanta Public Safety Training Center inadvertently provided further justification for its development and the presence of better-trained police officers in the area. On Friday, Matthew V. Johnson Jr. became the Left's interim executive director
Beloved Community Ministries in Atlanta was arrested and calculated with reckless driving, speeding, theft by larceny and hit-and-run.
According to the police report
receive According to the Daily Caller, Johnson is seen taking the keys to a 2013 Mercedes C-Class vehicle from a stranger at the Express Oil & Tire repair shop in Atlanta, Georgia on September 29th. The owner of the car had dropped it off in the hopes of getting its brakes fixed.
Johnson, who apparently did
several Run ins With the law in the past, he allegedly went outside and pressed the key fob to locate the vehicle. When Johnson found the car in question, he got in and sped away, police said.
Just moments after the driver's rampage began, police said Johnson was at 356 Moreland Ave. SE crashed into two vehicles and indirectly affected two other vehicles. Traffic camera footage appears to show Johnson flipping a truck, causing it to spin into oncoming traffic and injuring the driver.
Johnson is believed to have fled the incident on foot.
The arresting officers quickly caught up with the suspect and arrested him. According to the arrest report, Johnson refused to reveal his name to officers, choosing instead to sit smiling and silent.
WSB TV
reported that auto repair shop employees later thanked the radical leftist for not killing anyone during his alleged rampage.
The Daily Caller noted that the clearly insane driver had made no secret of his desire to see fewer police in his community.
In a current one
open letter By denouncing the police training center and condemning black clergy who refuse to side with the radical opposition, Johnson revealed his deep-rooted antipathy to law enforcement, his identitarianism, and radical views.
Johnson defended the left-wing militant who was knocked down after reportedly shooting a Georgia State Patrol trooper in the stomach; claimed to be caught in a struggle "at the intersection of climate change, police militarization, racially motivated police violence and environmental racism"; and referred to the BLM riots as the "George Floyd rebellions." Additionally, he emphasized his refusal to "publicly condemn the destruction of equipment by left-wing militants" and portrayed Antifa guerrillas as protectors.
Johnson also suggested in the letter that "Cop City" was racist because graduates would help the Atlanta police force, which was the case
170 murders last year and has a C rating on Neighborhood Scout Crime Index (with 100 being safest).
"Police are at the forefront of reinforcing these social injustices that rich and powerful private interests exploit through government and law enforcement spending," the left-wing minister wrote. "The reason people have such hostile feelings toward the police is because they understand that they are not being mobilized to keep people safe, but rather to protect ill-gotten private property and enforce a legal system that that devours the poor and predestines them for survival." Exploitation."
The racial leftist hasn't limited his criticism of the first responder training center to a single letter, as he has reportedly long defended militant opposition to its construction.
Left-wing groups have long been protesting against the construction of the
new $90 million police training center in Dekalb County's South River Forest and used terrorist tactics to get their way.
Opposition members have carried out arson attacks on police officers and law enforcement agencies; attacks on firefighters and paramedics; Sabotage of construction machinery; and intimidation attempts at the home of at least one state trooper.
In September, Georgia Attorney General Chris Carr filed charges against 61 radicals under the state's Racketeer Influenced and Corrupt Organizations Act.
TheBlaze reported that all of the defendants were members of Defend the Atlanta Forest, which Carr's office described as an "anarchist, anti-police, anti-business extremist organization."
Carr said in a press conference about the allegations: "As alleged in the indictment, the members of Defend the Atlanta Forest espouse a philosophy of anarchy. You hold a core belief that society should abolish police, government and private enterprise, and it goes on to claim that you are willing to bring about such changes "by any means necessary."
reported the Atlanta Journal-Constitution.
Previously, three dozen radicals involved in the movement had been charged with domestic terrorism; Three of them were charged with intimidation allegedly Distributing leaflets accusing a state trooper of being a "murderer" for killing a violent extremist; and three radicals involved in the Atlanta Solidarity Fund were charged in May with charity fraud and money laundering.
Do you like Blaze News? Bypass the censorship, sign up for our newsletter and get stories like this delivered straight to your inbox. Login here!