Rally demanding action on high utility bills held outside of Public Utility Commission meeting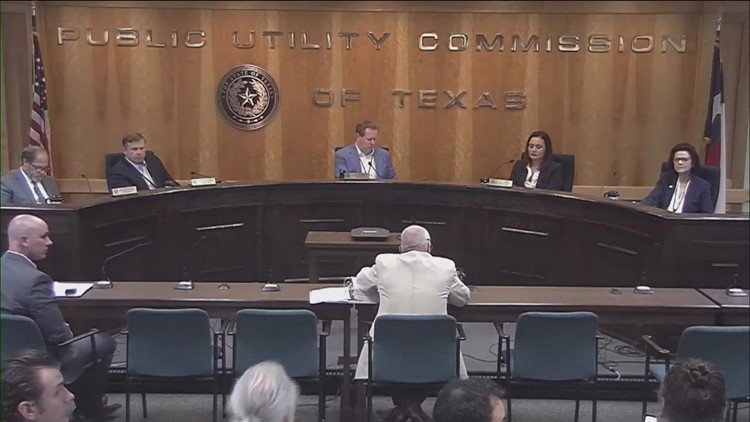 As the rally continued outside, the PUC unveiled a new commissioner and announced the creation of a public engagement office.
Members of the Sierra Club rallied outside to make their voices heard as they demanded that commissioners take action to stop high electricity bills.
"We're sick of these escalating electric bills happening here in Texas, and we're sick of them ignoring the cheapest solution to our grid crisis, which is energy efficiency," said one rally participant.
Inside, the commission introduced a new commissioner, Kathleen Jackson. A chemical engineer by training, she joins the PUC to lead energy conservation and efficiency efforts. Jackson led water conservation efforts while on the Texas Water Development Board.
"Energy efficiency is critical to the future of grid resiliency in our fast-growing state," Jackson said in a PUC press release. "I look forward to visiting Texans to share their thoughts and recommendations on improving energy efficiency, and my priorities will focus on ensuring grid reliability and cost savings for all Texans through energy efficiency."
The PUC also talked about ways to build power lines faster so more power can be drawn from power plants during periods of high demand.
During its meeting, the Commission announced the creation of the Public Engagement Office. The new office will serve as a focal point for those wishing to get involved with electricity, water and telecoms issues ahead of the PUC. The PUC said the office will provide a one-stop shop for clients, stakeholders, lawmakers and others to make their voices heard.
Austin Police are investigating a murder near Barton Springs Pool
Viral Video: Houston Business Owner Follows Shoplifting Suspects onto Bus
Texas' "trigger law" goes into effect, further restricting abortion services
https://www.kvue.com/article/news/local/rally-outside-public-utility-commission-meeting-high-electricity-bills/269-71662c9a-ab36-414b-a7be-50c4bed61ab1 Rally demanding action on high utility bills held outside of Public Utility Commission meeting