Ram Revolution Electric Truck in a state-of-the-art three-row masterpiece
Of the big three automakers, Ram is the latest to launch a battery electric vehicle (BEV) truck. However, this isn't the real deal that will make it onto dealer lots. It's a pure concept that has fueled the company's design and technology plans in the new Ram 1500 BEV, due for release in 2024.
"The Ram 1500 Revolution BEV concept is our clearest signal yet that we are on the precipice of something extraordinary at Ram and points directly to where we are headed on our electrified journey," said Mike Koval Jr., Ram Brand CEO – Stellantis in a press release.
Ford has been selling the F-150 Lightning electric pickup truck for a year and has managed to fill the order banks with enough demand that the company is already investing in a plant expansion project to roll more off the assembly line. It is sold in a number of variants, including a Ford Pro version designed for fleet use.
The Chevrolet Silverado EV is expected to offer customers an all-electric range of 400 miles, access to 754 horsepower, 785 pound-feet of torque and a zero-to-60 mph time of 4.5 seconds when it arrives later this year.
GMC's Sierra EV Denali Edition 1 debuted late last year and brought with it many of the same underpinnings, technologies and capabilities as the Silverado EV.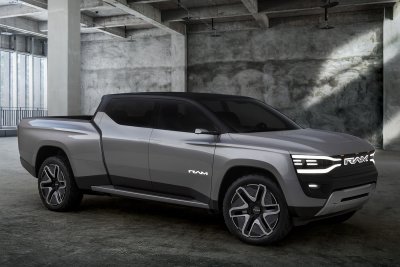 Ram plans to differentiate itself from the other pickup brands by offering a "portfolio of electrified solutions to better meet customer needs." This could mean that hybrid electric vehicles and plug-in hybrid trucks are also in development alongside the 1500 BEV.
"The Ram brand is about their pickup and ability to offer additional commercial vehicle market support with the ProMaster van. With the transition from ICE to EV propulsion systems essentially an assumed certainty over the next decade or two, the Ram brand needs to start offering electric and electrified solutions as well," said Stephanie Brinley, Associate Director of Research and Analysis at S&P Global news week.
"The CES Ram EV concept outlines how the Ram brand plans to begin its own EV journey. Ram seems poised to add some meaningful value to the EV pickup conversation.
"Although Ram 1500 EV sales will start after Ford and GM, Ram will find its own way to compete and also offer a level of leadership. Ram knows its truck buyers as well as Ford and GM do. Rams EV endeavors like its competitors, will build on its strengths.
"The later launch, coupled with its early efforts to work with consumers, gives Ram a glimpse of the effort needed to win over hesitant buyers and creates an opportunity to leverage functional developments and features that previous trucks have not been able to focus on . "
Ram said in a press release that a "steady drumbeat" of announcements and initiatives is planned as the brand marches toward the future.
Ram 1500 Revolution BEV concept
The new truck concept features an exterior not entirely unfamiliar to Ram Trucks fans. It has a modernized "RAM" badging illuminated at night alongside the LED headlights.
At the front is an integrated skid plate and pivoting tow hooks that rotate to sit flush with the body. An electrically operated trunk (front trunk) with one-touch open-close functionality adds capacity and storage.
The front quarter panel on the driver's side houses the truck's charging port, which lights up when in use.
Its side mirrors are smaller and lighter than traditional mirrors and use a camera to capture the truck's surroundings. Cameras like these are coming onto cars in Europe, but aren't yet legal in the US
The rear sports a fresh Ram LED light signature surrounding a split tailgate that is powered. An electric rear stage with an active diffuser is also available. The concept truck's bed can be extended to accommodate longer and heavier loads than a typical truck for regular use.
Ram designers gave the truck 35-inch tires wrapped around 24-inch wheels to ride around on. The center caps of the wheels light up and stay in place as the hoop rotates around them.
Power for the truck comes from an electric battery powered by an 800-volt architecture, the same type of technology found in the Kia EV6 and Hyundai Ioniq 5. This architecture allows for an additional range of up to 100 miles in around 10 minutes when charging via a 350-kilowatt charger.
All-wheel drive comes courtesy of two electric drive modules, one in the front and one in the rear. The all-wheel steering of the truck enables a steering angle of up to 15 degrees.
An adjustable air suspension enables three different modes: ingress/egress, aero and off-road. Today's Ram 1500 has a similar equipment.
The Ram Concept body has sedan doors that open to reveal the passenger compartment without the B-pillar. Because of the EV platform that the concept rides on, the truck's cab is four inches longer than that of the current Ram 1500.
The larger space allows for a unique seating option: third row jump seats. The truck's electric center door contains the seats with a detachable part that can be placed in the truck bed or outside the vehicle.
The center door's power glass allows for a walk-through feature that extends into the trunk and can accommodate objects up to 18 feet long with the tailgate closed.
Flexible seating configurations with reclining modes allow for a "sedan-like space," the press release says. The company's "Ram Track" system, a rail mount/floor rail system, allows for movement of the seats and console and provides convenient mounting areas within the cabin.
Ram has installed two screens in the center of the truck's dashboard, providing a 28-inch display area. The lower display offers three view options. It can be removed and installed in other rooms of the truck.
The rear-view mirror is intelligent and provides a 360-degree view with stitched images of the truck's surroundings. The mirror works with the floodlights in the rear of the truck to provide greater clarity when reversing.
A unique steering wheel features capacitive controls, digital screens and an illuminated "RAM" badge. Its flat top and bottom improve visibility and thigh freedom.
Above, an electrochromatic panoramic roof offers adjustable transparency options.
Designers focused on using sustainable products inside the Ram Revolution BEV Concept. Greyslate Nanostone veneer, recycled rubber and cork, and "leather" from an apple bi-product feature in the interior.
Ram has packed the concept with technologies including an artificial intelligence virtual assistant for Shadow Mode, a voice-activated feature that allows the vehicle to use sensors and cameras to automatically follow a driver ahead. Smart home controls, intelligent product storage that helps fit items into the vehicle, and an outdoor projector that allows for al fresco movie night are among its capabilities.
Other technologies derive from the Chrysler Synthesis Cockpit concept, including My Day, Cabin Mode and the hands-free, eye-free Level 3 self-driving function.
Ram intends to incorporate some of the technology and styling from the new Ram Revolution concept into its forthcoming BEV, but remains mum on exactly what elements will appear.
https://www.newsweek.com/ram-revolution-electric-truck-ultra-modern-three-row-masterpiece-1771262 Ram Revolution Electric Truck in a state-of-the-art three-row masterpiece