Rare "December" Blue Whale appears far from where it should be
A rarely seen blue whale has been sighted off the California coast, placing the gargantuan creature thousands of miles away from where they are typically found during the Christmas season.
The blue whale was videotaped by Monterey Bay Whale Watch, which posted the footage to Facebook on December 19. The video also featured a variety of other species encountered on the same excursion, including a humpback whale, a group of gray whales, and a pod of Risso's dolphins.
"Early on our morning trip we had a very friendly humpback whale approach the ship of its own accord while we sat idle with the engines off and gave us a rather amazing 'raid' for over an hour! Then on the way back to the port we encountered a rare December Blue Whale!!" wrote Monterey Bay Whale Watch in the caption of the post.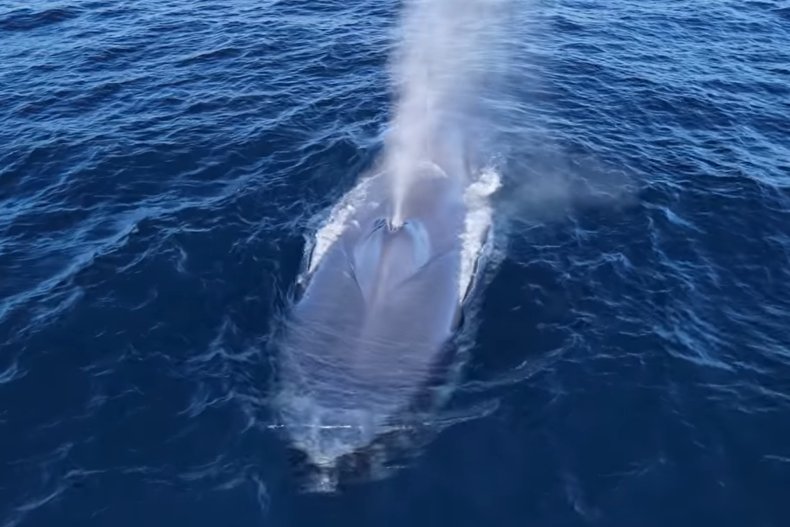 Blue whales are the largest animals on earth. They can grow up to 30 meters long, the length of a Boeing 737-500 airplane or three school buses in a row. Hydrodynamic models have shown that it may be impossible for an animal to physically grow larger than a blue whale because of metabolic and energy limitations preventing enough oxygen from reaching all parts of the body and the animal's inability to consume enough food to take to feed themselves.
"We usually see a blue whale in the summer," said Evan Brodsky, cinematographer and naturalist for Monterey Bay Whale Watches news week. "Last summer we saw a blue whale on maybe every fifth trip. There are only about 10,000 blue whales left in the entire Pacific. Blue whales use Monterey as a feeding ground to feed on krill during the summer and during the winter, they typically migrate south to warmer waters to mate and give birth."
The whales usually spend the winter in the warmer waters off Central America.
Blue whales are filter feeders, filtering krill out of the water with their huge, sieve-like baleen. Unlike other cetacean species, blue whales are generally seen alone, only accompanied by calves after birth, rather than large social groups.
"Seeing one in our area in December is very rare. Blue whales are an endangered animal anyway, they're not as common as the humpback whales we typically see every day," Brodsky said.
In 1926 there were an estimated 140,000 adult blue whales in the oceans, but their populations have been decimated by the whaling trade. The International Whaling Commission eventually banned all hunting of blue whales in the 1950s and 1960s, but their populations have struggled to recover since then. They are listed as "Vulnerable" on the International Union for Conservation of Nature (IUCN) Red List.
They still face a number of non-hunting threats, including being hit by large ships, man-made noise, and consuming chemical pollutants.
The other whale species seen in the video are more commonly seen off California during the winter months because they don't migrate.
"On our afternoon cruise we encountered the same blue whale a few miles to the west which led us to a feeding humpback whale which then led us to 5 gray whales heading south on their annual winter migration!! (Which means gray whale season has officially started) After spending some time enjoying the gray whales, we encountered a pod of about 70-100 Risso's dolphins!" Monterey Bay Whale Watch said in the Facebook post.
The post noted that the whales had approached the vessel of their own accord and the boat was idling with the engine off at the time.
Do you have an animal or natural story to tell? news week? Do you have a question about blue whales? Let us know at science@newsweek.com.
https://www.newsweek.com/blue-whale-spotted-california-coast-rare-1768958 Rare "December" Blue Whale appears far from where it should be