Read everything Donald Trump said at his first rally after the Mar-a-Lago raid
While former President Donald Trump was speaking at a campaign rally for supporters Dr. Mehmet Oz and Doug Mastriano, it will be his first such appearance since the FBI searched Mar-a-Lago for classified documents.
Trump says he declassified documents found in 20 boxes, though the federal government says Trump failed to follow proper declassification procedure. Trump claims the raid was politically motivated.
He is also expected to be responding to President Joe Biden, who delivered a speech Thursday slamming "MAGA Republicans." In a Right Side Broadcasting Network (RSBN) livestream ahead of Saturday's rally, a Trump supporter in Revolutionary War-era garb told RBSN hosts, "It's 1776."
Below is a full transcript of Trump's speech, which began with a new video combining Sean Hannity's voice over clips of Biden's Thursday speech.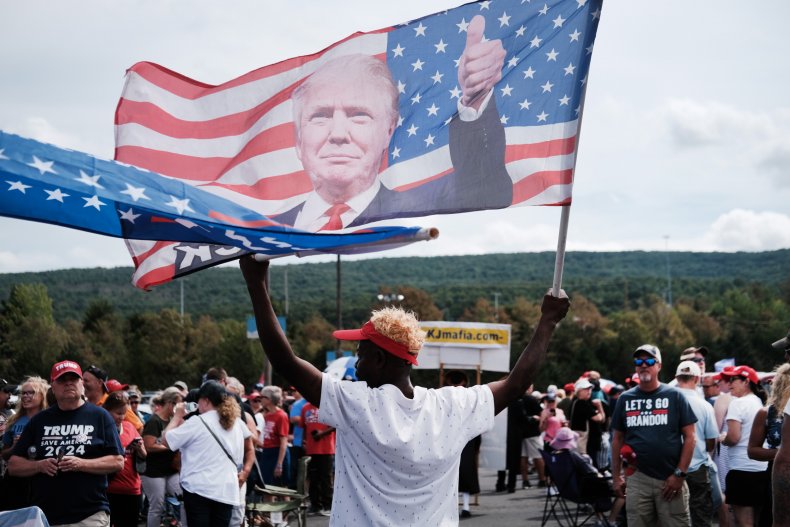 Full text of former President Donald Trump's Pennsylvania speech
Well, thank you and hello, Pennsylvania. Hi.
I am thrilled to be back in this incredible Commonwealth with the thousands of proud, hard-working American patriots I have come to know so well.
In two months the people of Pennsylvania will fire the radical left Democrats and they will vote Doug Mastriano as their next governor.
You send my friend Oz, Oz is a great guy, to the US Senate. They will elect an amazing list of true America First Republicans to Congress. We're going to end Nancy Pelosi's political career, Biden's political career.
Our country is going to hell.
This election is a referendum on skyrocketing inflation, rising crime, rising homicides, crushing gas prices, millions and millions of illegal aliens flooding our borders, racial and gender indoctrination, the prosecution of our schools, and most of all, this election is a referendum on the corruption and extremism of Joe Biden and the radical Democratic Party.
If you want to stop this destruction of America, you must vote Republicans, you must leave
As you know, Joe Biden came to Philadelphia, Pennsylvania this week to deliver the most vicious, hateful and divisive speech ever made by an American President, slandering 75 million citizens, plus another likely 75 to 150.
If we want to be very precise: as a threat to democracy and as enemies of the state, you are all enemies of the state. He's an enemy of the state, you know that? The enemy of the state is he and the group that controls him, that circles him: "Do this. Do it Joe, you will do it Joe."
Right. I think Philadelphia was a great choice to give this speech of hate and anger. His language was hate and anger. By the way, the next morning he forgot what he said, you saw that.
I like the red light behind him like hell.
But Philadelphia was a good choice because the city is devastated under Democratic rules. devastated. He could tell you we love Pennsylvania. I went to school in Philadelphia, what happened to Philadelphia?
There were 14 people shot dead in Philadelphia last weekend, 14, and the fake news is getting — God, that's a lot of fake news lately. Lots of fake news.
Well, they're going to go out and check the facts, because people were killed last weekend. Last month, seven people were shot dead in just 71 minutes, this year in Philadelphia. More than 1,400 people have already been shot in Philadelphia, including many beautiful little children.
Last year, the city set a homicide record with 560 murders and is on track to break that record. Again in 2022, numbers no one but a few other Democrat-run cities have ever seen. Armed robberies in Philadelphia are up 62 percent. Doug, you have to take care of this. You need to take care of it, and we will send the goods to you, I will send the goods to him. You know what the merchandise is: lots of cops. This is the goods.
Retail thefts are up 59 percent year-on-year.
There were more than 750 carjackings this year. Everyone has a nice car because you won't have it for long. More than triple the 2010-2019 average. And it's going way up, even in other Democrat-ruled cities.
Rather than trying to demonize half the population, Biden and the congressional Democrats should focus on stopping the killing and bloodshed in Philadelphia and every other Democrat-run city in America where every day there is a record death and destruction takes place.
Biden thinks making America great again is bad for our country. Do you believe it? That was in his — Biden says, "We need to stop MAGA." That's where I defined it because I don't think he knows what it means. It means "make America great again". We have to stop it. stop MAGA. Stop making America great again.
He believes making America great again is a threat to our country. No, making America great again is great for our country.
There is only one party at war in American democracy by censoring freedom of speech and criminalizing dissent. Do you see this happening? Disarming law-abiding citizens, issuing lawless mandates and unconstitutional orders, imprisoning political protesters. That's what they do, rigging elections. Arming the Department of Justice and the FBI like never before. And muggings and burglaries in the homes of their political opponents. I wonder who that could be.
Republicans in the MAGA movement are not the ones trying to undermine our democracy. We are the ones trying to simply save our democracy. The danger to democracy comes from the radical left, not from the right. Not from the right.
This November we will confront this increasing tyranny of disease, lawlessness, and death. And we will take back our land. we will take it
There could be no more vivid example of the very real threats to American liberty. And as we witnessed one of the most shocking abuses of power by a government in American history a few weeks ago, the shameful raid and burglary of my home, Mar-a-Lago, was a farce of justice.
This made a mockery of America's laws, traditions and principles. The whole world watched in front of the whole world and they are shocked. You are shocked. South American countries, numerous of them, their leaders said, could you imagine if this was ever done in our country? What the United States would say about us. The Biden administration has invaded the home of its main political opponent absolutely destroying him and everyone else in the election. i hate to say it
Even Republicans, but we love Republicans, under a false pretense to get permission from a highly political judge they handpicked late at night, just days before the burglary. And trampled on my rights and civil liberties like it's our country we love so much. We are a third world nation. We are like a third world nation.
They searched the first lady's closet drawers and everything else, and even searched my 16-year-old son's room thoroughly and ugly, leaving everything they touched in a very different state than when they started. Can you believe it?
The FBI and the Justice Department have become vicious monsters. Controlled by leftist scoundrels, lawyers and the media telling them what to do – you people right there – and when to do it.
This is a live story and will be updated with more information as it becomes available.
https://www.newsweek.com/read-everything-donald-trump-said-his-first-rally-after-mar-lago-raid-1739683 Read everything Donald Trump said at his first rally after the Mar-a-Lago raid