Real Housewives of New York Season 14, Episode 8 Recap
When last we left the Real Housewives of New York, Erin Lichy had just stormed out of the ladies' wreath-making party because of Brynn Whitfield's flirting with her husband at their vow renewal. I understand her annoyance, but I think she's overreacting. It might have been in poor taste, but Brynn was just joking around. And yes, she was flirting with Abe, but no way in hell was she actually serious.
So, what happened in the aftermath? Here's everything that went down in Real Housewives of New York Season 14, Episode 8.
Eyes on Anguilla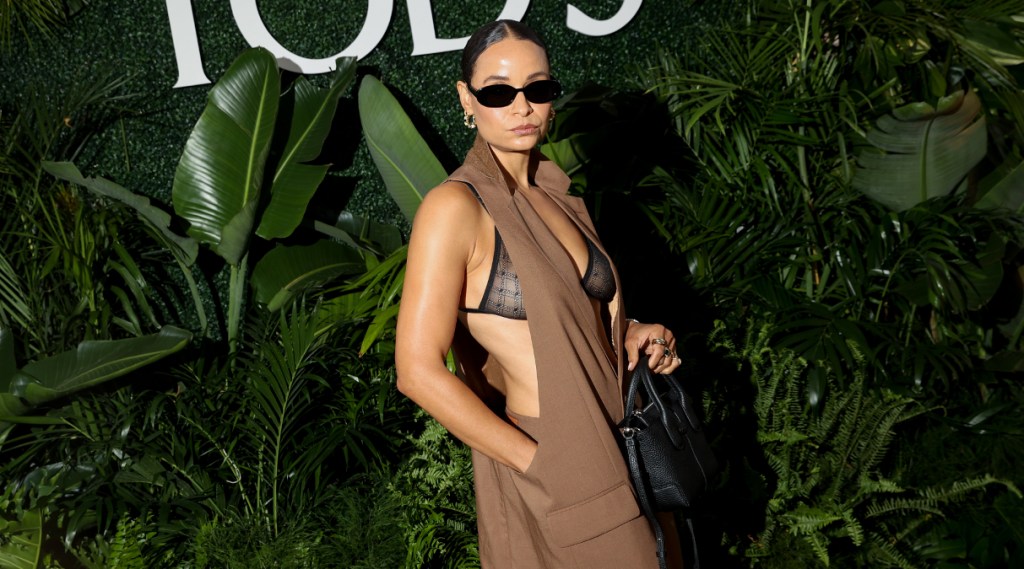 Sai De Silva is shopping for resort wear. She's soon joined by Ubah Hassan. They're looking for cute things to wear on their girls' trip to Anguilla.
"It's that time of year when New Yorkers get antsy," Sai explains, "and we need some sun … So, let's go on a trip."
Finally, Ubah is recovered from Covid. We haven't seen much of her in the last couple of episodes. "You must have been so bored," Sai says.
Since Ubah's been out of the loop, Sai decides to fill her in on Brynn's wreath-making party. Sai says Jenna Lyons brought more gifts to share, but she thinks it's a little odd that Jenna is always bringing products that she endorses. "My love language is gifts," Ubah says.
"I [also] love gifts," Sai responds. "But if you're giving me stuff from your collaboration, nothing is free. You … have intentions of everyone sharing [on social media]."
"No free lunch," agrees Ubah.
"Unless you are giving me that cheese, honey," Sai rubs her fingers together to indicate cash payment, "I can't keep promoting you for free." She has a point. "A real gift is from the heart. A Jenna Lyons gift is a marketing gift."
Sai recaps Erin's meltdown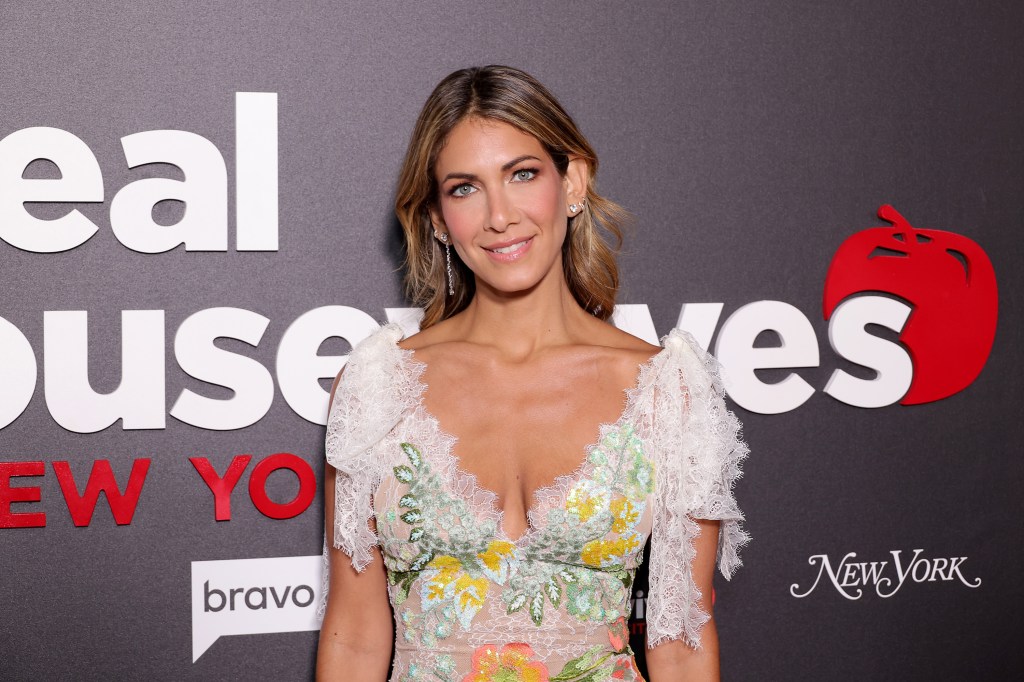 Sai recounts Erin's hissy fit at the wreath party, starting with Erin's annoyance at Sai dipping out early without a goodbye. Surprisingly, Ubah agrees with Erin that it was sh*tty of her to do that. "Why didn't you order a pizza or something?" she asks. "Better that than leaving."
Sai tells Ubah about Erin's irritation at Brynn for joking that she and Abe could get together after his "divorce" from Erin. "I think Erin was just so offended," Sai says. "After that, Erin was like, 'I can't do this anymore, I'm leaving.' And she just walked out."
So the first time Brynn and Erin will see each other following their fight will be in Anguilla. That should be fun.
Jenna's family visits for the holidays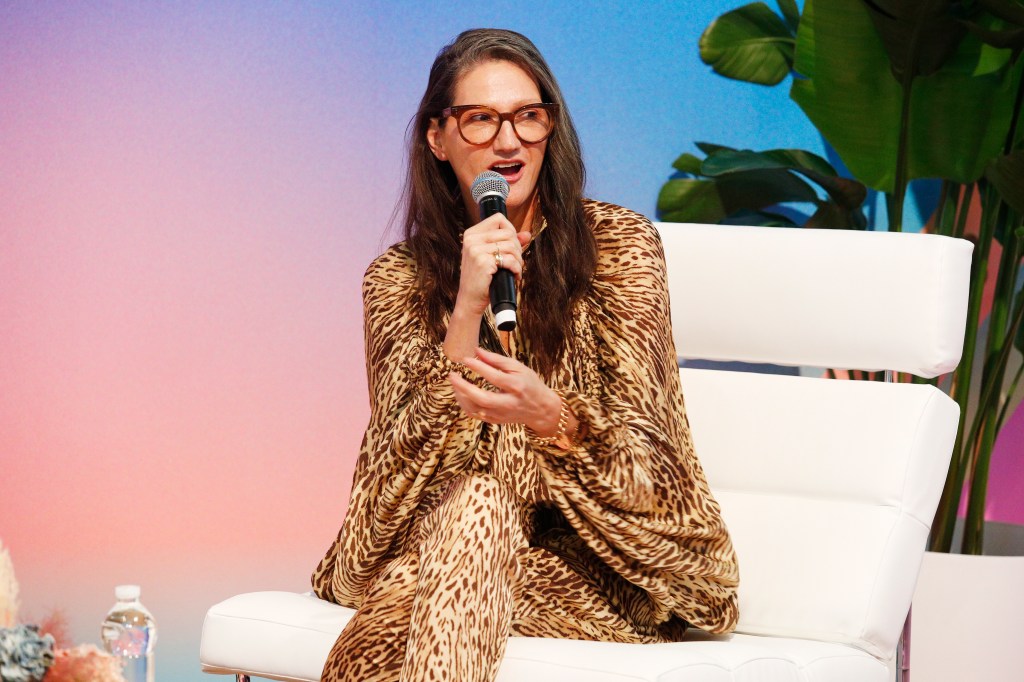 Jenna's brother Spencer is visiting from California with his wife and daughter. He and Jenna reminisce about their first time in NYC, as they stroll through Rockefeller Center admiring the Christmas tree and all the other fabulous decorations.
"I've been working with everyone here for about three years," she tells Spencer. "Can't you tell?" She's been helping Rockefeller Center bring in new shops and restaurants that reflect more of the true nature of the city and "just make the place a little cooler." She's enjoying showing off the results of her work to her brother.
"I had one job in one industry for 27 years," Jenna shares, referring to her career at J.Crew. "Having the opportunity to do multiple things now and to use my experience in different ways has been incredible." She's enjoying being able to "start over" at this point in her life.
Jenna also tells her brother that she's worried about wearing a bathing suit in Anguilla, due to her genetic condition. She has scars all over her body and is self-conscious about what the women will think since they're all "gorgeous."
Her condition also affects her teeth and she's missing several. "I'm at the end of a six-year journey of having multiple surgeries to fix my beautiful teeth," Jenna admits. "I've had eight bone grafts, three sinus lifts, multiple implants and [her upcoming appointment] is number 13, I think … And then I start the bottom." Poor Jenna. What an ordeal, not to mention the expense.
Brynn reconnects with family in LA
Meanwhile, Brynn is in Los Angeles hiking with her brother. Daris is a teacher in Seoul, South Korea, so they occasionally rendezvous in LA, where they both used to live.
"I'm 36, not married, no kids," she tells her brother. Half the time she's panicking about it, but the other half she feels good that she's single and has the means to support a comfortable lifestyle. She's free to travel and do what she pleases, without being tied down by a family.
When Daris asks if she'll ever settle down and have children, she admits, "I would do it tomorrow with the right person." Or maybe she'll just "have a kid."
Brynn thinks she might have been divorced three times already since she's been engaged three times. "But not because of them," she insists. "I keep winning the lottery, and I just throw it away. I'm like, 'I'm not ready.'"
But even though she wants a family, subconsciously there's a part of her that wants to run. She still associates "family" with her parents abandoning her when she was a baby. She admits she still has some work to do.
Erin makes a housecall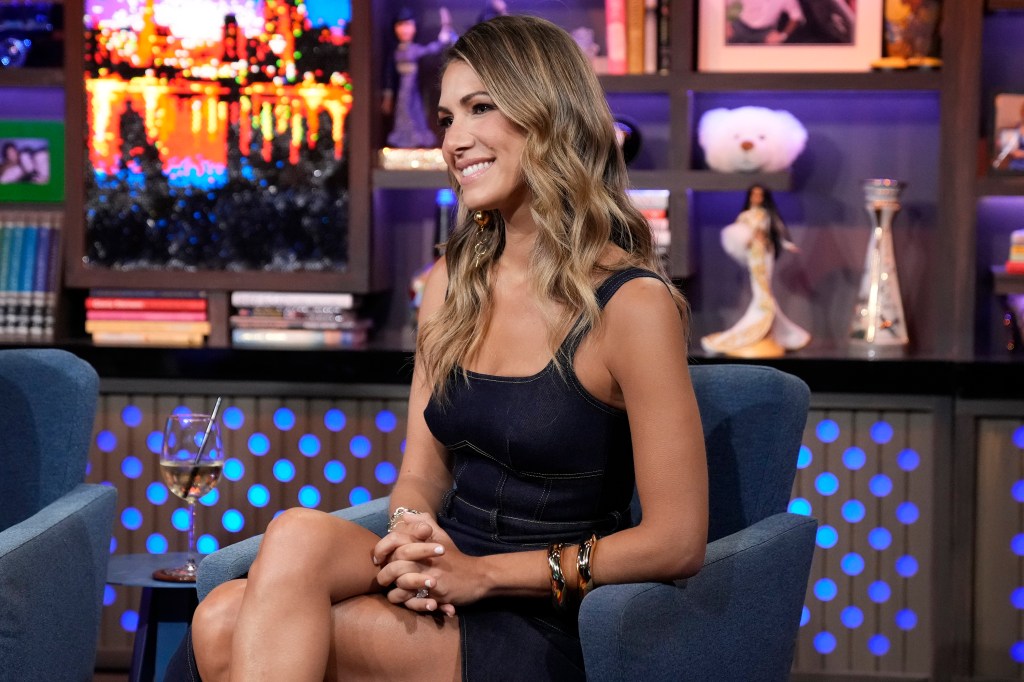 Two weeks later, Jenna's at home recovering from her oral surgery. Erin stops by and brings her homemade butternut squash soup. Yum!
Erin brags that she only got her first cavity "three months ago," so she doesn't know what Jenna's going through, "but it sounds traumatic." She made her some soup to make her "feel loved." Awww! That's sweet.
"I've seen Friend Erin … now this is, like, Mama Erin," Jenna says. "She's sweet and nurturing. And I just want her to give me a hug."
"How do you feel about going on this trip [to Anguilla] with everyone?" Erin asks. "I thought about not going." She's still upset about the fight with Brynn.
After admitting that her feelings are still hurt, Erin continues, "I'm pretty good friends with Brynn, but it's one thing after another with her. She's talking about, like, divorce and wife swapping and being my stepmom, and it's just constant." I think Brynn was doing a "bit," Erin. It was in poor taste, but she was kidding around. She's not going to steal your husband or marry your dad.
Jessel's hubby is going to Vietnam for a sandwich?
Over at Jessel Taank's, she's chatting with her husband Pavit while packing for Anguilla. "What's this I hear about you potentially going to Vietnam?" she asks him. She heard him mention to her parents that he was going to go there while she was in Anguilla.
"I have this ticket that I need to use," Pavit responds. "So I'm going to Vietnam … I need to go have some time to myself."
"We live in a city where there's, like, a thousand hotels," his wife says. "I'll book you a night. Why do you need to go all the way to Vietnam?"
He says he needs to go get a banh mi sandwich. Like they don't sell those anywhere in New York? I live in the suburbs of Northern California, and I even I can find a banh mi sandwich within minutes of my house.
"Well, who's going to Anguilla for five days?" Pavit responds. "I'm going to Vietnam for three days. What's the difference?"
So he's jealous that his wife's going on a girls' trip for a few days, so he's striking back? Is that it? More likely, he's not just looking for the perfect banh mi, if you know what I mean. From what I've seen on House Hunters International, it's a beautiful country, but I've heard rumors of "attractions" available there that aren't in this country.
Pavit's going to fly 20 hours to Vietnam for a sandwich. "You're absurd," Jessel tells him, and I agree.
Girls' trip to Anguilla
When all the ladies (minus Jenna) arrive at the airport for their flight to Anguilla, Erin decides to make peace with Brynn. "I'm on vacation," she says. "I'm not going to harp on the small stuff. I want to have fun. Brynn can be a great time when she's not being an idiot."
When they arrive in the Caribbean, the RHONY ladies are met by a chauffeur who welcomes them to their "home for the next few days." Sai has rented a villa with a butler and a chef, but two people have to share a room. Ubah and Jessel decide they're not above sharing, so that's settled.
The house is palatial. "It looks like a castle," someone exclaims. "Nice job, Sai."
Erin throws Jenna under the bus … and backs over her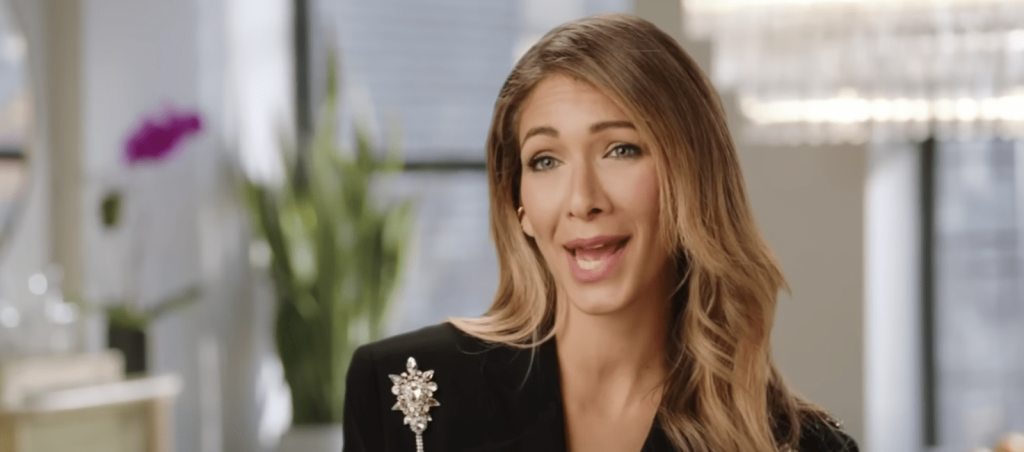 Over drinks next to the infinity pool, Erin spills the beans that the reason Jenna flew early was that she didn't want to fly coach. "I don't feel bad for telling them," Erin says. "She didn't say, 'Don't tell anyone.' She doesn't know how to be in a group of girls and to be open and honest."
"She would do so much better if she could just say, 'Hey, I'm not flying coach with you bitches.'" Nice, Erin. Jenna's gonna be so much more comfortable in the girls' group knowing you threw her under the bus.
Erin adds, "I wonder if she really wanted to tan?" Okay, now Erin's just being a bitch. All the good karma she earned by bringing Jenna that soup just went out the window. As a result of Erin's ratting her out, the other women turn on Jenna.
"Where is Jenna?" Sai asks.
"I don't care," snarks Brynn.
"Jenna can suck my d*ck," blurts Ubah, getting a laugh from the others.
"I'm not gonna sit here and wait for her," Brynn continues. "I'm over it … It's like everything's a f*cking branding opportunity. I can't stand it. Like, do you want to be friends with me, or do you want to try to, like, get me to post sh*t on Instagram?"
They're all so busy trashing Jenna that they don't even notice her arriving at the house. "I've been in Anguilla for two days," she says. "I'm tan. I'm relaxed … [and] I'm wearing my favorite new dress. It's time for a girls' trip. I've got this." But do you really, Jenna?
Jenna on the hot seat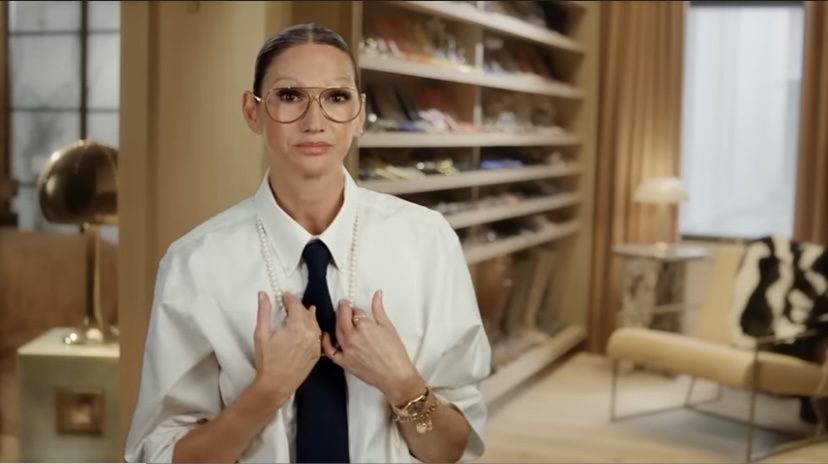 "I was not expecting to walk into an interrogation about my decision to travel early," Jenna says. "I'm not sure what's happening." Watch the tape back, Jenna. You won't be pleased.
"We just want you to be with us," Erin sweet-talks in the phoniest of voices. "And now you're here, so we can have fun."
"I'm sorry," Jenna apologizes. "I didn't think it would be such a big deal."
Sai dismisses the group to get ready for dinner. They have an hour before they need to leave.
"Are you okay?" Erin asks Jenna. Oh, now she's worried about Jenna. Does anybody else think Erin's fake as sh*t?
"Oh, God, totally," responds Jenna. We'll see how it goes. I don't think they're done ganging up on her. Maybe she just needs to spill her guts and "be open and honest." Then they'll look for someone else to pick on.
Though she initially thinks her room is "charming," when Jenna sees Jessel's room, a light goes on. "Whoa! I walked into Jessel's room and I was like – [gasps], 'Oh,'" Jenna realizes. "I feel like I'm being punished for the fact that I came down early." Damn straight, you are.
"It's fine," she continues. "I have other things going for me."
Jessel clues Jenna in
"When you arrived," Jessel tells her, "you walked into a bit of a weird, tense sh*t storm."
Jenna admits sensing some resentment against her but isn't quite sure of its source.
"Poor Jenna," Jessel interviews. "She's had probably an amazing day on the beach, getting massages. She looks so golden and relaxed. And then she's thrown into the lions' den." Or perhaps the Lyons' den?
Meanwhile, Brynn and Sai are complaining that Jenna doesn't open up to them, gives them the runaround about her skin condition and makes excuses. I think Jenna's just socially awkward. She doesn't know how to act in a group of women, and they're not being very welcoming to her.
"At the end of the day," Jenna tells Jessel, "I did what I needed to do for myself."
"And it's like, so f*cking what?" Jessel says.
"It's not because I don't want to be in f*cking coach with all of you," Jenna adds. "Like, it just isn't … Like, I have spent years trying to bend to make other people happy. And I'm not at that place in my life where I want to do that."
"Either we will talk and find a path," she finishes, "or we won't." So just screw 'em, Jenna. Just be yourself and who cares what those other bitches think?
Real Housewives of New York continues Sundays at 9/8c on Bravo.
TELL US – DO YOU THINK ERIN SHOULD HAVE TOLD THE OTHERS ABOUT JENNA FLYING FIRST CLASS? DO YOU THINK JENNA NEEDS TO BE MORE "OPEN AND HONEST" WITH THE OTHER WOMEN?
Who is the best "wingwoman" in NYC?
RHONY's new villain?
Brynn was so not serious.