Rebundle Hair Extensions is revolutionizing the beauty industry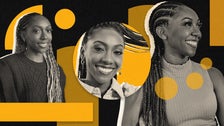 Ciara Imani May is poised to revolutionize the hair care industry, one bundle at a time.
A native of Kansas City, Missouri, he is the brains behind sustainable plant-based hair extensions brand Rebundle. The hair, named better braid and comes in seven colors and counting, straying from the toxic synthetics used in hair commonly found in beauty stores. Instead, the biodegradable brand uses repurposed biopolymers and naturally-extracted banana fiber for their hair, which means their strands are slightly thicker than the alternative.
That's not only important for the environment, but also for scalp health, May stressed. Prior to 2019, when she founded the brand, May had similar issues that many black women with synthetic braided hair face — itching and irritation her scalp so much that she feared getting the protective style. However, she was initially skeptical that the hair was the cause of her discomfort, until confirming that she had no issues with the hair products she used to care for her braids — the hair was the issue.
So after a few years on her natural hair journey, she decided to take a healthier approach.
"With those experiences of getting my hair braided growing up, I knew I was going to be itchy. It would be uncomfortable. But I personally didn't wear braids that often in the summer of 2019. It was whatever, I'll take it off in how many weeks and forget about it," the 28-year-old told HuffPost. "But with [that] Period, I was working my first full time job and just wanted to keep my hair in braids and found it difficult because it was so uncomfortable.
May had just completed her Masters in Social Entrepreneurship at the University of Southern California and had a different understanding of problem solving. She learned to draw on ideas that addressed problems she faced firsthand. Inspired by the zero waste movement and her desire for a more comfortable, sustainable hair braiding experience, she had enough fuel to start researching Rebundle.
Her early research began by answering her questions about plastic hair: "Who made it? Where was it made? What was it made out of?" Then, at the onset of the pandemic, she quit her job and dedicated her work to talking to subject matter experts, applying for a grant, and learning what it takes to create a product.
"It was immediately clear to me that whatever product I ended up developing either couldn't be made out of plastic at all, or had to be a biodegradable natural fiber," she said. "So that was my criteria. It couldn't itch, and it couldn't contribute to pollution."
After numerous tests, she landed on banana fibers. Headquartered in St. Louis, Rebundle had a soft launch in January 2021, with the first batch of products shipping in late spring of this year. May's company later relaunched with a patent-pending version of the product.
Rebundle claims to be the first plant-based hair extensions company in the United States. To complement their eco-conscious mission, they've also created a plastic synthetic hair recycling program so people can send in their old hair. As a result, they've recycled more than 335 pounds of tissue to date.
"When you think about where the future of beauty is headed, and products in general, there is an urgent need for products that are more sustainable and don't harm the environment — no less," she said. "We need to get to a point where we're carbon neutral… that's across the board."
She added that black people need to be included in this conversation.
"The other piece is: We're sort of sitting at this interesting tipping point between beauty and sustainability. In an area where there hasn't been a lot of innovation or the intersection of how black and black women and men contribute more specifically to pollution through our normal routines and taking care of ourselves, taking care of our hair," she said. "It's becoming increasingly clear how important it is that these things are taken into account or that brands are accountable for how we contribute to clean and sustainable products in the marketplace."
In general, May has received a mixed reaction from the hair braiding community and those who wear braids. Some are grateful and excited to try a new product, while others are more reserved and want to stick with what they know.
"It's becoming increasingly clear how important it is that these things are taken into account or that brands are accountable for how we contribute to clean and sustainable products in the marketplace."

– Ciara Imani May, founder of Rebundle
Building that relationship with communities is important to May. You can't find Rebundle at beauty stores, and it's tagged with a higher price tag ($50 per 22-inch bundle) than most synthetic hair. But May emphasizes the care, attention, and consideration every Rebundle customer receives, compared to the often lackluster customer service at many local beauty shops.
"We get a lot of questions. We get a lot of encouragement. Lots of people are happy there is something better out there, and lots of praise and positive reviews for how their experience has been wearing and experiencing peace of mind wearing braids, either for the first time in several years, without worrying about the itch , or even the thought of how to dispose of them afterward," May said.
Her brand has also created a course for braiders who want to learn the intricacies of braiding and caring for Rebundle's hair. They also boast an online directory Featuring 42 stylists in multiple US cities who know how to braid with plant-based hair. The strands are slightly thicker than strands of synthetic hair. However, like more common fabrics, they can be heat styled and sealed with hot water.
Rebundle has also caught the attention of NBA point guard Chris Paul and former NFL quarterback Colin Kaepernick when they invested in May's company. To date, Rebundle has raised $2.1 million in funding.
As May and her team continue to work to improve her product and brand, she creates new colors, deepens her roots in the braiding community, and opens up new avenues for growth, potentially for other products in the future. In addition, she hopes to transform the hair extensions industry at a consumer and legislative level.
For the future of black hair care, May wants "cleaner, safer and more sustainable options".
She added: "I think it's very doable. Many products are handmade, but I see it as extremely doable. [Right now]we are growing internally as fast as we can to make sure the girls who get braids this summer can use Braidbetter."