Recap of the Winners, Episode 1: "Legends"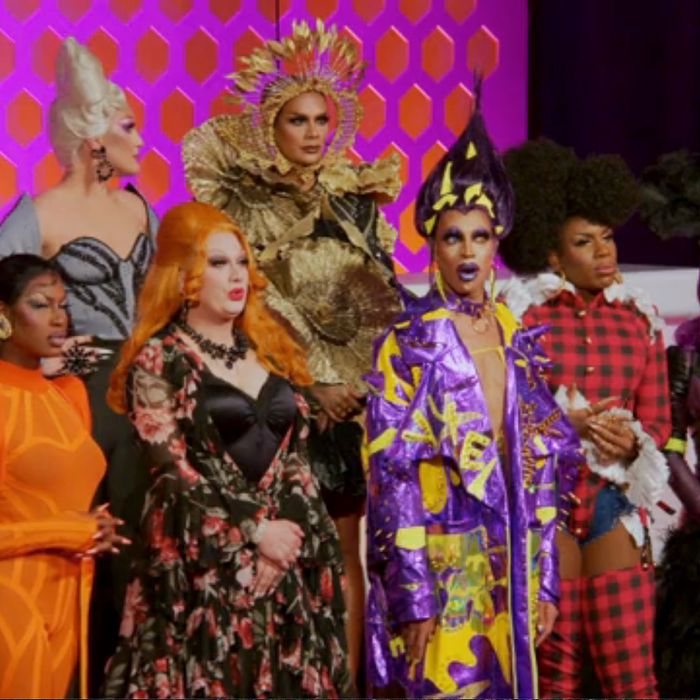 herstorically speaking, All stars not always the first time. So while an air of excitement surrounds this all-winner season, some (myself included) approach it with trepidation. What gimmicks could backfire? Which beloved queen is sent home early? Now that I've seen the first two episodes, let me allay your fears: This All stars Season is already one of the best we've seen from the franchise and it's showing no signs of slowing down.
Let's start by discussing the caliber of the cast. As the name indicates, All Stars: All winners features some of the most talented and successful queens in the world Drag Race empire ever produced. We have Shea Couleé, Chicago's well-loved queen, treated as a winner even before her season All stars has already been announced. There's Jinkx Monsoon, whom RuPaul himself calls a "genius," and who reinvented our idea of ​​the snatch game. And of course Raja, the undisputed fashion icon and tastemaker who embodies the concept of drag royalty. Rounding out the cast are Monét X Change (powerhouse performer and certified New York favorite), Trinity (one of the franchise's most versatile pageant queens), sociable jack-of-all-trades Jaida Essence Hall (who is known to sew and design everything her own catwalks), the Vivienne (who is as quick-witted as she is polished) and Yvie Oddly (who appears to have produced three of them Drag RaceTop ten most iconic lip syncs). Still overwhelmed? I'm sure. Remarkably, it's not just the fact that these queens are world-class talent in the art of drag that makes this season so damn good. As winners, they are all uniquely good at the art of Drag Race. Any challenge format that RuPaul might throw at her? Baby they've done it twice already And four of them probably won. (If you don't believe me, look no further than the reading challenge and main challenge in this very episode. But more on that in a moment.)
First we need to talk about the twist. "This season," announces RuPaul. "No one will go home." The queens gasp and hold on fake Shock. Now I'm willing to accept a lot, but let's face it: if you don't believe that every single one of these girls carefully negotiated their guaranteed appearance in every episode this season, I have a bridge to sell you. After all, these aren't just winners. These are savvy businesswomen who have spent their careers navigating (and thriving!) an industry that didn't exist a decade ago. Also, judging by the first two runways, there is designer clothing in the workroom worth the dollar equivalent of a NATO country's gross domestic product. And these queens will show off every last goddamn yard of fabric. But make no mistake, I'm very much in favor of this twist. These queens each have different strengths and I want them all to have a chance to show themselves. This episode, this honor belongs to Shea.
I imagine if Shea designed a fantasy episode Drag Race flaunting her many talents would come pretty close this week. After a very solid performance in the reading challenge (though ultimately outshone by the incomparable Jinkx), the queens are ushered onto the main stage to have their runway walks critiqued by Naomi Campbell. Campbell, in all her stunning glory, doesn't pull any punches: "Relax your hands," she shouts to Raja. "It's beautiful… but I wish you hadn't done that with your feet," she advises Monét. But when it comes to shea, it's a different story. After Shea takes a moment to explain what Naomi has meant to her throughout her life, Naomi tells Shea that she is "exquisite… perfect." Shea, always a wordsmith, is at a loss. It is deeply moving to see a Queen we have loved and watched grow over the past five years receive the highest praise from her idol of idols. Shea Couleé, you will always be famous.
Next stop is the Shea Fantasy Train, a choreography and verse writing challenge (which Shea mastered to great acclaim in Season 9 and again All stars). Not only that, all of her competitors turn to her for group choreography and rightfully acknowledge her expertise. Needless to say, Shea kills. Her choreo and performance skills are as sharp as ever, and her verse is another iconic addition to Shea's musical canon. But she's not alone: ​​Monét is impressive too, mixing vocals, rap and onomatopoeia, and Jaida makes me laugh with her energetic verse and over-the-top autotune. On the runway, Raja proves why she's still considered the franchise's pre-eminent fashion artist with her Louis XIV-inspired look. It's breathtaking, innovative, amazing… basically everything you'd expect from Raja. However, Jinkx and Shea are equally impressive, bringing stunning and elevated garments to this season's first runway.
With the return of All stars Top 2 format, seems like it could be anyone's game. Shea's dominance is hinted at from the moment she enters the workroom, but second place is up for grabs. It's Trinity and Yvie's talk, but at the end of the day the judges just can't resist Monét's charisma, which is still so captivating even in a hall full of winners. In their first showdown, Shea and Monet lip-sync to Ella Fitzgerald's rendition of "Old MacDonald," a campy (but vocally intriguing) rendition of the childhood nursery rhyme. The performance is… masterful. I know my praise for this episode was over the top, but it's well deserved! Shea and Monét make clear, specific choices that are as lighthearted and fun as they honor Fitzgerald's brilliance. A perfect culmination of a spectacular premiere episode. Any choice would have been justified, but the judges are head over heels for Shea. (As did I!) So it's her responsibility to pass the rhinestone-studded butt to a competitor, potentially preventing her from earning a Legend Star next week. Shea chooses… Trinity! An interesting opening gambit that confuses me at first but (spoiler alert) is pretty clever.
And with that, this premiere episode comes to an end, but one last consideration before we go: Upon entering, Monét notices that the layout of the Werkroom has changed. "They made it bigger for us," she says, looking around. "For our egos," chorus Shea and Trinity in harmony. It's a casual joke, but something tells me it might turn out to be prophetic. An interesting meta-game is already underway. Namely the audition for the "Breakout Social Media Star". While the main competition takes place on the main stage, the Werkroom is a battleground for who has the most colorful closing statement or the most memorable self-confessed one-liner, even more so than in previous seasons. Half of these girls are true fan favorites, and they fight with veneered teeth and manicured nails to retain that title.
The next "week" (or rather the next in your Paramount+ queue) is Snatch Game! No spoilers here, but suffice it to say you won't be disappointed. Until then!
https://www.vulture.com/article/drag-race-all-stars-winners-recap-season-7-episode-1-legends.html Recap of the Winners, Episode 1: "Legends"