Rep. Marjorie Taylor Greene alleges assault; calls for the arrest of a man who has repeatedly blown whistles in the ears of others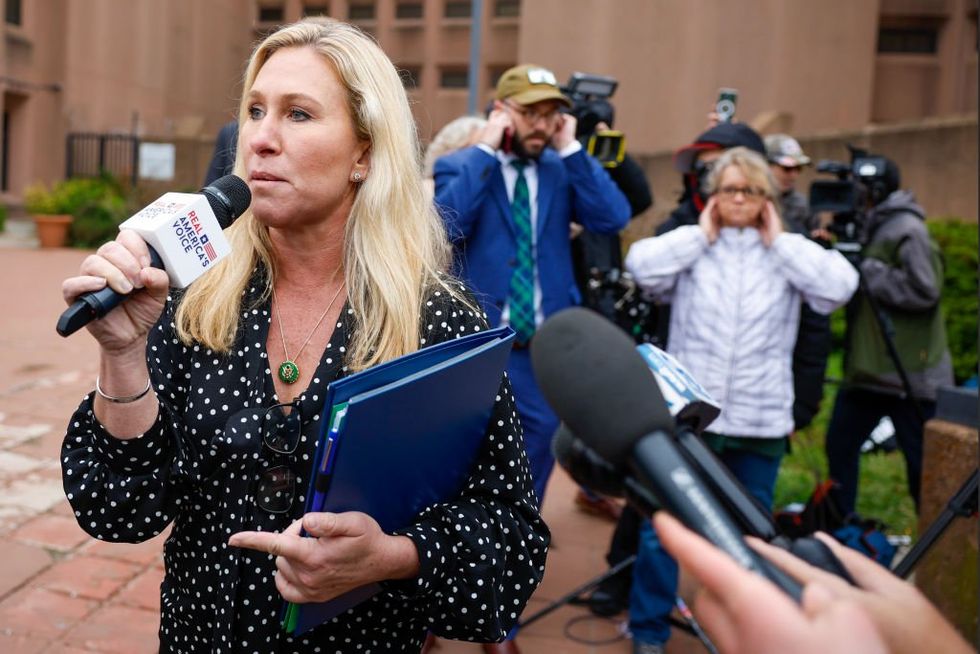 Rep. Marjorie Taylor Greene (R-Ga.) called for the arrest of a man she says assaulted "everyone" near a Washington DC jail on Friday by repeatedly blowing a whistle into at least one attendee blew my ears.
"This man attacked everyone there by blowing a whistle as loud as he could in the ears of others and has attempted to attack me and other members multiple times," Greene claimed in a tweet.
Greene attached a video to the tweet showing a man in a black hooded coat, black mask and sunglasses. Under the coat, he appears to be wearing a navy blue, red-lined hoodie along with a red-billed hat.
A blonde woman plugs her ears while the man directly behind her appears to repeatedly blow a whistle from under his mask near her ears. The man stands so close to the woman that her hair touches his coat.
In the first 17 seconds of the 29-second clip shared by Greene, he whistles 11 times. He then turns away and yells what sounds like, "Don't touch! Touch, you die!" He then whistles another seven times.
"Sounds like a direct threat," Greene said of the man's "touch you die" comment.
The man was also outside of Greene's press conference in 2021, she said.
Greene explained that a member of her staff called 911 and eventually reached a live operator after "a few minutes." After reporting the alleged assault, the staff member asked the prison to send an officer, which the prison refused.
"He needs to be arrested," Greene said, adding that her associates and others at the press conference tried to "block" him, including the bespectacled woman in the video who plugged her ears.
A bipartisan group from the House Oversight and Accountability Committee accompanied Greene on a trip to DC Prison for a tour that hill reported Friday. Defendants facing charges related to the January 6 riots at the Capitol are being held at the facility.
The track in The Hill also references a "protester" who "whistle loudly" during Greene's remarks.
The Democrats and Republicans on the tour had significantly different impressions of the conditions for the inmates being held there.
Rep. Robert Garcia (D-Calif.), for example, said people were being treated "fairly fairly."
Greene said the defendants were "abused." She said they told stories that included assault, threats of rape and denial of medical treatment.
Watch video of the alleged attack shared by Rep. Greene on Twitter below. The tweet accompanying the video had been viewed more than 6.4 million times as of Sunday afternoon.
Like Blaze News? Bypass censorship, sign up for our newsletters and get stories like this straight to your inbox. Login here!
https://www.theblaze.com/news/rep-marjorie-taylor-greene-alleges-assault-calls-for-arrest-of-man-who-repeatedly-blew-whistle-in-others-ears Rep. Marjorie Taylor Greene alleges assault; calls for the arrest of a man who has repeatedly blown whistles in the ears of others