Rep. Thomas Massie is the only 'no' vote on legislation condemning anti-Semitism
A Republican congressman from Kentucky cast the lone vote against a House resolution honoring the heritage of Jewish Americans and denouncing an increase in anti-Semitic-motivated violence.
Rep. Thomas Massie was the only vote against the resolution that passed the House by 420 votes. Although the resolution passed with an overwhelming majority and bipartisan support, eight Republicans abstained.
The reasons for Massie's vote are unclear. As of Wednesday night, he has not made any statements or made any social media posts explaining his vote. news week reached out to Massie for comment.
House Resolution 1125, sponsored by Florida Representative Debbie Wasserman Schultz, says generations of Jewish people have come to the United States to flee "oppression, discrimination and persecution."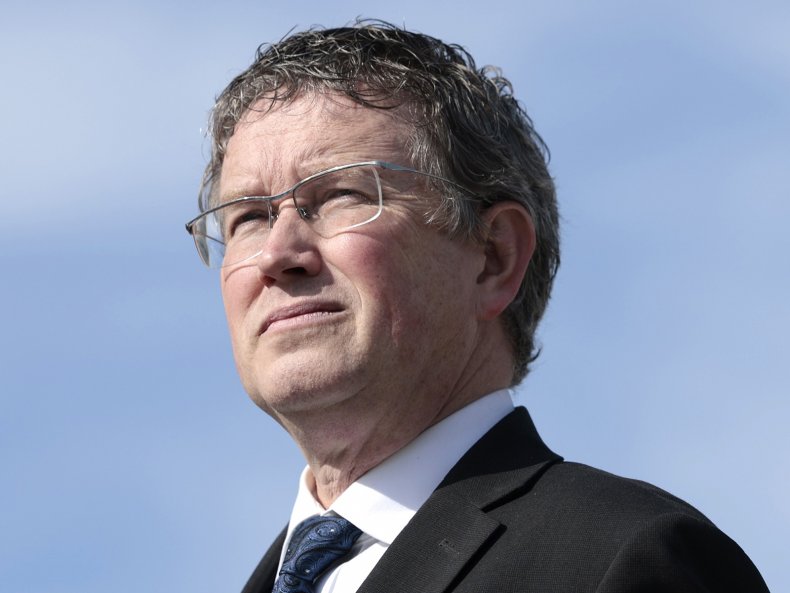 The resolution notes that conspiracy theories slandering Jewish people have led to mass murders, most notably the 6 million people who died at the hands of the Nazis. However, the resolution cites a 2020 survey that found younger generations were unaware of key facts about the Holocaust.
"Our history is woven into the history of America through generations of leaders," Wasserman Schultz said on the floor of the House of Representatives. "But while we honor the profound influence American Jews have had on our nation and culture, I regret to say that the recognition and understanding of it [Jewish American Heritage Month] is urgently needed now more than ever."
She added that the Anti-Defamation League said anti-Semitic incidents were up 34 percent nationwide. Additionally, she cited a 2021 survey by the American Jewish Committee that found nearly a quarter of American Jews had been attacked in the past 12 months and four in 10 people had changed their behavior out of fear of being attacked.
Wasserman Schultz pointed to how a gunman accused of opening fire on black shoppers in a Buffalo grocery store this week espoused the "replacement theory," the idea that elites are trying to replace whites economically and culturally. Some versions of the theory are anti-Semitic.
Noting how antisemitic misinformation continues to flourish, the resolution calls on "social media platforms to make stronger and more relevant efforts to measure and address antisemitism online, while protecting concerns about freedom of expression."
In addition, the resolution called on the US to fight antisemitism and to work with the Interparliamentary Task Force to Combat Online Antisemitism, a group of lawmakers from Israel, the US, Canada, Australia and the UK
Republican Rep. Steve Chabot said in House that he was "concerned about the evidence of government intervention in online speech." Republicans have resisted calls on social media to crack down on disinformation, arguing that conservative views would end up being censored. Chabot said he wished Democrats had done more to work with his side to address those concerns.
"We cannot allow our shared desire to fight anti-Semitism to lead to censorship and control, which could only exacerbate the problem," he added.
Advocacy group StopAntisemitism called Twitter was "outraged" by Massie's vote against the resolution. The group also criticized Massie's refusal to fund Holocaust education, condemned a divestiture campaign in Israel and compared the COVID-19 restrictions to Nazi Germany.
https://www.newsweek.com/rep-thomas-massie-only-no-vote-bill-condemning-antisemitism-1707998 Rep. Thomas Massie is the only 'no' vote on legislation condemning anti-Semitism