Republicans Warn Backfire on SCOTUS Tax Returns: 'I'd Love to See'
Texas Rep. Kevin Brady warned Tuesday that the public release of former President Donald Trump's tax returns would unleash a "dangerous new political weapon" that could be used against US Supreme Court justices and individuals alike.
Some people took to social media later Tuesday to suggest they would like to see the Supreme Court Justices' tax returns.
Brady made his remarks during a Tuesday afternoon news conference held ahead of a meeting of the US House of Representatives' Ways and Means Committee. Committee members were expected to discuss the proposed release of Trump's tax returns during the meeting, which was closed to the public shortly after it began.
Brady, the committee's Republican leader, began his remarks by saying the proposed release would mark an "unprecedented action" that he said will "endanger the right of every American to be protected from political attack by Congress." .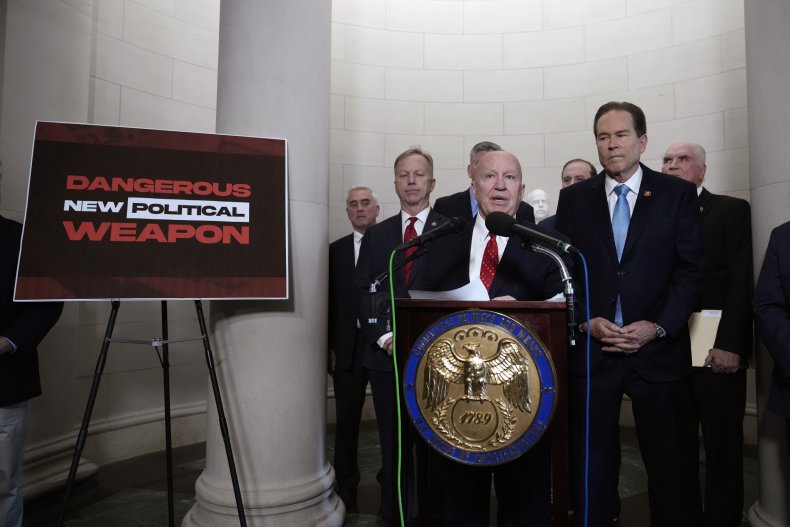 Brady said he and other Republicans are not concerned about whether Trump should have released his tax returns while running for president, as many presidential candidates before him did, or whether his tax returns were accurate.
"Our concern is that this committee action, if taken, will set a terrible precedent, unleashing a dangerous new political weapon that will reach far beyond the former president and decades of privacy for the average American who has lived since the Watergate reforms." exists, nullifies," Brady said.
Brady said whoever heads the committee going forward "will have nearly unlimited power to target and publish individuals' tax returns. And not just private individuals: political enemies, business and union leaders, or even the tax returns of the Supreme Court justices themselves."
C-SPAN livestreamed Brady's press conference just before the committee voted to move its session to executive session. In the hours that followed, people took to social media to respond to Brady's warnings.
"Don't nag us, Kevin Brady" one person tweeted.
A Twitter user wrote that people who "have nothing to hide" and who "pay their fair share of taxes" shouldn't worry about having their tax returns released.
Another suggested that the release of Supreme Court Justices' tax returns would be "a good thing" when there are "legitimate concerns" that a Supreme Court Justice is "abusing office for self-enrichment."
"I'd like to see the Supreme Court Justices' tax returns" tweeted Civil Attorney Scott Hechinger.
Tuesday's meeting of the Democrat-led committee came on one of the last days Democrats retain control of the US House of Representatives before a new Republican majority takes power on Jan. 3.
Democrats have advocated for the release of Trump's tax returns for years and only received copies of those returns late last month.
All other presidents in recent decades have chosen to publicly release their tax returns, but Trump didn't do so when he first ran for office in 2016 or in the years since. He has spoken out against Democrat-led efforts to release the documents and has criticized the US Supreme Court after its recent decision allowing the House Ways and Means Committee to obtain them.
Following the Supreme Court decision, Ways and Means Committee chair Richard Neal, a Massachusetts Democrat, said the committee "will now exercise the oversight that we have sought for the past three and a half years."
Republicans on the committee have opposed the release of Trump's tax returns and have criticized their Democratic counterparts after the meeting was scheduled for Tuesday. Brady responded to the scheduled meeting in a statement last week, urging Democrats "not to unleash this dangerous new political weapon on the American people."
The committee is expected to vote on the proposed release of Trump's tax returns later Tuesday. As of 6:30 p.m. ET, the committee was still meeting behind closed doors.
Brady's office expelled news week to the committee press team when contacted on Tuesday. news week contacted the committee for further comments.
https://www.newsweek.com/gop-kevin-brady-warning-about-supreme-court-tax-returns-backfires-social-media-response-1768593 Republicans Warn Backfire on SCOTUS Tax Returns: 'I'd Love to See'