Rescue dogs enjoying McDonald's burgers for the first time melt hearts
Netizens were left to sob after a rescue center shared a video of its puppies enjoying a McDonald's burger for the first time.
The clip, shared on TikTok by CA Rescue on Wednesday under the username Doggonespoiled, shows the excited dogs indulging in hamburgers, some of which gobble them down in less than two bites.
Since it's not a good idea for dogs to eat sauce, the burgers were just plain cheese, as the volunteer clarified in a comment: "Yes!! We made sure there was nothing on the burger before giving it [it] to."
Corresponding The Spruce Pets, tomato sauces, ketchup, soups or juices are not good for dogs due to added salt and sugar as well as artificial flavors or other chemicals they may contain. Also, soups and sauces are often flavored with onions and garlic, which are toxic to dogs.
According to the American Society for the Prevention of Cruelty to Animals (ASPCA), alcohol, avocado, chocolate, coffee and caffeine, as well as citric acid, grapes and raisins, milk and dairy products, nuts, raw/undercooked meat, eggs and, perhaps surprisingly, Bone.
"Feeding your pet raw bones appears to be a natural and healthy option that might arise if your pet lived in the wild," says the ASPCA. "However, this can be very dangerous for a pet who could choke on bones or suffer a serious injury if the bone splinteres and lodges in or punctures your pet's digestive tract."
The clip featuring the dogs has been viewed more than 450,000 times in less than two days and received over 61,800 likes.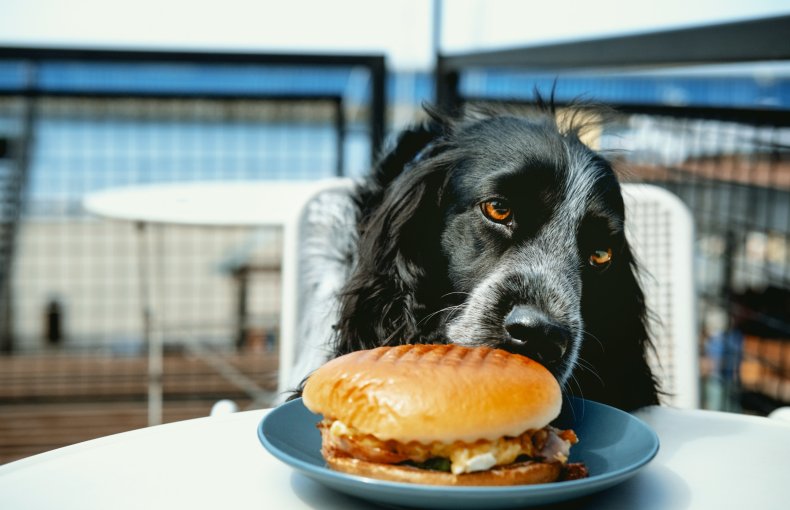 One TikToker, Hollie, commented, "I want them all."
Another user, Mary Lou, said, "Really sobbing," while Squash added, "Awww. That just warmed my heart."
Ashleigh Robins said: "Aww that's so lovely, well done you gave them something [of] Normality. I wish them the best of luck in finding nice homes."
Nataliecamp661 added: "Your rescue manager is so sweet for that. I know those babies loved her."
Tryingtoohard wrote: "This is the healthiest thing I've seen today. Thank you for spoiling these sweet babies while they await their forever homes!"
news week contacted Doggonespoiled for comment. We have not been able to verify the details of the case.
Do you have funny and adorable videos or pictures of your pet that you want to share? Send them to life@newsweek.com with some details about your best friend and they could appear in our Pet of the Week lineup.
https://www.newsweek.com/rescue-dogs-enjoying-mcdonald-burger-first-shelter-melt-hearts-1751893 Rescue dogs enjoying McDonald's burgers for the first time melt hearts