Residents fear losing 'everything' as 11,000 are evacuated
The Mosquito Fire has burned more than 40,000 acres in Placer and El Dorado counties, California, and resulted in the evacuation of over 11,000 people, according to state and local officials.
The fire has been active for four days and is currently only 10 percent contained, according to the California Department of Forestry and Fire Protection (CAL FIRE).
The Placer County Sheriff's Office said early Sunday morning that "5,800 buildings are threatened by the fire and it is estimated that over 11,000 people have been evacuated."
The fire has not yet damaged or destroyed any buildings.
A local resident, Linda Gamble, told local news station KCRA that a sheriff's deputy had to "drive through the fire" to evacuate her and her family.
"We live in a trailer and if we lose it, we've lost everything… If our trailer burns down, where will we live? It's just very scary," she said.
The station reported that in the nearby town of El Dorado Hills, haze from the fire was in the air, making people concerned about air quality.
"It's like Armageddon outside, but we seal the hatches and make sure it's easy to breathe inside. Nice and cool," Andrea Riso, owner of Talisman Collection Fine Jewelers, told KCRA.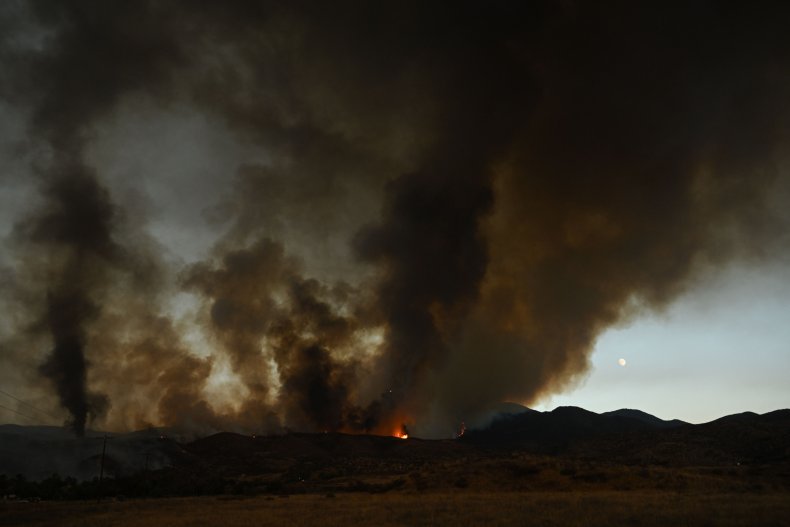 In its latest update on Sunday morning, CAL FIRE said the northern sections of the fire "remain very active due to the extremely dry fuels in the area and crews are working hard to stay ahead of the fire's progression."
"Due to the steep and rugged terrain, firefighters continue to explore opportunities to build indirect lines of control north and northeast of the fire," the department added.
CAL FIRE also said cooler temperatures and smoke and cloud forecast for Sunday could affect fire conditions.
"The increase in humidity and shading created by the smoke inversion and clouds should temporarily moderate fire behavior, but expected afternoon south-westerly winds will raise inversion and create better ventilation for increased fire activity," it said.
news week has reached out to CAL FIRE for further comments.
Other wildfires nearby
In addition to the Mosquito Fire, California firefighters are also battling the Fairview Fire, which at this point has burned nearly 30,000 acres and is 45 percent contained.
The state is in the midst of what extreme weather expert Colin McCarthy said was "one of the worst" in California's "modern history."
Oregon has also seen intense wildfires in recent days, and as of Friday the state's Cedar Creek Fire had burned over 230,000 acres. Hundreds of state firefighters were dispatched, and officials issued evacuation orders after the fire broke out.
https://www.newsweek.com/mosquito-fire-residents-afraid-losing-everything-11000-evacuate-1741876 Residents fear losing 'everything' as 11,000 are evacuated