Review of "My time at Sandrock".
"My Time at Sandrock" is a spiritual successor to 2018's "My Time at Portia" — and it's a successor in almost every way, too. This time, alongside friendly competition Mi-an, you're the brand new builder in the desert city of Sandrock. Their goal is not only to have the best workshop, but also to breathe life into this dwindling community that is on the verge of financial ruin. That might hit a little close to home.
It's a strange mix of the best parts of Harvest Moon and Stardew Valley, with some mechanics more reminiscent of gacha-based titles like Genshin Impact. More importantly, My Time at Sandrock does what it sets out to do: provide a fruitful, leisurely simulation experience… even if it feels like it's doing too much at once.

To view this content, please enable targeting cookies.

Manage cookie settings

I started playing My Time at Sandrock two weeks ago and I've barely scratched the surface. This is great because no one wants a simulation RPG without content, and My Time at Sandrock is certainly not lacking in activities. When I started my life as a contractor, I was easily overwhelmed by machines and all the different resources they each provide, as well as all the different places and faces I had to visit on a regular basis. Let's not forget the events, mini-games and all the other things you can spend your time doing if you want. Sandrock is much more extensive than many other farming simulation games I've played, and honestly that's a good thing.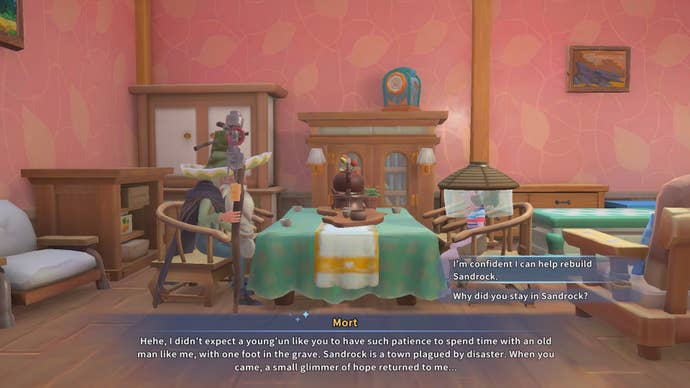 The feeling of being overwhelmed subsided as I started building new machines. Similar to my time with Stardew Valley, it soon becomes a matter of planning your gaming days so that you can be as efficient as possible and make more money: talk to the townspeople, get your machines to produce resources for the day , mine them to get more resources and complete your daily missions, fight some monsters and so on. This is where something I practiced in Pikmin 4 came into play, and that is Dandori. Dandori is the ability to strategically organize tasks and work effectively to implement plans. That's what most life simulation games boil down to after a short while, and My Time at Sandrock brings it together in a satisfying way.
The developers of My Time at Sandrock also provided me with a late-game save file so I could see where the story would ultimately go and have an idea of ​​what my workshop would one day look like. In short: I still have a lot to do. On PC, your home can be expanded multiple times and the terrain of your workshop can be filled with pets, livestock, improved machines to produce resources, and even a robot to keep things clean and tidy for you. Your relationships with the townspeople earn you shopping discounts and more (including romance and children). just like in real life), and you'll see Sandrock slowly transform from a barren desert into a bustling, green city with water in abundance.
It was really nice to see and know what I ultimately wanted to achieve. It was like I stepped onto one of Animal Crossing: New Horizons' dream islands for a day, looking for inspiration for what to do next, and there is a lot of it. As you get about your daily routine, My Time at Portia fans will be more than happy with what's on display here. In a new setting it's actually more of the same, but this time you have more content to commit to if you want Sandrock to survive.
"My Time at Sandrock" is by no means new, but it is refreshing, provided you don't bite off more than you can chew. We've seen this tried-and-tested formula of turning a desolate piece of land into a success time and time again, but what keeps My Time at Sandrock going is its characters, its story, and how tight all of its numerous gameplay mechanics are. You could spend weeks collecting EXP, money, or other in-game resources, but the real joy of it all lies in helping the townsfolk and advancing the story (especially as I strive to figure out who this Logan- type). Really is and why everyone loves it so much) and watch your workshop pass productively each day as you head out to explore the area.
It's a game that I can easily imagine ending the evenings comfortably and working through my to-do list of tasks. The music, the style, the brief thrill of finding rare components or clearing dungeons; It gives me the same feelings that Harvest Moon once did, but damn, there's a lot to occupy myself with at any given moment. With that in mind, I think it's time to return to Sandrock.
---
My Time at Sandrock leaves Early Access today (November 1st) and is available to purchase on PlayStation 4 and 5, Xbox One and Xbox Series X/S, Nintendo Switch and PC via Steam and the Epic Games Store.