Revolutionary Guards tried to make me his wife
An Australian academic who has been jailed in Iran for more than two years after being accused of espionage has revealed that she believes an Iranian Revolutionary Guard interrogator tried to take her as his second wife.
dr Kylie Moore-Gilbert, who also has British citizenship, was arrested in Tehran in September 2018 after visiting the country on a research trip.
She was held in solidarity detention for months in Tehran's notorious Evin prison along with Qarchak prison, where she was later sent as a punishment.
During her time in captivity, Moore-Gilbert was accused of spying for Israel, Australia and Britain, in what Amnesty International and the Australian government described as "politically motivated charges".
Moore-Gilbert was released in November 2020 as part of a prisoner swap that also released three Iranian nationals arrested in Bangkok, Thailand in 2012 over an alleged plot to attack Israeli diplomats.
After her release, Moore-Gilbert published The Uncaged Sky: My 804 days in an Iranian Principe, which recounts her ordeal.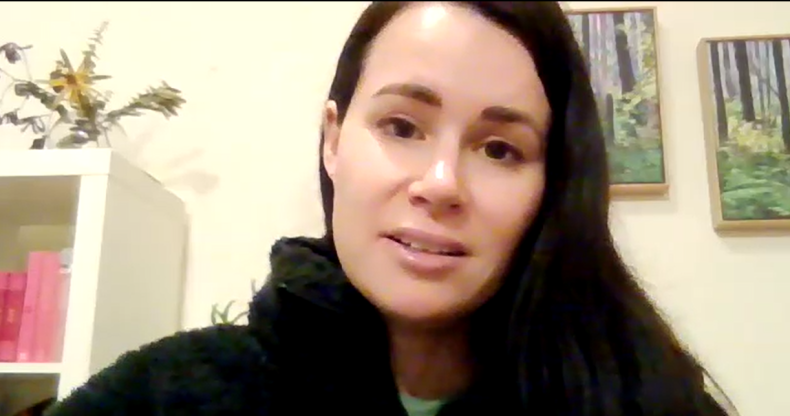 Speak with news week The scholar claimed that a senior IRGC interrogator, a man named Qazi Zadeh, took an improper interest in her, which she says prompted him to develop an interest in marriage.
In her book, Moore-Gilbert described how she was once approached by what she believed to be an emissary for Zadeh, who questioned her about becoming his second wife.
Asked by news week As for Zadeh wanting to marry her, Moore-Gilbert replied, "I think that's what he probed me for, but he never made a formal approach at the time."
"He was very smart; a shrewd politician, and he used his peers in the same way. Manipulated his colleagues. He was a master manipulator. He was definitely a psychopath. Very, very smart. And would always have proxies, whistleblowers and spies feeding information back to him."
Moore-Gilbert said other IRGCs were concerned about the inappropriate attention Zadeh was giving her and "they forced him to accept two female caretakers who would come to my meetings with him."
She added: "I could see he wasn't happy about that."
While holding her captive, Moore-Gilbert claims the Revolutionary Guards, which reports directly to Iran's Supreme Leader Ali Khamenei, were trying to recruit her as a spy and said they could threaten her outside Iran if she then backed out of the deal.
She said: "I think they think academics is a good cover story. You need a cover story or you'll look suspicious.
"I think the fact that I've been to Israel a couple of times, they probably thought they could send me to Israel for academic reasons. I didn't go far enough down the rabbit hole to get the details of how it would work.
"I said, how are you going to stop me from running away? That's when I understood that they have these networks of people. I personally don't think they have that many people in Australia actually working formally for them, they have whistleblowers and people feeding them information, I don't think they could attack me here – like my life here too threaten, but that was their line. That we can threaten you abroad and control you abroad. You certainly have a lot of people Canada, the US and probably the UK too."
Iran has been rocked by anti-regime protests for more than two months after 22-year-old Mahsa Amini died in custody after being arrested by religious police for not wearing her hijab tightly enough. Eyewitnesses claim Amini was beaten and died from her injuries, although Iranian authorities claim she died of natural causes.
At least 416 people, including 51 children, have been killed and thousands more arrested by the regime's actions, according to Iran Human Rights.
Detainees have reported widespread ill-treatment by the authorities, including torture and sexual violence.
According to Amnesty International, at least 21 prisoners are currently facing the death penalty.
This week UK network Sky news released video purportedly showing the targeted shooting of an Iranian by Revolutionary Guards in the northwestern city of Baneh.
A video was released on Monday allegedly showing Revolutionary Guards opening fire on protesters in the Kurdish city of Javanrud, leaving at least five dead.
news week has asked the Iranian Foreign Ministry for comment.
https://www.newsweek.com/woman-taken-hostage-iran-revolutionary-guard-tried-make-me-his-wife-1762499 Revolutionary Guards tried to make me his wife