Rick Scott wants more donations to Senate GOP after calls for consideration
Florida Sen. Rick Scott is defending the caliber of Republican nominees ahead of the midterms as reports suggest ad money could dry up in more than two months.
Scott, a first-term senator and chairman of the National Republican Senatorial Committee (NRSC), was questioned by anonymous Republican colleagues about reported financial problems at the committee. The NRSC's financial war chest is reportedly shrinking, leading to calls for an audit as Republican Senate nominees struggle in key swing states The Washington Post.
"I want everyone who has money in this country to step up: whether you want to give it to a campaign, or whether you want to give it to the NRSC, or whether they want to give it to the Super PACs," Scott Politico said in an interview on Wednesday.
The Washington Post reported that the NRSC had raised $173 million this election cycle, according to the Federal Election Commission (FEC), but by the end of June the committee had less than $29 million available.
Scott was mocked for calling President Joe Biden's vacation to Delaware while he was spending time on a luxury yacht in Italy.
He assumed the presidency after the GOP lost both Georgia Senate elections in January 2021. Politico reported that criticism resulted from the NRSC spending heavily, about $40 million, early in the mid-term campaign cycle and more recently canceling some ad purchases.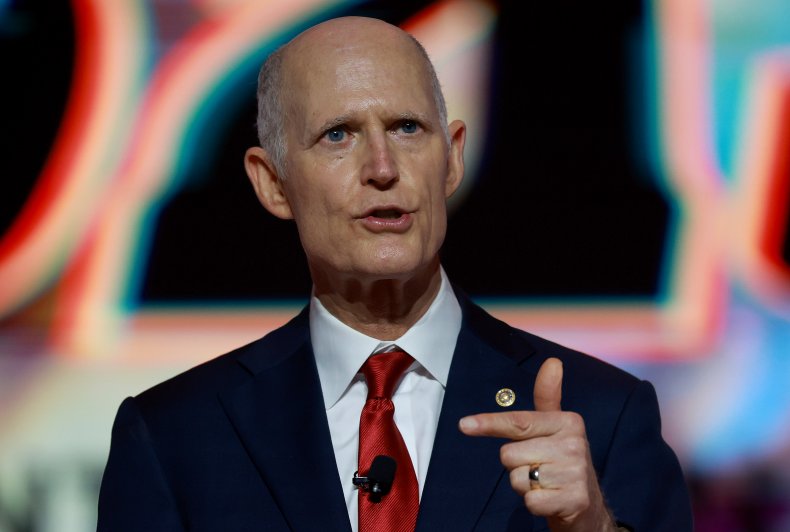 Scott has also contradicted Senate Minority Leader Mitch McConnell's assessment that the "quality of the candidates" gives the GOP a better chance of controlling the House of Representatives in November than the Senate, telling Politico that he and McConnell have a "strategic disagreement" and that both want the same thing: take over the Senate majority.
"If you badmouth our candidates… you're hurting our chances of winning and our candidates' ability to raise funds," Scott told Politico. "I know they're good candidates because I've talked to them and they work their ass off."
in one Washington Examiner Scott, released Thursday, went a step further and called out those who grumble and lament about "bad candidates" and said voters should be trusted about Washington "smart guys."
"Unfortunately, many of those responsible for losing the Senate last cycle are now trying to prevent us from winning the majority this time by badmouthing our Republican nominees," Scott wrote. "It's an amazing act of cowardice and ultimately a betrayal of the conservative cause."
NRSC communications director Chris Hartline said news week that he would let Scott's comments "speak for themselves," adding that reports of audits "are not based on anything real."
"There is no exam. It's not a real thing," Hartline said. "The NRSC has spent tens of millions of dollars supporting our candidates and defining Democrats, and we will continue to do so. We are very confident that we will win back the Senate majority in November."
Meanwhile, the Democratic Senators' Campaign Committee celebrated what it calls a "record-breaking fundraiser" that "continues to be driven by strong, energetic grassroots supporters who recognize the dedication of this election — and are committed to strengthening our majority in the… Protecting and expanding the Democratic Senate struggles to address the most pressing priorities of working families."
A spokesman for Scott referred news week to the NRSC for comment.
https://www.newsweek.com/florida-senator-rick-scott-republican-gop-campaign-donations-audit-calls-1739166 Rick Scott wants more donations to Senate GOP after calls for consideration