Ron DeSantis says media wanted Ian to meet Florida over 'political agenda'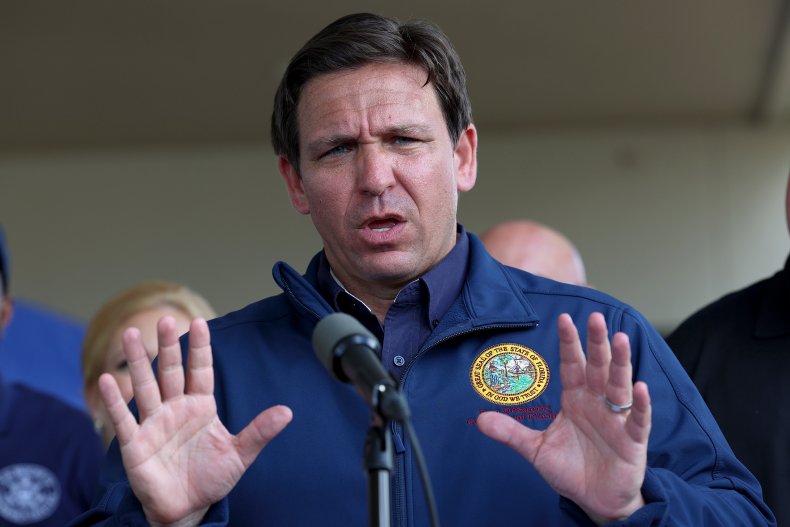 Republican Florida Gov. Ron DeSantis said the "national regime media" wanted Hurricane Ian to wreak maximum devastation in Florida in order to advance a "political agenda."
DeSantis made the remarks during an interview in Cape Coral with conservative news website Florida's Voice, which the outlet shared in a video clip posted to YouTube on Tuesday. The site's editor-in-chief, Brendon Leslie, asked the governor if there would be "accountability" for forecasts that incorrectly predicted Hurricane would hit Tampa Bay, leading him to claim the media had hoped for more destruction, than had happened in the state.
"They have national regime media that wanted to see Tampa [get hit]because they thought it would be worse for Florida," DeSantis said. "That's how these people think. I mean, they don't care about the people of this state. They don't care about the people of this community. They want to use storms and the destruction of storms to advance their agenda."
"And they don't care what destruction they face," he added. "They don't care about life here. If they can use it to further their political agenda, they will."
DeSantis went on to say that he "absolutely" thought the media was focusing on early forecasts that predicted Hurricane would hit Tampa, prompting people in Southwest Florida's Lee County, where Ian actually made landfall last Wednesday to lower their vigilance.
The governor gave no further details on the media's alleged political motivations and "agenda" regarding the weather, nor did he elaborate on the meaning of the term "national regime media".
Earlier in the interview, Leslie told DeSantis that the media "tried to politicize everything" regarding the hurricane, accusing journalists of "flatly lying" about the timing of the evacuation orders in Lee County, about 125 miles south of Tampa Bay, as to .
DeSantis has been criticized for the Lee County evacuation, which University of Miami hurricane and climatology expert Brian McNoldy called "botched" because the evacuation order was issued in a "high-risk area" less than 24 hours before Ian hit land.
The governor said storm models used by Florida's emergency management officials shifted overnight. He said the rapidly changing models resulted in a late shift in the focus of the state's hurricane response, with more last-minute attention being given to Lee County.
"Tuesday morning … most of our assets were in the Tampa Bay area," DeSantis said. "When we first saw it shifting on the overnight models on Tuesday morning, we started downshifting. But at the end of the day you had models where the storm took a very different path."
At least 108 Hurricane Ian-related deaths have been recorded in the United States as of Tuesday, including 104 in Florida and four in North Carolina, according to CBS News.
The hurricane could also become one of the costliest natural disasters in U.S. history, with estimated repair costs of up to $47 billion in Florida alone.
news week has reached out to the DeSantis office for comment.
https://www.newsweek.com/ron-desantis-says-media-wanted-ian-hit-florida-political-agenda-1748975 Ron DeSantis says media wanted Ian to meet Florida over 'political agenda'