Rosario Dawson's 15 Best Performances, Ranked
Rosario Dawson has worked her way into many popular movies and TV shows over the years. From musical roles to voiceovers to action films, Dawson's filmography includes big-name productions and even reoccurring roles in the DC Universe and Marvel Cinematic Universe. Indeed, Dawson voices Wonder Woman in the DC Universe animated movies and has starred in a few Marvel Studios TV shows where she plays Claire Temple.
Dawson's first role was in the 1995 film Kids, where she was, according to the New York Times, literally picked off the street and asked to star in the film. From there, she has worked with some of the most acclaimed and respected directors like Spike Lee, Kevin Smith, Quentin Tarantino, Robert Rodriguez, and Danny Boyle, just to name a few. Dawson has proven that she has what it takes despite the genre style of the film or TV show.
Update August 29, 2023: In honor of Ashoka airing on Disney+, this list has been updated with even more great performances by Rosario Dawson.
While some stars have lost their luster after so many years in the spotlight, Dawson seems to be becoming more popular. 2023 has been a big year for Dawson as she starred in the film Haunted Mansion, and less than a month later, her Star Wars-led Disney+ series Ashoka premiered. Dawson is certainly not slowing down, so look back at her best performances ranked.
15
Unstoppable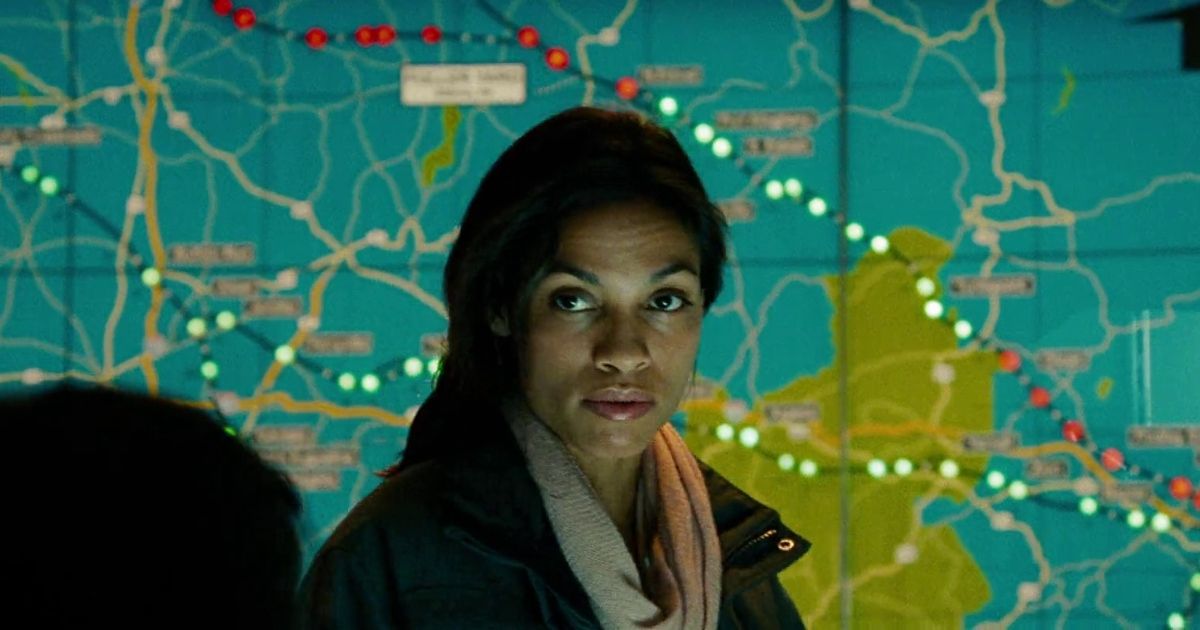 An unmanned freight train carrying toxic chemicals is accidentally on the loose. A new conductor and a veteran train engineer decide to chase it down before the train derails. Meanwhile, the operation department is at odds on how to best stop the train.
While Dawson's role in Unstoppable is more of a supporting role, her character, Connie, is one of the operation people who work with Frank and Will to try and safely stop the train. Connie is badass and refuses to listen to the "big man" as she knows her plan is safer. She is able to think on her feet and even though she isn't on the train herself, she still played a part in the rescue.
14
Top Five
Over the years, there have been a handful of occasions in which Chris Rock stepped into the role of the director. The rom-com Top Five is one of his projects, and he even wrote the entire screenplay for it. Joining him in front of the camera are Gabrielle Union, Kevin Hart, Adam Sandler, and, of course, Rosario Dawson.
Related: Ahsoka: Cast, Plot, and Everything Else We Know
While Union and Rock portray a couple, Erica and Andre, who are about to get married, and, because of the husband's (unfulfilled) dream to become a movie star, turns it into a huge media event, Dawson acts as the journalist, Chelsea. The actress was widely known for her more serious and darker roles, but back in 2014, Chris Rock convinced her to expand her repertoire. Stepping into the role of one of the main characters, Dawson successfully portrayed her skills.
13
Rent
Rent is a musical surrounding the lives of a group of friends. It covers deep topics of AIDS, love, life, and death taking place in the East Village of New York City. The rock opera is a sad story, but ultimately, a love story filled with all the different versions of love. While the film version is not as beloved as the stage play, it still has it's share of fans and part of that is Dawson's role in it.
Dawson shows her musical background with her role as the exotic dancer Mimi Marquez. The film is based on the Tony Award-winning musical by Jonathan Larson, Rent. Dawson's portrayal of Mimi was the perfect blend of the character's sexual nature and need to be loved. Each time she is on-screen, it's hard to tear yourself away from her performance. She helps turn a sad-topic musical into a captivating love story.
12
Death Proof
Stuntman Mike McKay uses his car for evil, stalking and running down women. Fourteen months after escaping the charges, he ditches his car for a new, death-proof one and picks up where he started. This time, he has his eyes set on a set of women who can fight back. Who will win in this deadly game of cat and mouse?
Dawson's character Abernathy appeared in this Quentin Tarantino and Robert Rodriguez film and the double feature titled Grindhouse, which includes the films Planet Terror and Death Proof in one three-plus hour-long movie. Between the cast and the group of badass women, Dawson's character stands out amongst the stars. Heavy on violence and action, this film shows Dawson's wild side.
11
Clerks II
Dante and Randal find their shop on fire, forcing them to have to find a new job. The best friends settle on a fast-food chain. A year into their new job, Dante declares he wants to leave the minimum wage job and move in with his clingy fiancée. Randal, however, has other plans.
From the hilarious mind of Kevin Smith comes Clerks II, the sequel to the 1994 hit film Clerks. Ten years later, director and writer Kevin Smith released the highly anticipated follow-up, this time bringing some new faces to the scene, including Dawson's character of Becky. Becky is the manager of the fast-food restaurant that Dante and Randal end up working at. Viewers loved the addition of Dawson to the film, saying she helped brighten it up. While her character died between the events of Clerks II and Clerks III, she does appear in the third film in a cameo role for a sweet send-off.
10
25th Hour
Dawson appeared in Spike Lee's 2002 film, 25th Hour. She joins an impressive cast that includes Edward Norton, Philip Seymour Hoffman, Anna Paquin, Brian Cox, and Barry Pepper. Dawson plays Naturelle, the girlfriend of Norton's character Monty, who is set to serve a seven-year prison sentence. It is a difficult role, one of a girlfriend accused of turning her boyfriend over to the police and takes many forms of criticism throughout. It is not an easy performance, but Dawson more than handles herself in a film filled with some of the best actors of all time.
9
The Lego Batman Movie
The LEGO Bruce Wayne must save Gotham City again as the usual suspects threaten. To make things harder, he accidentally adopts a teenage orphan he attempts to become his sidekick. In the comedic animation film The Lego Batman Movie, Dawson plays Batgirl and the new Commissioner Barbara Gordon. This film is one that is perfect for all ages. From the star-studded cast to the LEGO animation action, this film does not disappoint.
8
Shattered Glass
The biopic Shattered Glass is the definition of a hidden gem. The movie tells the story of real-life journalist Stephen Glass, who worked as an editor for "The New Republic", and, during his time there, falsified information in order to put out an exciting article. When two reporters from "Forbes" catch wind of one of Stephen's (Hayden Christensen) stories and start investigating it, the editor's facade and lies start to crumble.
Rosario steps into the role of one of the two reporters, whose name is Andy Fox, and plays a significant role in digging up proof. The actress manages to convey that type of seriousness, which seems to be her second nature. Dawson, or Fox, is the driving force behind unveiling the corruption.
7
Jane the Virgin
Rosario Dawson has the ability to elevate any movie or TV show in which she is a part of, and the same can be said about Jennie Snyder Urman's comedy show, Jane the Virgin. The series is famous for its multiple storylines, which are somehow still all tangled. At the center of the series is a young woman called Jane, whose trip to her gynecologist ends with an accidental pregnancy. Another important character is Petra, who tries to make Jane's life difficult and eventually ends up in a romantic relationship with lawyer Jane Ramos.
Rosario Dawson steps into the role of Jane Ramos and leaves an outstanding impression. She portrays her versatility as Dawson dives straight into the more focused side of being a lawyer while also showing her skills within a warm-hearted relationship (before the lies were revealed, that is.)
6
The Mandalorian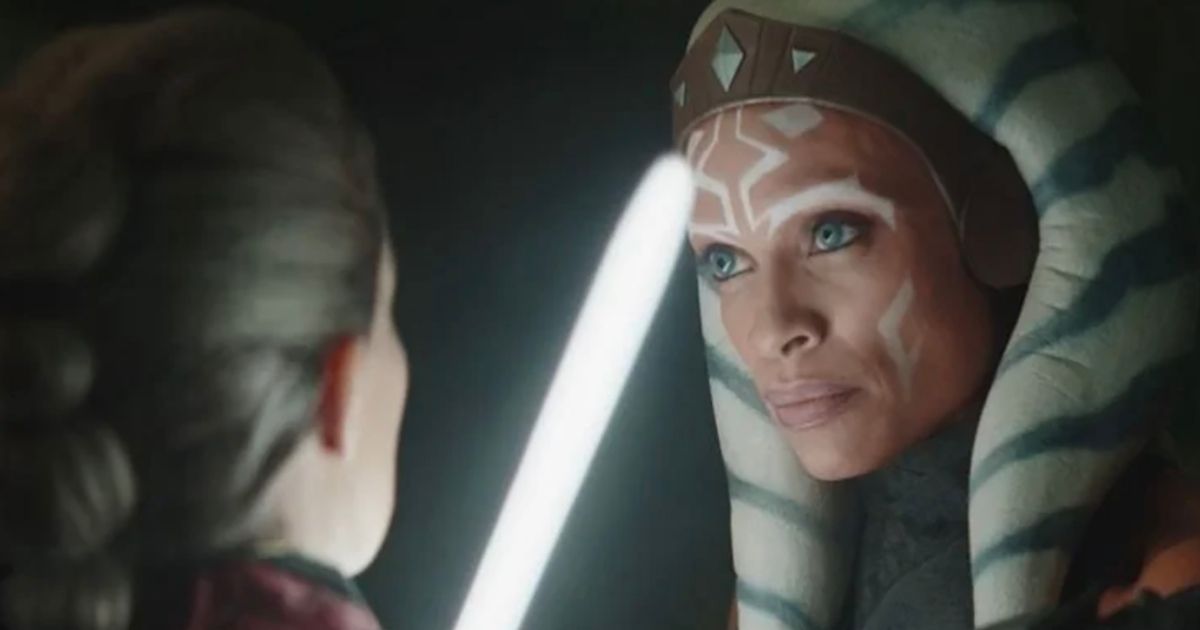 The Mandalorian follows the story of a lone bounty hunter and "The Child" in the Star Wars galaxy. Dawson's character Ahsoka appears in Season 2 in "Chapter 13: The Jedi" episode. In this episode, the Mandalorian travels to Ahsoka's planet to find that she is fighting the city's magistrate. He is asked to kill her, but he personally also wants to find out more about The Child's past.
Related: Star Wars: Ahsoka's Best Clone Wars and Rebels Episodes to Watch
This episode is important to understand more about the past of the child companion for The Mandalorian. It marked the character's live-action debut, and Dawson effortlessly brought the character to life. She returned in The Book of Boba Fett and now is the lead of her own Disney+ series.
5
Sin City
Adapted from Frank Miller's popular comics, Sin City follows the dark and miserable Basin City and its residents. With corrupt law enforcement at a high, a pedophile on the loose, and a hitman looking for cash, the film follows three residents caught up in the corruption.
With a jam-packed cast, completely black-and-white cinematography, and plenty of violence, Sin City is a one-of-a-kind film. Dawson plays the character of Gail, one of the Girls of Old Town who took over after Goldie's death. She is the lover of Dwight McCarthy, who is the protagonist of the film. Dawson shines in the roles, takes a rather small role, and makes an impression. She reprised her role in the sequel, Sin City: A Dame to Kill For.
4
Trance
In Danny Boyle's thriller Trance, hypnotherapy takes up an important aspect of the movie. When a group of criminals steals an incredibly valuable piece of art, the art auctioneer, who is supposed to be an ally, betrays the gang. The criminals discover that the box, which they stole is empty and only realize their downfall when the art auctioneer suffers from amnesia due to a blow to his head. Hypnotherapy might be their way of finding their prize.
While Trance might seem as though it is a mere heist thriller, Dawson's character, Elizabeth, who comes in as a hypnotherapist, reveals that there is much more to the movie. Elizabeth makes use of the power she has and creates a twisted reality while keeping the gang, as well as the viewers, on edge.
3
Josie and the Pussycats
Josie and the Pussycats is an adaptation of the Archie comic book of the same name, but with a satirical spin that riffs on corporate culture and the music industry in the 2000s. Dawson plays Valerie Brown, the bassist and backup singer of the Pussycats band. Josie and the Pussycats is an underrated gem from the early 2000s and is one of Dawson's best films and performances.
2
Marvel Universe TV Series
Dawson's character of Claire Temple can be seen in a handful of Marvel Universe TV shows, including Daredevil, Jessica Jones, Luke Cage, Iron Fist, and The Defenders. Claire is a night nurse who first helped take care of Matt Murdock from Daredevil. After the battle against the Hand, she left the hospital and moved back to Harlem, where she reunited with Luke Cage and helped nurse him back to health as well. This theme continues with the heroes of these MCU shows. She is the central character that connects the four heroes and is partially responsible for uniting The Defenders. There is no word of Dawson's character returning in the MCU in Daredevil: Born Again, but she would certainly be a welcome presence.
1
Dopesick
Dopesick takes a deeper look into America's opioid addiction. The miniseries looks at the addiction from the point of view of a boardroom of a Pharma company, a distressed community, and the hallways of the DEA.
Dawson stars in Hulu's 2021 drama as Becky, the DEA member. While her character is fictionalized, the series is based on true events and adapted from the non-fiction novel by Beth Macy. The eight-episode miniseries is a docu-drama that is compelling and eye-opening. For Dawson, she felt the series accurately depicted the crisis in America still continuing today.