Russia is holding Ukraine's power hostage in order to freeze it 'in submission'
Linda Thomas-Greenfield, the US Ambassador to the United Nations, has said Russia's missile strikes on Ukraine's power grid aim to freeze the eastern European country "into submission," while Belarusian President Alexander Lukashenko warned that Kyiv is putting a stop to it must go to war if "they don't want to perish".
Thomas-Greenfield said during a Security Council meeting to discuss attacks on Ukraine's infrastructure on Wednesday that Russian President Vladimir Putin insisted that Ukraine's energy assets be reduced to rubble during the war.
"Putin's motive could not be clearer and cold-blooded. He clearly, clearly arms the winter to inflict immense suffering on the Ukrainian people. He has decided that if he cannot take Ukraine by force, he will try to freeze Ukraine and bring the country into submission," she said.
Meanwhile, Lukashenko called for negotiations to end the war in Ukraine, adding that the country faces "total destruction".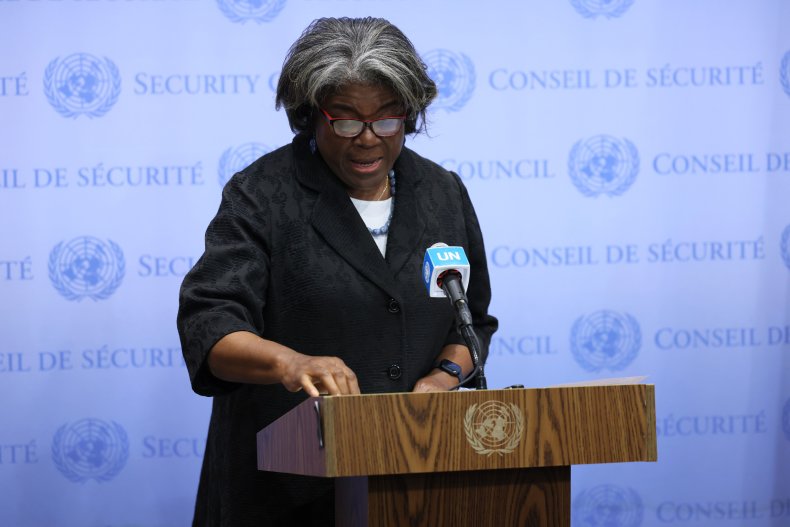 "Everything is now in the hands of Ukraine. If they don't want to go under, they have to stop. They have to stop because the next thing will be the complete destruction of Ukraine. Putin did not say this long before the operation, that it would threaten the loss of Ukrainian statehood. This would indeed mean the destruction of Ukraine! They have to stop," he said in an interview with Russian news channel RBC on Thursday.
Russia has launched a spate of missile attacks on power plants across Ukraine, causing blackouts and blackouts across the country ahead of a harsh winter.
On Wednesday, Russia again attacked Ukraine's power grid, killing three people in a strike that hit a building in Kyiv and targeted power plants, authorities in the capital said, VOA News reported. Power outages were reported in several cities, including Kyiv and Moldova
Volodymyr Kudrytskyi, CEO of Ukraine's energy company Ukrenegro, said Tuesday that recent Russian strikes have essentially destroyed all thermal and hydraulic power plants across Ukraine.
Around 100 Russian missiles were fired mostly at Ukrengro substations, in addition to power plants, causing varying degrees of damage at 15 facilities.
"Almost all hydraulic and thermal power generation suffered from missile attacks," Kudrytskyi said, according to a translation posted to YouTube by the Ukraine Media Center. "There are no undamaged substations for power transmission in the entire grid. Unfortunately, all major substations suffered five or even up to eight strikes, so the extent of the damage is colossal."
On Thursday, Russia denied any wrongdoing, accusing "foreign and Ukrainian" anti-aircraft missiles damaged Kyiv, where power plants were hit.
"Not a single attack on targets inside the city of Kyiv was carried out," the Russian Defense Ministry said. Any damage is "the result of the fall of missiles from foreign and Ukrainian air defense systems located in residential areas of the Ukrainian capital."
Meanwhile, Vasily Nebenzya, Russia's ambassador to the United Nations, justified the attacks on Ukraine's energy infrastructure by saying: "We are hitting infrastructure facilities in Ukraine in response to Western weapons being pumped into the country and reckless calls to Kyiv, a military one." to gain victory Russia."
Western and Russian diplomats discussed Russian missile attacks on Ukraine's power grid during Wednesday's Security Council meeting, with Thomas-Greenfield warning of the consequences these attacks will have on Ukrainians this winter.
"If he [Putin] prevails, millions of Ukrainians will be left without electricity, water and heating during these cold winter months. More families will be forced to flee their homes. Hospitals are not allowed to treat patients. And more children and older people, especially the sick and people with disabilities, will die. The weakest will pay the highest price," she said.
news week has asked the Russian Foreign Ministry for an opinion.
https://www.newsweek.com/russia-ukraine-power-hostage-kyiv-invasion-1762209 Russia is holding Ukraine's power hostage in order to freeze it 'in submission'