Russia loads cruise missiles on submarines in Black Sea after US threat
Strategic movement in the Black Sea continues as Russia has reportedly loaded cruise missiles on two submarines in its Black Sea Fleet. This comes just days after a report saying the US is preparing to target the Russian fleet to open avenues for Ukraine to export grain.
According to Ukrainian media outlet Kyrm.Realii, two Russian submarines have already docked at berths in Sevastopol's southern bay to load the Kalibr missiles. Four of these "Caliber" missile types are loaded on two of the six Varshavyanka submarines designed to fire these types of missiles, which have both land and sea attacks.
Russian President Vladimir Putin said in 2017 these missiles had the ability to hit a target at a distance of 1,400 kilometers (870 miles) from the underwater vessels.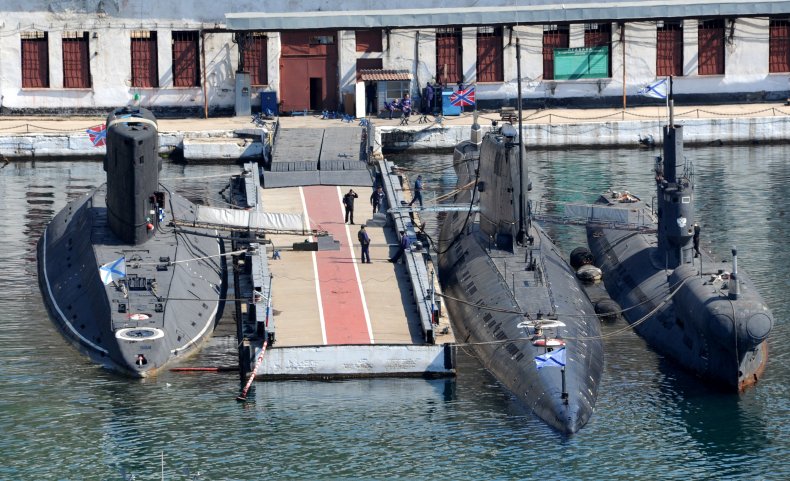 On Tuesday, a Ukrainian defense minister said Russia's Black Sea Fleet plans to use the submarine missiles for attacks on Ukraine's territory.
"Now the composition of the ship is used to attack with cruise missiles, this is a clear combat task – two frigates, four small missile ships, two submarines, constantly on combat duty and constantly attacking our territory with caliber cruise missiles," said Vadym Skibitsky. the Main Intelligence Directorate of the Ministry of Defense of Ukraine.
Ukraine is one of the largest grain exporters in the world. Russia has blocked the export of Ukrainian grain from the Black Sea and to the Mediterranean, where it can then have a global reach. This has already raised fears of global food shortages, leading to rising costs in some countries and starvation in others.
Last Friday, Ukraine's Interior Ministry adviser Anton Gerashchenko said the US was preparing to destroy Russia's Black Sea Fleet.
"The effective work of Ukrainians on warships has convinced (the US) to work out a plan to open up the ports," Gerashchenko tweeted. "Deliveries of powerful anti-ship weapons (Harpoon and Naval Strike Missile with a range of 250-300 km) are being discussed."
Sevastopol is the largest city on the Crimean peninsula, which has been occupied by Russia since 2014. It is also one of the most important ports in the Black Sea – and this is where the cruise missiles are said to be loaded – along with the port city of Odessa in southern Ukraine, one of the Black Sea's northernmost ports.
Russia invaded Ukraine on February 24 but failed to capture the capital, Kyiv, and was pushed back by Ukrainian militants. Ukrainian fighters have also put up a steadfast defense in northern cities like Kharkiv, where they have pushed back Russian troops towards the nearby border.
Despite many casualties in the war entering its 14th week, Russia has shifted its focus to eastern and southern Ukraine. This includes a strong presence in the Black Sea.
A spokesman for the US State Department announced this last week news week that the American military has changed with changing developments in the Black Sea, as has the US provision of security and assistance.
"As the conflict changes, so does our military support to provide the critical capabilities Ukraine needs for today's fight as Russian forces launch a renewed offensive in eastern Ukraine," the spokesman said.
"We are the world's leading provider of security assistance to Ukraine in its hour of need, and we encourage allies and partners worldwide to do the same."
However, another Ukrainian defense minister said the Russian fleet was locked down and loaded when its mission faced external threats.
"Two ships with a total salvo of up to 16 '3M-54 Kalibr' missiles are ready for deployment in the Black Sea," said Oleksandr Motuzianyk, a spokesman for Ukraine's defense ministry.
Reports estimate that nearly 20 Russian ships are preventing Ukrainian ships from making export voyages.
https://www.newsweek.com/russia-loads-cruise-missiles-submarines-black-sea-after-us-threat-1710246 Russia loads cruise missiles on submarines in Black Sea after US threat