Russia must 'never emerge from Putin's dark forest': Former NATO commander
Former NATO Allied Commander James Stavridis warned Sunday that Russian President Vladimir Putin is leading his country "into a dark forest it may never emerge from."
Stavridis, a retired US Navy admiral, retweeted a video from a New Year's special aired on Russian state television. The clip features a singer performing alongside several dancers in colorful robes, with the camera occasionally cropping onto the audience, where Russian military personnel are clapping to the rhythm.
Stavridis then compared the video to other New Year celebrations around the world.
"A sad contrast to thousands around the world, from fireworks on Sydney Harbor to crystal ball-falling Times Square celebrating a new year with genuine joy," he wrote. "Putin continues to lead Russia into a dark forest from which it may never emerge."
According to France 24, Ukraine was hit by a Russian missile attack on New Year's Eve that reportedly killed at least four people in Kyiv.
In the meantime, news week reported on Sunday that former Russian military commander Igor Girkin blamed Ukraine's recent successes against Russian troops on Kremlin negligence.
Putin's forces have suffered embarrassing defeats since the Russian leader launched his invasion of the eastern European country last February. The war between Russia and Ukraine was sharply condemned from the start by various international leaders.
In the past, Stavridis has also criticized Russia's strategy and the "poor design" of its military equipment.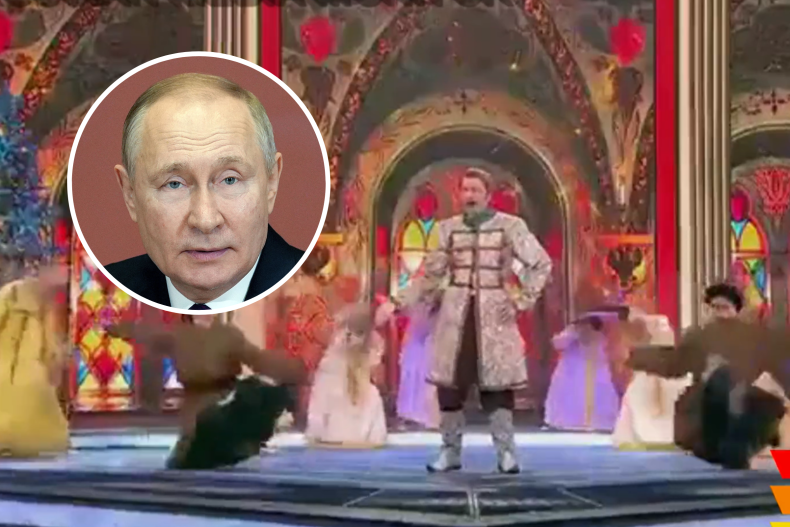 On Sunday, he retweeted a post by Julia Davis, a columnist for The Daily Beast who also created the watchdog project Russian Media Monitor.
"The New Year special on Russian state TV was scary and surreal," Davis tweeted along with the video of the Russian New Year special. "Top pro-Kremlin propagandists sat next to military guests, whose presence would surely remind the audience that right now Russia is bombing Ukrainian cities and slaughtering civilians next door."
Instead of targeting infrastructure, Saturday's "mass rocket attacks" deliberately targeted residential areas, according to Ukrainian Foreign Minister Dmytro Kuleba. He tweeted Saturday morning that Putin is "celebrating" the beginning of 2023 "by killing people."
A resident of Kyiv told news week that after hearing air raid sirens, she feared being killed.
"It was very noisy and scary," said Daryna Antoniuk. "The explosions started before I reached the bomb shelter. I started running. Then it turned out that the rockets landed very close to my house."
Despite the ongoing attacks, many Ukrainians gathered at a Kyiv train station on Saturday, according to the Euromaidan Press news agency. They reportedly attended a New Year's Eve concert there and were filmed singing their country's national anthem.
news week has reached out to Stavridis for further comments.
https://www.newsweek.com/russia-may-never-emerge-putins-dark-forest-former-nato-commander-1770642 Russia must 'never emerge from Putin's dark forest': Former NATO commander