Russia stuck on battlefield may try to bankrupt Ukraine: Polish PM
Russian President Vladimir Putin may seek to bankrupt Ukraine to make up for its failures on the battlefield, Polish Prime Minister Mateusz Morawiecki warned, urging Western European and NATO allies to continue and expand support for Kyiv.
At the Yalta EU strategy summit organized by the Victor Pinchuk Foundation on Friday alongside President Volodymyr Zelenskyy in Kyiv, the Polish prime minister praised Ukrainian troops who are "fighting with lion hearts on the battlefield".
"It seems that it will not be so easy for the Kremlin to defeat them, to win the war on the battlefield," Morawiecki said. "So they may want to destabilize Ukraine by not allowing financial support."
"They can have a huge impact on Western Europe," the Polish Prime Minister continued. "Maybe they want to organize it through their silent allies, through their agents, through their propaganda… they might want to dissuade the European institutions and public opinion from giving money to Ukraine.
"You can create a situation where Ukraine can go bankrupt. And then what happens when the Ukrainian state is unable to pay soldiers, teachers, nurses, doctors and judges? This could be another situation where public opinion in Ukraine could possibly give back."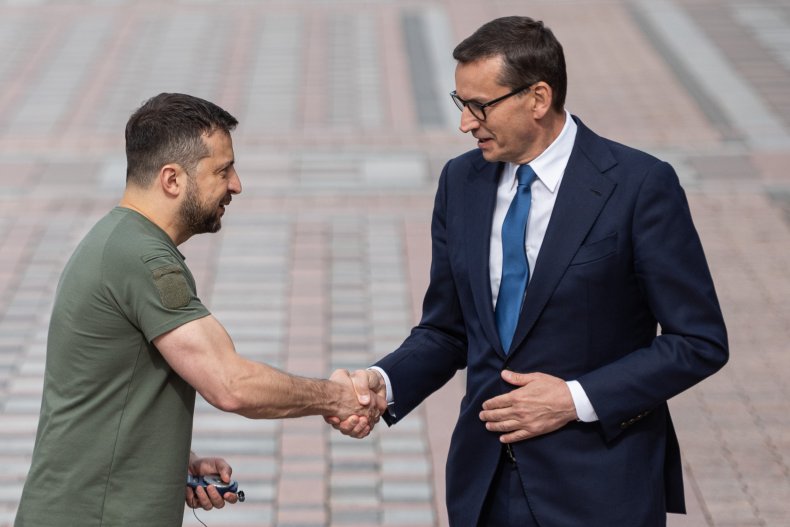 Ukraine, backed by advanced NATO weapons, has regained battlefield momentum in the ongoing invasion, driving significant holes in Russian lines in the south and north-east of the country. Russian forces, on the other hand, have taken months to secure small territorial gains in the eastern Donbass region.
But Kyiv faces more than 20 percent inflation, an annual budget deficit of 22 percent of GDP — about $50 billion — and a reconstruction bill of about $350 billion. "We are suffering," President Volodymyr Zelenskyy said last month.
Western allies should not hesitate to provide financial and military assistance to Ukraine, Morawiecki said.
"If your neighbor's house is on fire, yours won't be safe either," the prime minister said. "This should not be the wisdom of Central and Eastern Europe, but the knowledge and understanding of the rest of Europe."
Morawiecki was joined at the YES panel by Latvian President Egils Levits, both of whom said they wanted to "push" EU allies into new talks on Ukraine's proposed membership in the bloc. Ukraine received candidate status in June. Full ascension would free up huge EU funds for Kyiv.
Poland and its Baltic neighbors have traditionally been more aggressive toward Russia than most of their Western allies, particularly European nations like France and Germany, whose leaders have sought to ease hostilities through trade with Moscow in recent decades.
Russia's recent invasion of Ukraine has vindicated the EU's and NATO's Russia skeptics, who are now urging Western capitals to move to a more assertive anti-Kremlin position.
"Ukraine is fighting for your and our freedom and the future of the free world," Morawiecki said. "That should be understood by everyone, including our Italian friends and German partners and French and the others, because sometimes they all had a slightly different opinion."
He added: "Unfortunately, it happens all the time. And indecision and procrastination, hesitation and procrastination are the parents of failure.
"Some people in Western Europe and elsewhere want to go back to business as usual. I hope there is no going back to business as usual. Because, God forbid, a victory for Putin would only mean another war soon after."
https://www.newsweek.com/russia-stalled-battlefield-seek-bankrupt-ukraine-polish-pm-mateusz-morawiecki-eu-nato-1741738 Russia stuck on battlefield may try to bankrupt Ukraine: Polish PM