Russia unveils new rocket-launching robotic dog
Russian engineers have introduced a robotic dog that can carry and fire weapons, Russian media reported on Monday.
The robot made its debut Monday at the Russian Army 2022 International Military-Technical Forum, a weapons conference that will last throughout the week. The arms conference comes amid nearly six months of war between Russia and Ukraine.
A video clip shared online by RIA Novosti, a state news agency, shows the robot striding across the floor of a conference room on what appears to be four legs. The robot's legs can bend, turn the robot over and carry it forward and backward. The legs can also lower the robot so that it appears to be lying on the ground.
Twitter user Rob Lee shared a video that RIA Novosti posted on Telegram.
A spokesman for the engineers who developed the robot told the Russian news agency that the robot can be used in civilian or wartime scenarios. It can travel through war zones to deliver medicine and monitor the surrounding area, the spokesman said, and it can also move or fire weapons. RIA Novosti also reported in a post on Telegram that the robot "may be involved in targeting, patrol and security," according to an English translation reported by. Vice.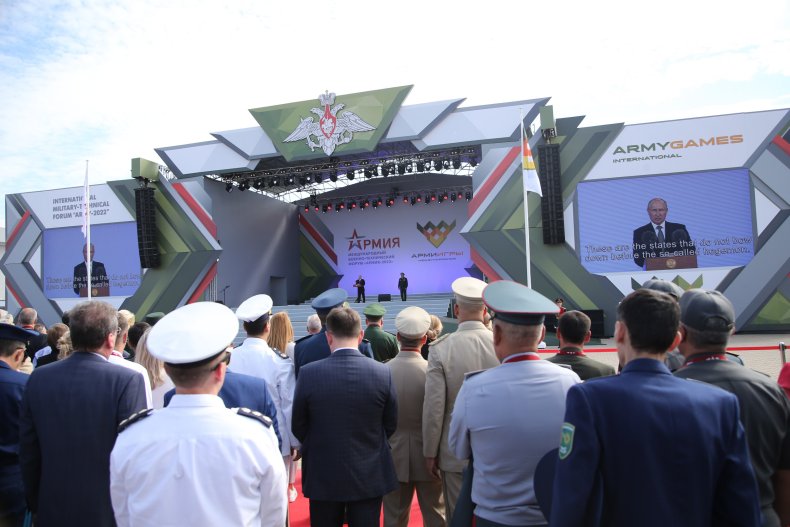 Russian President Vladimir Putin appeared at the opening ceremony of the conference on Monday to address domestic and international participants. In his speech, he described the event as an event where military professionals from other countries can learn about Russia's developments in military equipment.
Putin spoke generally of equipment that he said will "shape the 'tomorrow' of our armed forces," but he did not explicitly mention the robotic dog or other tools by name.
"We are talking about high-precision weapons and robotics, combat systems based on new physical principles," Putin said. "Many of them are years, maybe even decades ahead of their foreign colleagues and clearly superior in tactical and technical characteristics."
The robotic dog seen at the Army 2022 conference in Moscow isn't the first appearance of a canine-like military device. In the US, the Portland Air National Guard received its own four-legged robot earlier this year to be used for security and surveillance, according to Military.com.
A Florida police department also received another robotic dog named SPOT earlier this year. SPOT "can be used in exceptional situations that involve a threat to human life and/or a risk to first responders," police said at the time.
The US Department of Defense refused news week's request for comment when contacted on Monday.
https://www.newsweek.com/russia-military-rocket-launching-robot-dog-moscow-arms-conference-1733823 Russia unveils new rocket-launching robotic dog