Russia violates treaty after diplomat 'interrogation' – Japan
Japan has accused Russia of violating an international agreement on consular relations after one of its diplomats was arrested and subjected to "forced interrogation" on Monday.
Yoshimasa Hayashi, Japan's foreign minister, told reporters in Tokyo that the Japanese consul in Vladivostok was blindfolded and physically bound before being interrogated by members of Russia's FSB security agency.
Hayashi, who has demanded an apology from Moscow, called the treatment "completely unacceptable" and in violation of the 1963 Vienna Convention on Consular Relations, which defines the rights and immunities afforded to diplomats in host countries. Both countries are signatories.
The FSB named the Japanese diplomat Motoki Tatsunori, who was arrested on suspicion of espionage, according to the state news agency Tass. Tatsunori is said to have paid for secret information about the economic impact of Western sanctions on Vladivostok, a major port city in Russia's Far East.
Tatsunori is also said to have received information on the "current aspects of Russia's cooperation with an Asia-Pacific country," Tass said, without elaborating. The Russian Foreign Ministry declared Tatsunori persona non grata and asked him to leave the country by Wednesday.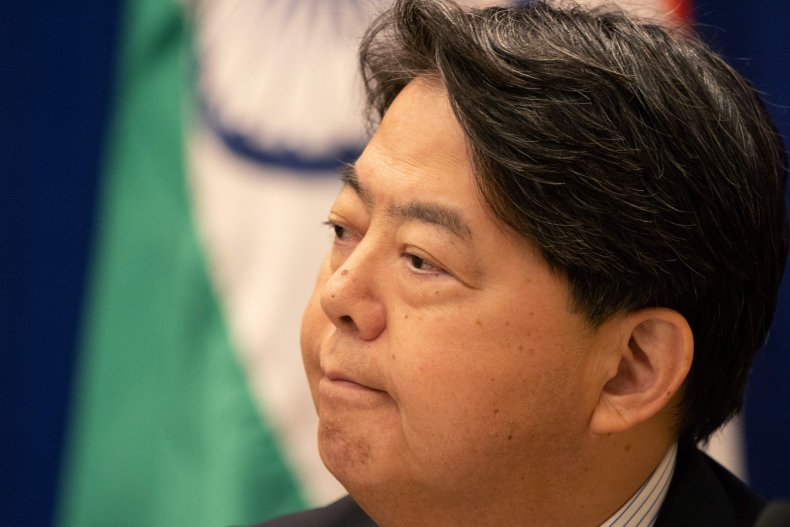 Hirokazu Matsuno, Japan's top cabinet secretary, said there was "absolutely no evidence" to support allegations of illegal activity.
"The actions of the Russian side are in clear and serious violation of the Vienna Convention on Consular Relations and the Soviet-Japanese Consular Agreement," said Matsuno, who described the incident as "extremely regrettable."
The consul has been dismissed and "is in good health," the Japanese official said.
Article 41 of the Vienna Convention prohibits the arrest of consular officers "except in the case of a serious criminal offense", otherwise diplomats "shall not be detained or subjected to any other form of restriction of their personal liberty".
Article 44 states that consular officers "are not required to testify in matters related to the performance of their duties".
Moscow and Tokyo exchanged protests in the form of diplomatic memos this week, and Mikhail Galuzin, Russia's ambassador to Japan, has been subpoenaed by Japan's foreign ministry, Hayashi said.
Japan's relationship with Russia is complex; The countries have yet to sign a post-war peace treaty and dispute the Russian-controlled Kuril Islands claimed by Tokyo as its northern territories. Japanese officials are also increasingly concerned about Russia's growing military ties to China.
Russia added Japan to its list of "unfriendly" countries and territories in March after Tokyo joined Western sanctions on the Kremlin over its February 24 invasion of Ukraine.
On Monday, Japan passed a new sanctions package banning the export of chemical weapons-related materials to Russia. Another 21 Russian research institutions have been included in the restrictions, which come into effect on October 3.
https://www.newsweek.com/russia-japan-consul-interrogation-vienna-convention-treaty-violation-1746505 Russia violates treaty after diplomat 'interrogation' – Japan