Russiagate was 'a dirty political trick': ex-AG Barr says Durham uncovered 'seditious' acts against Trump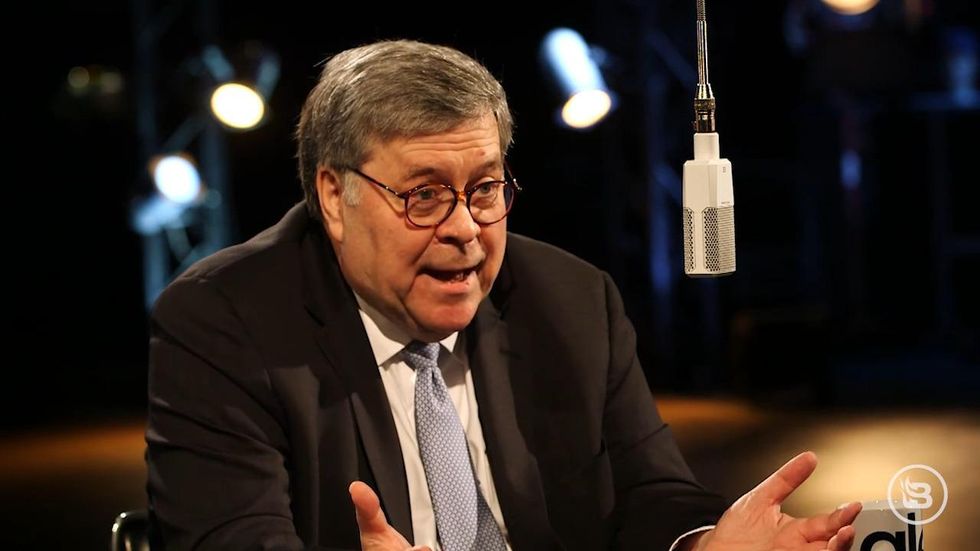 Clinton campaign attorney Michael Sussmann was acquitted Tuesday of lying to the FBI in 2016, a major setback in the first case from Special Counsel John Durham's investigation to go to a jury.
Durham was appointed special counsel by then-Attorney General Barr in 2020 to investigate the origins of the Trump-Russia probe. Barr joined The Glenn Beck Podcast to explain why he thinks Hillary Clinton's Russiagate scandal "seditious' and why he believes the US legal system is truly 'rigged against the Republicans'.
Barr told Glenn he was "very happy to be retiring" in 2018 but felt compelled to heed then-President Donald Trump's call to help stop what he saw as a looming "constitutional crisis."
"I thought we were headed for a constitutional crisis," Barr said. "Whatever you think of Trump, the fact is the whole Russiagate thing was a grave injustice.
"It was a gross injustice," he added. "And it hurt the United States in many ways, including what we're seeing in Ukraine today. You know, it distorted our foreign policy and so on. But I felt that [Trump] didn't get his claim as president. After he won the election, he was entitled to run his administration, and they…had him on the ropes."
Referring to the ongoing Durham investigation, Glenn said it often feels like "the entire system is rigged absolutely against" Republicans.
"I think there's a level where the system is double standard and still double standard and rigged against the Republicans," Barr said.
"There are parts of the Justice Department that I think have double standards, and they're going to go after Republicans," he continued. "For example, when I was Attorney General, no case was leaked that embarrassed Democrats, okay. However, cases hurting Republicans were leaked."
Watch the full episode of The Glenn Beck Podcast below:
Want more from Glenn Beck?
To enjoy more of Glenn's masterful storytelling, thought-provoking analysis, and uncanny ability to make sense of chaos, Subscribe to BlazeTV – the largest cross-platform network of voices who love America, defend the Constitution and live the American dream.
https://www.theblaze.com/shows/glenn-beck-podcast/bill-barr-durham Russiagate was 'a dirty political trick': ex-AG Barr says Durham uncovered 'seditious' acts against Trump