Russian ammunition depot 9 miles from Ukrainian border catches fire
A Russian ammunition depot located about 14 kilometers from the Ukrainian border caught fire on Thursday, forcing residents of two nearby settlements to evacuate, according to local authorities.
Vyacheslav Gladkov, the governor of the Belgorod region, confirmed the fire in a Telegram post and said the latest reports indicated there had been no casualties. Gladkov wrote in the post that residents of the villages of Timonovo and Soloti, which Reuters reported is about nine miles from Ukraine, were evacuated to a "safe distance".
"Emergency services are on site and the cause of the fire is being investigated," he added.
More details about the severity of the fire and what equipment was being stored in the blazing depot were not immediately available.
Belgorod is a region in western Russia, the administrative center of which is the city of the same name. When a series of explosions hit dozens of residential buildings in the city of Belgorod in early July, the Kremlin claimed they were part of a deliberate attempt by Ukraine to target Russian civilians, the BBC reported. Ukraine denied the accusation, saying Russia has lied about such incidents in the past.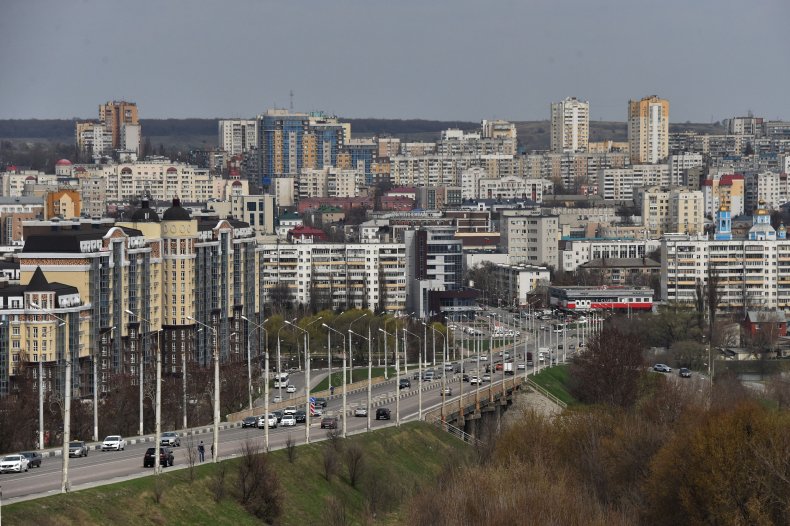 However, this was one of several cases of mysterious explosions and fires reported in the Russian region since the start of the Russia-Ukraine war in late February.
Russian state media reported in late April that in the early hours of the morning a Russian ammunition depot in Belgorod Province caught fire and the sound of explosions could be heard.
"At about 3:35 a.m. I was woken up by a loud bang that sounded like an explosion. Three more explosions could be heard as I was writing this post," Gladkov reportedly wrote on Telegram at the time.
In a similar case, explosions were reportedly heard in the sky over Belgorod in early May.
"A loud bang was heard in the center of Belgorod, similar to the sound of a medium-power explosion," state news agency RIA Novosti reported at the time.
Days later, local Belgorod officials posted on VKontakte, Russia's equivalent of Facebook, that residents were awakened by explosions and alerted authorities to smoke rising from an area of ​​a village called Dubovoye.
Videos circulated on social media Thursday afternoon showing some users, including Ukrainian government officials Anton Gerashchenkosaid, showed a fire at a Russian ammunition depot in Belgorod. news week could not independently verify that the videos showed the same ammunition depot fire confirmed by Gladkov.
news week asked the defense ministries of Russia and Ukraine for their opinion.
https://www.newsweek.com/russian-ammunition-depot-9-miles-ukraines-border-catches-fire-1735026 Russian ammunition depot 9 miles from Ukrainian border catches fire