Russian analysts threaten Macron with missile attack: "Shouldn't be France"
Russian propagandists are pushing for a strike against France because President Emmanuel Macron supports Ukraine in its war with Russia, according to a video released on Monday by Anton Gerashchenko, adviser to Ukraine's interior minister.
Russian state TV video begins contemplating a counterstrike while Russia "sits and waits." Vladimir Solovyov, a well-known propagandist and ally of Russian President Vladimir Putin, then intervened, calling for a preemptive strike rather than a counterstrike.
"Macron supplies the tanks and we give them a preemptive strike against France as a party to the conflict," Solovyov said.
Andrey Gurulyov, the retired Russian military commander and current member of the Russian Duma, says that if France starts "openly harming, fearing nothing," then it is a recognized party in the conflict.
"There shouldn't be any France," Gurulyov said. "There was France and now there is no France. Would anyone be upset about that?"
He also claimed that Russia had enough ammunition to "destroy France or Britain."
Gerashchenko posted another one Video on Monday in reference to Macron, in which the French leader says in an interview that Putin told him Ukraine was the real threat.
"If you meet (Putin), he's not awkward," Macron said. "That's the paradox, you see. I think there is nothing that could justify starting a war. He tried to explain that Ukraine was threatening him, then the Europeans and Americans were threatening the security of Russia through Ukraine."
"I don't think that's true," Macron continued. "Essentially, he started this war to reclaim territory and expand the scope of Russia to include the empire that once existed."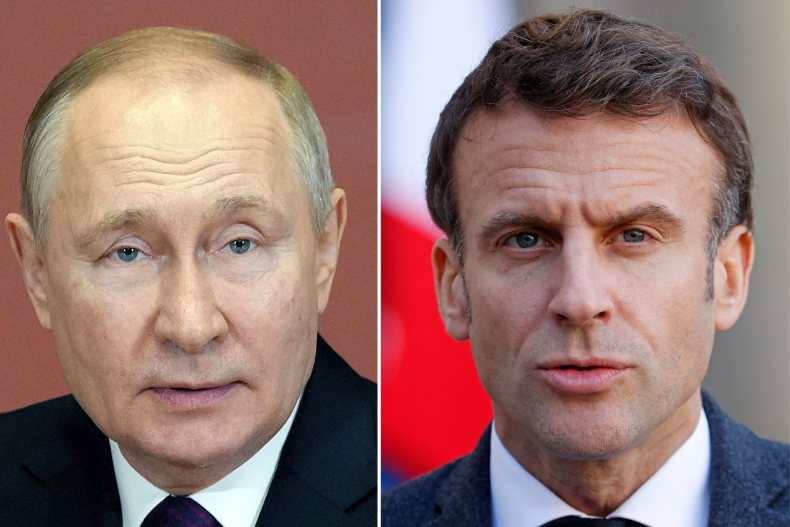 Macron traveled to US President Joe Biden at the end of November, the first state visit by the Biden government.
The situation between Russia and Ukraine was part of their reported talks, which differed in that Macron encouraged further negotiations at the time, while Biden said Kyiv will make that decision.
In the weeks since, such negotiations between the two nations have seemingly fallen apart. Russian Foreign Minister Sergei Lavrov offered a starting point for such peace talks, with several preconditions that the Kremlin demanded in return.
Macron spoke with Ukrainian President Volodymyr Zelenskyy in December, in what Zelenskyy described as a productive conversation revolving around his 10-step "peace formula."
The pair discussed defense cooperation and energy stability, sharing "synchronized positions," according to Zelensky.
Macron has previously been rebuffed by NATO allies in Baltic states and Ukrainian officials for his repeated push to bring Russia to the negotiating table.
"We need to prepare what we are ready for, how to protect our allies and member states, and how to give guarantees to Russia on the day it returns to the negotiating table," Macron said during his visit to the United States
news week has reached out to the Russian Defense Ministry and the French government for comment.
https://www.newsweek.com/russian-analysts-threaten-macron-missile-strike-should-no-france-1772477 Russian analysts threaten Macron with missile attack: "Shouldn't be France"