Russian Kh-59 missiles 'destroyed' by Odessa defense system: city officials
Ukrainian officials say they successfully repelled Russian airstrikes on cities in central and southern Ukraine.
Both the city of Odessa and Ukraine's Operational Command South (OCS) reported in social media posts on Tuesday that air defense systems had destroyed missiles fired by Russian jets. While Odessa, a Black Sea port city, has remained relatively unscathed by intense fighting in other Ukrainian cities, recent reports have surfaced that Russia has launched airstrikes.
OCS said in a Facebook post that two Russian Su-35 fighters fired two X-59 missiles from the direction of the occupied Crimea peninsula, both of which were destroyed in mid-air.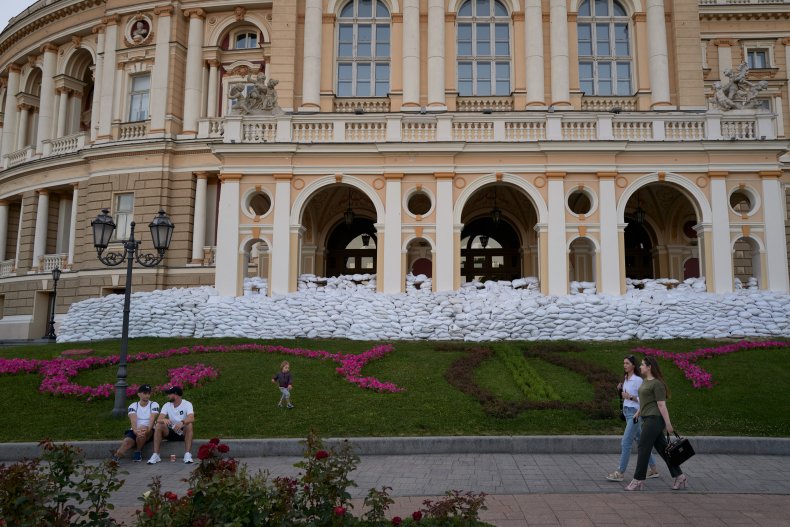 "We remind the enemy every day that they have no business in the Ukrainian sky!" the city of Odessa said in a Telegram post. "Honor to Ukraine!"
The city said on Telegram that the attack was aimed at the Odessa region. At around 1:30 p.m. local time, soldiers from the Odessa anti-aircraft brigade shot down the Russian airstrike near Mykolayiv, a southern city near the Black Sea, the city said.
The conflict in Ukraine has turned to the south of the country, where Ukrainian forces are trying to drive out the Russian military after using the region as a base since the invasion began in late February.
OCS reported this week that Ukrainian forces destroyed three Iranian-built Shahed-136 kamikaze drones during a Russian attack on Odessa.
OCS reported Sunday Russia attacked Odessa with drones, one of which was destroyed by air defense forces with two conspicuous military infrastructures.
"As a result of a widespread fire and detonation of ammunition, the evacuation of civilians was organized," OCS said in a Facebook post, explaining that there were no casualties at the time as the firefight was ongoing.
Ukraine is currently conducting a counteroffensive in Kherson, also in the south of the country, in hopes of retaking strategically important areas.
The Institute for the Study of War (ISW), a US think tank tracking the conflict, said in its Monday update that Ukrainian journalist Andriiy Tsapienko reported the country's forces had attacked a Russian facility in the Kherson region and killed four dozen Russians and two dozen Iranian trainers. The ISW said it could not independently verify the reporting.
Elsewhere, Ukrainian air defenses destroyed an X-59 missile fired by another Su-35 fighter at Kryvyi Rih in the central part of the country, according to OCS on Tuesday. The missile was fired from the direction of Melitopol, a town about two hours southeast of the Zaporizhia nuclear power plant, according to OCS.
news week has reached out to the Russian Defense Ministry for comment.
https://www.newsweek.com/russian-kh-59-missiles-destroyed-odesa-defense-system-city-officials-1746843 Russian Kh-59 missiles 'destroyed' by Odessa defense system: city officials