Russian politician 'fantasizing' about kidnapping Western officials visiting Kyiv
Russian politician Oleg Morozov said on national television he dreams of kidnapping foreign government officials traveling to Kyiv to meet with Ukrainian President Volodymyr Zelenksy.
Morozov, a member of Russia's State Duma, the lower house of Russia's parliament, appeared on state TV channel Russia-1 and spoke to a panel about his dream of kidnapping Western leaders.
In a clip from the TV program shared on social media and provided by Russian Media Monitor, Morozov can be seen addressing a panel that includes five other people, one of whom is the moderator.
"I came up with a fairy-tale scenario that at some point in the near future a military official from a NATO country will travel by train to Kyiv to meet with Zelenskyy – and never get there," says Morozov. "But they will wake up somewhere in Moscow instead."
TV presenter Olga Skabeeva then asks if the Russians will carry out the kidnapping of the Western leaders. Morozov confirmed that would be the case.
"Yes. And then we will find out what orders he gave, what he is responsible for," he adds, while the other panelists smile at his words.
"By the way, I don't think that's too far-fetched," adds Morozov. "We've gotten used to the world working a certain way, but after March 24 [of February] it works differently. There are new rules in this world. Any military official heading to Kyiv tomorrow should consider waking up in Moscow."
When another panelist wryly suggested that some Western leaders might actually "dream of waking up in Moscow," Morozov replied that they certainly don't dream of being tried in Moscow. It is unclear what potentially kidnapped Western leaders could be tried for, and Morozov has not specified.
Throughout the clip, which records Morozov's uninhibited monologue, one of the show's guests can be seen picking his nose whenever the camera is on him. It is not known when the talk show aired.
Hostess Skabeeva then erroneously mentions that the last Western representative to visit Kyiv was British Defense Secretary Ben Wallace. According to her, Wallace said "Russia is a legitimate target for Zelenskyy," likely referring to an interview Wallace gave to the BBC in late April when he said Kyiv had the right to attack Russian logistics targets.
Skabeeva then mentioned the visit of US Secretary of Defense Lloyd Austin, who visited Kyiv on April 24 with Secretary of State Antony Blinken. The credentials suggest that the clip is not very new as Zelenskyy has since received another Western leader, Finnish Prime Minister Sanna Marin, who met the Ukrainian President on April 26.
Since the beginning of the war, some of the western politicians and leaders have traveled to Kyiv: the prime ministers of Poland, the Czech Republic and Slovenia Mateusz Morawiecki, Petr Fiala and Janez Janša (the first leaders to visit the capital of Ukraine); British Prime Minister Boris Johnson; Blink and Austin; US Senate Minority Leader Mitch McConnell and a delegation of Republican Sens. Susan Collins (Maine), John Barrasso (Wyo.), and John Cornyn (Tex.).
Other visitors included the heads of state and government of the European Union, Charles Michel and Ursula von der Leyen, the President of the European Parliament, Roberta Metsola, the EU foreign policy chief Josep Borrell; Slovakian Prime Minister Eduard Heger and Austrian Chancellor Karl Nehammer; Canada's Prime Minister Justin Trudeau; US First Lady Jill Biden; and French Foreign Minister Catherine Colonna.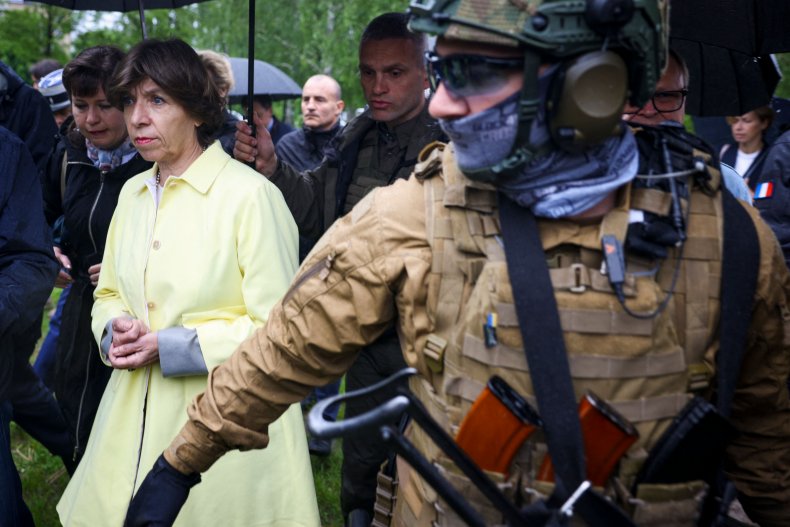 https://www.newsweek.com/russian-politician-fantasizes-about-kidnapping-western-officials-visiting-kyiv-1711577 Russian politician 'fantasizing' about kidnapping Western officials visiting Kyiv