Russian politician says strikes in Ukraine are fueled by 'holy hatred'
Russian strikes against Ukraine are an expression of "holy hatred," a Russian politician said on state television.
in one clip Shared on Twitter by Julia Davis, creator of the Russian Media Monitor, State Duma member Boris Chernyshev is seen suggesting that those who support Ukrainian President Volodymyr Zelensky should "freeze and rot."
"These retaliations – and they are retaliations … they are expressions of our hatred, our holy hatred," he said.
Ukrainians, he added, would "sit without gas, without light and without anything else. If the Kiev regime has chosen the path of war criminals, that's where they must freeze and rot."
He added that "ordinary people must take to the streets and put an end to Zelenskyi's Nazi regime."
Chernyshov's comments came as Cherson, a city in southern Ukraine, has come under intense Russian bombardment after being liberated from an eight-month occupation by Russian forces, another blow to the Kremlin. Ukrainian President Volodymyr Zelenskyy walked the streets of the city on Monday hailing it as "the beginning of the end of the war".
But commentators on Russian state television questioned why Ukrainians had not already risen up against their leader despite being "fundamentally oppressed."
"There is no uprising when it seems there should be," said former Ukrainian politician Vladimir Oleynik.
"Where are the revolts? We don't see any revolts," added Roman Babayan, the show's host.
Babayan said support for Zelenskyy – whom he described as "that guy in a T-shirt" – is high in Ukraine "if you trust Kiev polls". However, Oleynik warned against trusting polls in wartime.
Babayan also asked Oleynik why Russia didn't attack Kherson when Zelenskyy was there, who replied that it was a question for Russian President Vladimir Putin. "It should be addressed to him," he said.
Oleynik went on to call Zelensky a "terrorist". He "meets all the criteria of a terrorist," Oleynik said. "You remember he was compared to al Qaeda, bin Laden – his fate is the same."
One commentator suggested that Ukrainians will eventually turn against Zelenskyy after suffering through a harsh winter that would force him to negotiate with Russia.
"If infrastructure objects beat their pumpkins every day, if the civilian population has minimal casualties, but their living conditions in winter are unbearable, ambulances don't work, the elderly die, as do children … for Zelenskyy, that will be an argument "said political scientist Vladimir Sergiyenko.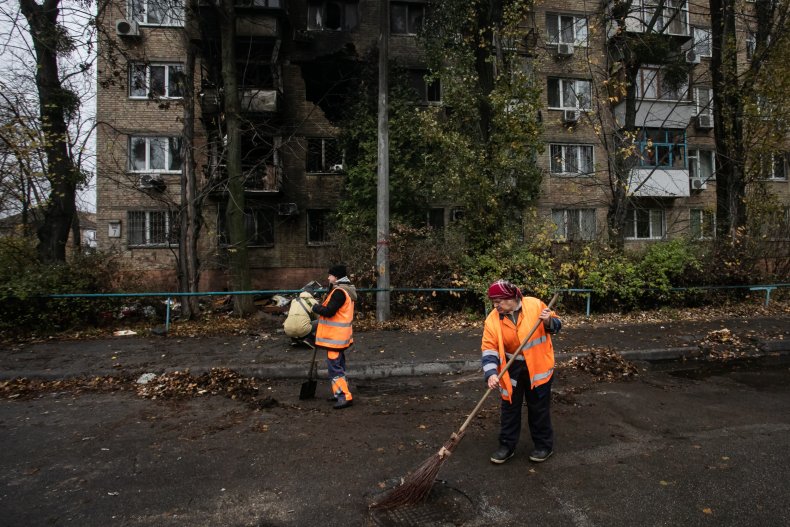 "He'll call [German Chancellor Olaf] Scholz and say: "Scholz, do you remember that you said that you would not recognize the negotiations between Ukraine and Russia? Look, my population is dwindling, we can't make it through the winter, let's discuss the terms on which we're ready to sign a de facto surrender.'"
However, Babayan concluded that Russia's strikes against Ukraine's infrastructure must continue because negotiations with Ukraine "will not end well for us".
"It contributes to our victory. For us, victory is absolutely necessary. If negotiations suddenly start with the Ukrainian side, these negotiations will not end well for us.
"On the other hand, there is not a single person that the Russian government and people could trust. The destruction of our nation is the only reason it exists. They speak openly about it. The only way we can overcome this situation is through strength."
Negotiations are "only possible if there are those who comply with the agreed conditions and clear guarantees," said Anton Gerashchenko, adviser to Ukraine's Interior Minister news week on Saturday. Vladimir Putin's Russia "can't deliver. They are war criminals and pathological liars."
https://www.newsweek.com/russian-politician-strikes-ukraine-fueled-holy-hatred-1760897 Russian politician says strikes in Ukraine are fueled by 'holy hatred'