Russian self-immolated to protest Putin draft
A Russian reportedly set himself on fire in protest at President Vladimir Putin's mobilization announcement to recruit some soldiers for the ongoing war with Ukraine.
"A Russian man set himself on fire at a bus station in Ryazan while shouting that he did not want to take part in the Ukraine war. That same morning, a military commander overseeing conscription in a Siberian town was shot dead. Tensions in Russia are over "mobilization", Andrew Roth, Moscow correspondent for The guard, wrote on Twitter, sharing a video of the man being escorted by authorities.
The local Russian news agency YA62 also announced this in a telegram post Video and wrote that the man set himself on fire at the "Ryazan bus station" and "shouted that he did not want to take part in a special operation in Ukraine".
The report comes shortly after Putin announced a partial mobilization of military efforts in the country to support the war against Ukraine. In a televised address to the nation, Putin said individuals with "certain military specializations and relevant experience" will be drafted into the war. Russia's Defense Minister Sergei Shoigu said those drafted "are not people who have never heard of the army."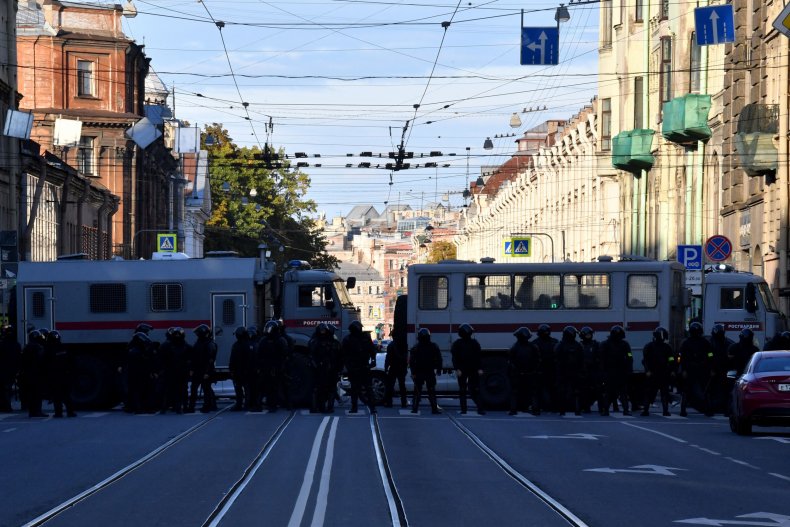 "These are those who have served, have a military registration specialty and had military experience," Shoigu said, according to CNN.
While news week could not independently verify the authenticity of the video, according to the Russian newspaper, Novaya GazetaShe reported that the man who set himself on fire had burns on over 90 percent of his body.
In addition to reports that a man set himself on fire, another incident occurred earlier Monday in which a man shot at a Russian military service office in protest of the mobilization.
In a post on his Telegram channel, Igor Kobzev, the governor of the Irkutsk region, wrote: "A young man shot at the military registration and enlistment office."
"I am ashamed that this is happening at a time when, on the contrary, we should be united. We don't have to fight with each other, we have to fight against real threats," the Post said. "He will definitely be punished!"
Kobzev also identified one victim of the shooting as Alexander Vladimirovich Eliseev and said that he was in intensive care after the shooting. "I have given instructions to increase security. I ask everyone to remain calm," Kobzev said.
Reuters reported that many protests have taken place across Russia following Putin's mobilization announcement. Citing human rights organization OVD-Info, Reuters reported that at least 101 protesters were arrested on Sunday.
news week has asked the Russian Foreign Ministry for an opinion.
https://www.newsweek.com/russian-man-lit-himself-fire-protest-putin-draft-1746397 Russian self-immolated to protest Putin draft