Russian soldiers warn Ukraine is 'better armed' after loss of 1,000 soldiers.
Russian soldiers warned that Ukrainian troops were "better armed" in a new video that appeared on social media Saturday morning as they battled for control of a key village that Kiev recaptured this month.
Ukrainian President Volodymyr Zelensky said his military retook control of Klishchyivka, a town southwest of Bakhmut, on September 17, marking a decisive victory for Ukraine's latest counteroffensive. Ukraine's latest attempt to reclaim captured territory began in June and appeared to be going slower than the country's allies, who have provided the country with significant military aid, had initially hoped. But the victory at Klishchyivka gave Ukraine a much-needed boost to its counteroffensive, which has shown positive signs ever since.
Russian soldiers fighting for control of the city have now posted a video on social media declaring defeat. The video, recorded on September 19, was posted on Saturday via the @wartranslated account on X, the social media platform formerly known as Twitter. The origins of the video remain unknown and Newsweek could not independently verify its authenticity.
In the video, a soldier reveals that at least 1,000 – possibly as many as 1,200 – soldiers were killed in the Battle of Klishchyivka, while also explaining Ukraine's weapons advantage in the fight.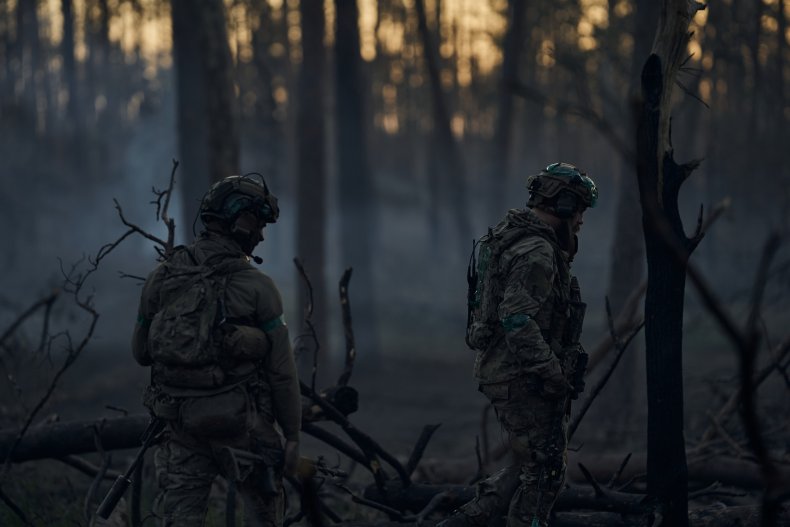 "In Klishiivka, from the lake shore, two leopards are on duty. The zone is completely penetrated and bombarded with clusters. Ten of us are moving out and five are just covering because we didn't take them with us, so we would have a chance to get out," the soldier said. "Apparently the superiority of the enemy forces is ten times higher. They are better armed. We have no magazine, nothing. Machine guns have rotted away. We use everything there is."
The group of soldiers were members of Regiment 1307 and Unit 78567. Their status is still unknown.
The soldier, who spoke throughout the video and whose identity is unknown, said that the video would be released if "something bad" happened but that the soldiers "stood up for Russia to the end."
"But if our team doesn't come back, if something bad is going to happen. This video will be published online immediately. On behalf of our 10 + 5 support group, we would like society to raise the question of the training of the mobilized and contractors," he said.
Newsweek The Russian Defense Ministry emailed for comment.
Ukraine's General Staff said in a social media post on Thursday that its forces continued to repel Russian attacks around Klishchyivka. Meanwhile, the Russian Defense Ministry said on the same day that an artillery strike by the southern group of troops had killed about 30 Ukrainian fighters near the village.
Ukraine's counteroffensive continues
Russia has received some bad news from Ukraine in recent days as Kiev's counteroffensive continues to make progress.
Russian President Vladimir Putin started the war in February 2022 with the aim of a quick victory against his Eastern European neighbor, which is considered militarily smaller and weaker. But Ukraine's stronger-than-expected military response, backed by Western aid, has limited Moscow's progress since last year.
Britain's Defense Ministry wrote in an intelligence update on Wednesday that Putin's forces were too "overstretched" to launch their own counterattack.
"Since the invasion began, Russia has rarely maintained a non-committal, army-sized grouping that could potentially form the basis for a major new offensive push. With 25 CAA apparently being deployed piecemeal to reinforce the stretched line, this is a concerted new beginning." "A Russian offensive is less likely in the coming weeks," the intelligence update said.