Russian state television broadcasts an "anti-Russian Christmas message" for Europeans
Russian state television recently released a Christmas message to Europe amid Moscow's stalled invasion of Ukraine.
The video, published by Russia Today (RT), appears as the war between Russia and Ukraine enters its 10th month on Christmas Eve. Russian President Vladimir Putin's military has struggled throughout the war to achieve key objectives in Ukraine, with Ukraine's vigorous defense – backed by Western aid – blunting military gains. During the fall, Ukraine recaptured thousands of square miles of formerly occupied land.
Most of Europe rallied around the eastern European country and provided humanitarian and military aid to Kyiv, much to Putin's dismay. Many European countries have also imposed sanctions on Russian companies, including oil. Russian oil has long been used across Europe and these sanctions are blamed on rising energy costs in several European countries.
RT highlighted rising oil prices in a new propaganda video aimed at illustrating the impact of rising energy prices on Europeans.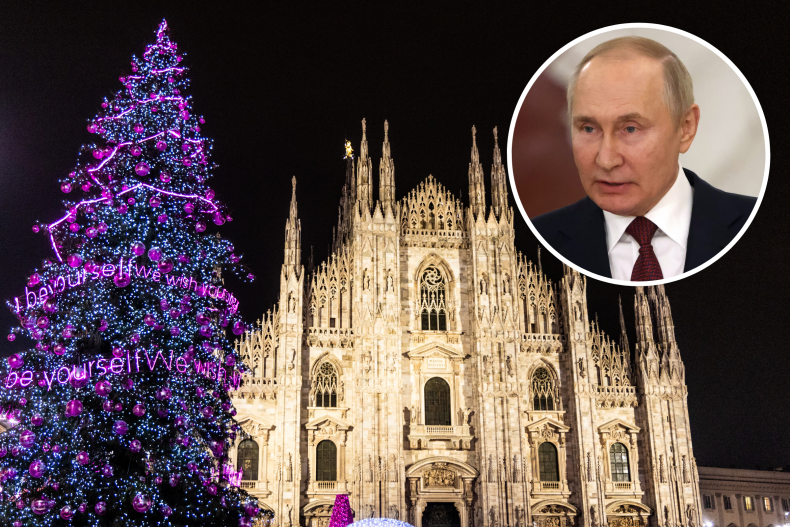 The video, which the BBC's Francis Scarr first reported on Twitter on Friday, begins with a scene from Christmas 2021, showing a young girl receiving a hamster with a bow for Christmas, with the Christmas classic 'Silent Night' playing as the background.
A year later, the girl's father is seen building a contraption that would allow the hamster to generate electricity for the family, presumably because the cost of electricity and heating their home has become too high due to sanctions against Russia. The hamster running on a wheel generates energy to light the Christmas tree while the family sits on a couch, dressed in coats and earmuffs.
The video then switches to Christmas 2023 as the family, who now appear to be living in poverty, are eating their Christmas dinner when the father finds the hamster's bow in his soup, meaning they were forced to adopt the pet for a holiday meal Cook.
"Merry 'anti-Russian' Christmas! If your media doesn't tell you where this is all going, RT is available via VPN," the video says at the end, which turns out to be an advertisement for the Kremlin. tied news agency.
The video was mocked on social media, where Twitter users largely ridiculed its exaggeration and fear-mongering.
Journalist Dave Keating tweeted Friday: "Russia isn't even trying to cover up its energy blackmail anymore."
"Ahahahahahahahaha, look at that. This is how #Russians want your Christmas and winter holidays to be, my dear European friends. Classic #Russian 'We'll behave terribly, but if you don't like us, we'll make you suffer'. pathetic," tweeted Esports coach Iavn Shevtsov.
Although the video suggests Europe could suffer from energy prices, gas prices across Europe actually fell in the week leading up to Christmas on the back of milder temperatures and liquefied natural gas supplies, according to Nasdaq.
The European Union (EU) last week agreed to a gas price cap, its latest effort to keep prices low as it copes with sanctions imposed on Moscow, as well as global inflation that has hit markets elsewhere. The cap will be triggered if prices for the front-month contract of the Dutch Tile Transfer Facility gas hub exceed 180 euros per megawatt-hour for three days, according to Reuters.
Still, the sanctions have disrupted the daily lives of millions of Europeans, who have campaigned to save electricity in a variety of ways, including reduced use of central heating or the provision of duvets by local governments, according to a EuroNews report on Wednesday.
news week asked the Ministry of Foreign Affairs of Ukraine and the Press Service of the European Union for comment.
https://www.newsweek.com/russian-state-tv-releases-anti-russian-christmas-message-europeans-1769513 Russian state television broadcasts an "anti-Russian Christmas message" for Europeans