Russian state TV is stunned by Lyman Retreat and says Kyiv could bomb Moscow
During a recent program on Russian state television, experts were stunned by Ukraine's liberation of the town of Lyman, while some expressed fears that Kyiv could next order the bombing of Moscow.
Lt. Gen. Igor Konashenkov of the Russian Defense Ministry confirmed the withdrawal of Russian troops just hours after Russian President Vladimir Putin said on Friday that the city and the region of eastern Ukraine he controls had been annexed.
The recapture of Lyman, which is in the Donetsk region and was used as a transport and logistics hub, poses a major embarrassment for Putin, who staged a grand celebration in the Russian capital to welcome the newly annexed territories as part of the country .
However, Ukraine and NATO allies do not recognize the annexation and have repeatedly stated that the Donetsk, Luhansk, Zaporizhia and Kherson regions and Crimea are areas that should be returned to Kiev's control.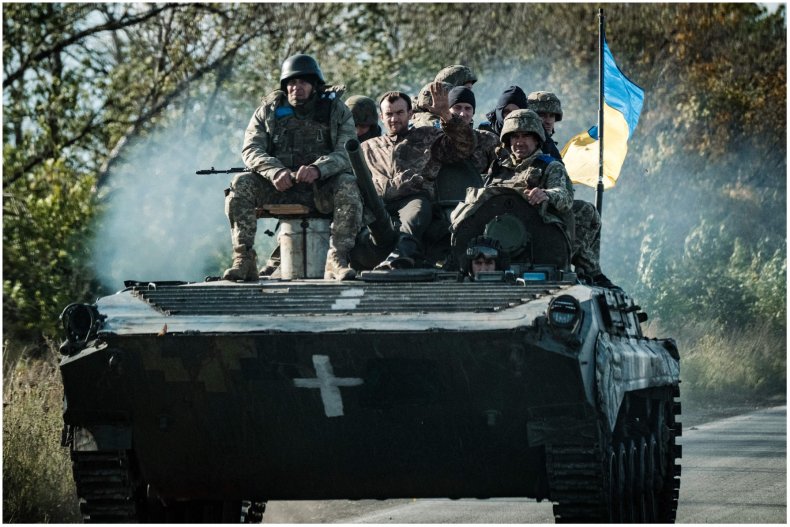 Former Russian Deputy Foreign Minister Andrei Fedorov was among several pundits who expressed concern at the humiliating defeat and said Ukraine could bomb Moscow.
In a video posted to Twitter on Saturday by Julia Davis, founder of Russian Media Monitor, Fedorov said: "Radical changes are taking place because Russia has occupied, or rather annexed, these territories, and because of this Ukraine is starting a war over to liberate these areas. Not some kind of special operation, but a war."
When asked what actions Ukraine might take next, Fedorov replied that Kiev officials could authorize a direct attack deep into Russian territory.
When asked if Moscow could be hit, Fedorov replied: "Yes, of course."
Ukrainian President Volodymyr Zelenskyy has not threatened to bomb Moscow since the outbreak of war at the end of February.
There were others on the podium questioning how the annexation was handled, with commentator Maxim Yusin adding: "Ask everyone here when they're in the makeup room. I think everyone will honestly admit that they don't know whether or not mobilization will help us to change the course of military actions. I don't remember the precedent in world history when areas that we don't even control were included in the country.
He continued: "Things aren't going so well so far. It's easy to say 'after the liberation of Zaporizhia'. Yes, try to liberate it as things are going."
Lyman's liberation also led Chechen leader Ramzan Kadyrov to question whether nuclear weapons should be used to maintain control of the eastern European country.
In an Oct. 1 Telegram post, Kadyrov wrote: "In my personal opinion, more drastic measures should be taken, up to and including the imposition of martial law in the border areas and the use of low-yield nuclear weapons. It's not necessary to make every decision with the Western American community in mind – they've already said that and done a lot against us."
news week has asked the Kremlin, Zelenskyy's office and the Institute for War Studies (ISW) for comments.
Meanwhile, Ukraine has retaken parts of its territory as part of a major counteroffensive that began last month. The sizeable gains forced Putin to order a partial military mobilization of 300,000 reservists in a desperate bid to keep regions in eastern Ukraine under his control.
https://www.newsweek.com/russian-state-tv-stunned-lyman-retreat-say-kyiv-may-bomb-moscow-1748212 Russian state TV is stunned by Lyman Retreat and says Kyiv could bomb Moscow