Russian Troops Take Desperate Measures To Escape Putin's War: Ukraine
Ukrainian officials claim that a Russian soldier said in a wiretapped telephone conversation that his commander shot himself in the leg to get out of the war in Ukraine.
According to The Daily Beast, the man Nikita, who has been identified as a soldier and who spoke to his mother, expressed doubts about the surrender of the Ukrainians in the phone call published by the main intelligence service of Ukraine's defense ministry on Saturday.
"It's not going to end anytime soon. What the hell do I need this for? At 20 years old…I'm not interested in Ukraine at all. I have to come back and resign," he says. "I had a commander… who shot himself in the leg just to get out of here. And that was at the very beginning!"
news week could not independently verify the intercepted call.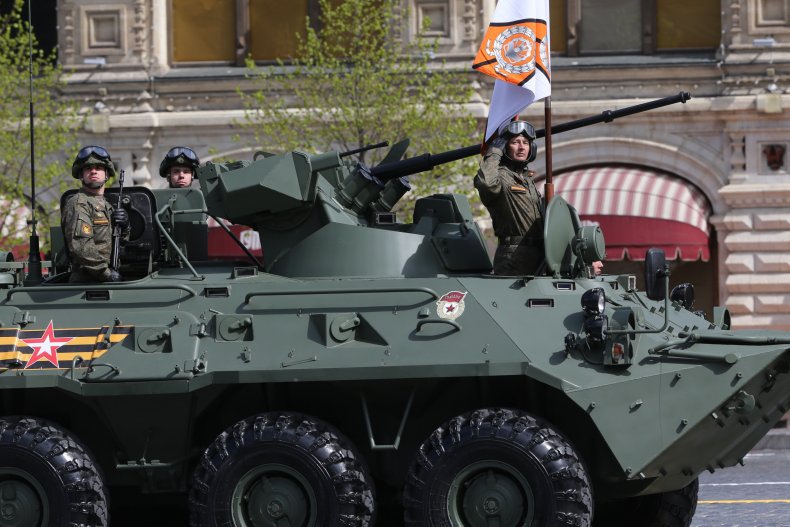 The soldier's mother then says someone has to "defend Russia," reported The Daily Beast, adding, "They're just going to kill us all, it's going to be WW4 and Russia is going to lose!"
The soldier goes on to say that people in his brigade "disappear on their own. Some of them have disappeared without a trace, some have been captured, some are in hiding, some are already in Russia."
The Daily Beast reported that in another intercepted call released on Friday, Ukrainian officials claimed a Russian soldier's wife told him to "fall off a tank" to get out of the war.
"There is no way out," she said. "Otherwise you'll be there by September… They don't swap you out because everyone refuses. You just don't need to shoot yourself in the leg because who the hell knows how that would end up. Or let someone put you on their side hit."
news week has reached out to the Russian Defense Ministry for comment.
In another call allegedly intercepted by the Security Service of Ukraine (SSU) this week from Russian troops, a Russian soldier said the body armor provided to them by the military was "terrible".
In addition, the military administration of the Ukrainian city of Zaporizhia reported this week that Russian soldiers fired on Russian cars to avoid going to Ukraine. "According to locals, the Russian military shot about 20 of their cars in Polohy," the military administration of Zaporizhzhia Oblast wrote on Telegram, "just to avoid going to the front."
Ukrainian officials also said this week that they found Russian military documents that hinted at an earlier plan for a full occupation of Ukraine
https://www.newsweek.com/russian-troops-taking-desperate-measures-escape-putins-war-ukraine-1706695 Russian Troops Take Desperate Measures To Escape Putin's War: Ukraine