Russian TV presenter calls for scrapping Christmas trees and sending money to the army
A Russian TV presenter has called for the money normally used for Christmas trees and decorations to be spent on equipping the country's military.
Sergey Mardan urged officials to scrap winter celebrations as Ukrainian forces continue their push into Russian-held territory. Kyiv's forces have made significant progress in recent weeks, including recapturing the strategically important town of Lyman, alongside numerous towns and villages in eastern Ukraine.
Earlier this week, the bridge connecting the Crimean Peninsula to Russia was largely destroyed in an explosion.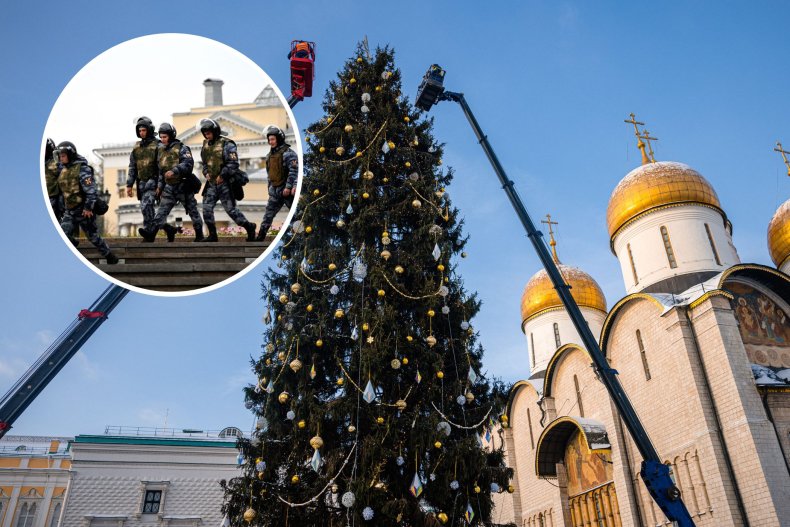 While Kyiv has not claimed responsibility, the blast is a strategic blow for Vladimir Putin that will disrupt Russian operations in the region.
As Ukraine continues to retake territory and a Russian military faces increasing casualties of personnel and equipment, Mardan encouraged citizens to make some sacrifices this holiday season.
According to Russian Media Monitor, Mardan said: "Do we need a loud, festive and beautiful celebration of the New Year 2023, as we are used to, or do we have to do without it? Perhaps this money could be sent to the front lines and spent on buying winter uniforms and thermal imaging equipment?"
The host continued: "Need a beautiful, festive Christmas tree in your city's main square? He will cost at least several million rubles. Do you need garlands that cost tens of millions?
"Will you need these in December 2022? Since the beginning of the military special operation, federal television networks have eliminated entertainment content that they have almost completely eliminated. They deliver non-stop news broadcasts. Isn't that normal? Yes.
"Mayors of certain Russian cities officially said: 'We will not spend municipal budgets on the debauchery known as the New Year in a situation where war is ongoing. If Russia sends to war 300,000 mobilized men who will be taken out of their normal, peaceful situation lives."
He added: "To put it mildly, this is no time for celebration. [It's] not the time for it. Of course, St. Petersburg was preparing for a festive New Year, but this was stopped. People understood that it wasn't the right time and stopped."
On October 7, St. Petersburg officially canceled its traditional Christmas and New Year celebrations. In a statement, the city's governor Alexander Beglov said: "All available funds will go to a special Saint Petersburg [account] Determination of additional gear and equipment for volunteers and mobilized citizens.
news week has asked the Kremlin for comment.
Russian President Vladimir Putin has remained silent after the blast that caused a partial collapse of the bridge connecting Crimea and Russia.
Moscow has not yet assigned blame for the blast, but Russian Foreign Ministry spokeswoman Maria Zakharova said Kiev's "reaction to [the] The destruction of civilian infrastructure is evidence of their terrorist nature."
https://www.newsweek.com/russian-state-tv-host-calls-scrap-christmas-trees-send-money-army-1750174 Russian TV presenter calls for scrapping Christmas trees and sending money to the army