Russian TV pundit admits on Hot Mic that the Kremlin lied about Iranian drones
A Russian official admitted that Russia had used Iranian drones in attacks on Ukraine, despite previous denials from the Kremlin. The expert didn't realize he was on live TV when he made the statements.
BBC Eastern Europe correspondent Sarah Rainsford tweeted a 14-second video of the Russian TV panellist walking to his seat for a TV report.
"Russian Officials: How Dare You Suggest We Use Iranian Drones? Expert not realizing he's already on live TV: We're not going to rock the boat so I'm asking you not to focus too much on the Iranian […] because we all know they are Iranian, but the authorities have not admitted it," Rainsford tweeted with a clip of the video Thursday morning.
Iranian and Russian officials have denied the use of Iranian drones against Ukraine, but both Reuters and The Washington Post reported on Tuesday that Iran had promised to stock Putin with missiles and drones, citing senior Iranian officials and US security officials respectively. The deal was first reached on Oct. 6 during Iran's First Vice President Mohammad Mokhber's visit to Moscow, Reuters added.
Rainsford's tweet had more than 1,500 interactions as of Thursday afternoon.
According to Rainsford, the expert used a Russian joke to get his point across.
"He uses a phrase from a Russian joke about a kid whose parents say there's no such thing as 'bum', so she doesn't use it — but she knows full well she has one," Rainsford tweeted.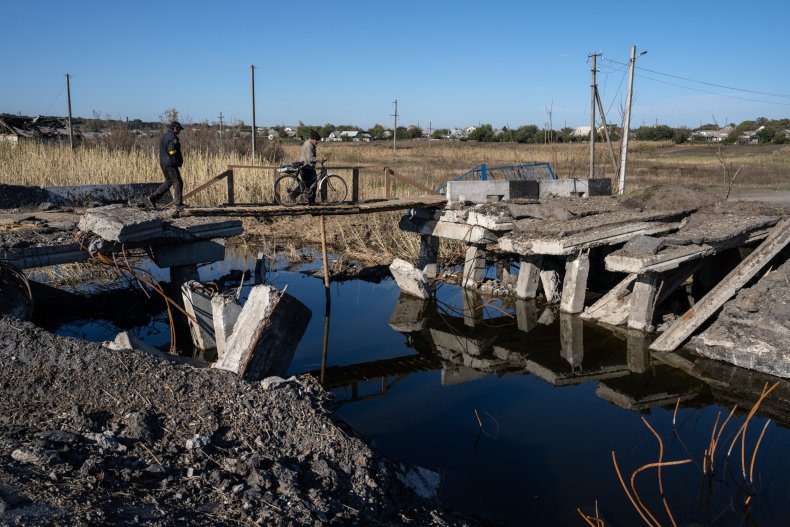 Evidence that Russia is using Iranian drones could lead to an escalation of the conflict, and countries that oppose Russia's actions could impose sanctions on Iran. Michael Kimmage, professor and chair of the history department at Catholic University of America, said news week that the Iranian drones, among other instruments, are mainly used against civilian infrastructure in Ukraine such as the power grid.
When asked about the use of Iranian drones, Russian officials vowed that only Russian equipment was used in the attacks.
"Russian equipment with Russian nomenclature is being used," Russian spokesman Dmitry Peskov said in the Reuters article. "Any further questions should be directed to the Department of Defense."
Ukrainian officials have accused Russia of using the Iranian drones, particularly in attacks on Kyiv. According to Ukraine, Ukrainian forces have shot down more than 200 Iranian "kamikaze" drones since mid-September. The US State Department also confirmed that Iranian drones were used in Ukrainian attacks after conducting an assessment into a Monday attack in Kyiv.
Russian forces have become increasingly aggressive in their attacks. In a televised speech, Russian lawmaker Andrey Gurulyov spoke of attacking civilians to win the war. He called on Russian forces to freeze and starve Ukrainian civilians.
news week has asked the Russian Defense Ministry for comment.
https://www.newsweek.com/russian-tv-pundit-admits-hot-mic-kremlin-lying-about-iranian-drones-1753633 Russian TV pundit admits on Hot Mic that the Kremlin lied about Iranian drones