Russia's Iran-Made Drones 'Fail', Not Live Up to Expectations: Pentagon
Iranian-made drones used by Russian forces in Ukraine have suffered from "numerous battlefield failures," according to a senior US official.
The allegation was made by Sasha Baker, Assistant Undersecretary for Defense Policy at the Department of Defense.
On Wednesday, Baker attended a Ukraine Defense Contact Group meeting in Brussels chaired by William A. LaPlante, Undersecretary of Defense for Acquisition and Sustainment.
Baker told assembled officials that Moscow had sent personnel to Iran so they could learn to use Iranian unmanned aerial vehicles (UAVs), or drones, according to a Defense Department report released on Friday.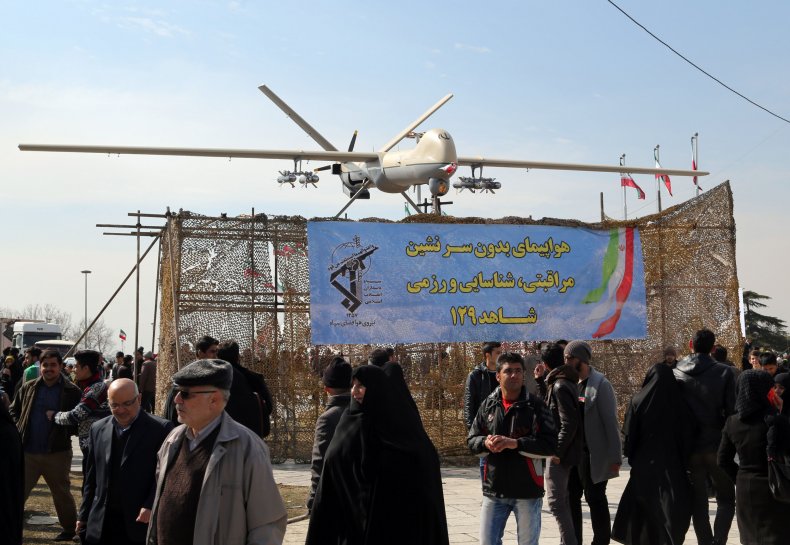 Baker said the search for Iranian aid was a sign of Russian "desperation" as the addition of sanctions and export controls had created major supply problems for Putin's forces.
Adding that the Russians have already had problems with their Iranian-made drones, Baker said, "We have already seen some evidence that the UAVs associated with the transfer from Iran have already experienced numerous battlefield failures."
In July, National Security Advisor Jake Sullivan said Russian defense officials had visited Iran to buy drones.
Ukraine said it shot down an Iranian-made drone for the first time on Sept. 13, with the UAVs blamed for a series of attacks on Ukrainian targets throughout the month.
The Eastern European country also said at the time that a Russian reconnaissance drone had been destroyed in Mykolaiv. Several howitzers, tanks and armored vehicles were also reportedly destroyed, while Ukraine said it killed at least 27 Russian soldiers. news week has not independently verified Ukraine's claims.
According to the Ukrainian military, the Russians are using Iranian Shahed-136 munitions, also known as Kamikaze drones, along with Mohajer-6 drones capable of airstrikes or reconnaissance.
Late last month, the Air Force Command of the Ukrainian Armed Forces shared on Facebook that it shot down four Shahed-136 drones over the southern Mykolaiv region, but admitted other drones managed to hit Kryvyi Rih and Ochakov without incurring any casualties cause.
"The enemy continues aerial reconnaissance using UAVs, and also activates airstrikes using Iranian Kamikaze Shahed-136 drones. In this way, the port infrastructure of Ochakov was hit again. One of the two attacking drones was shot down by our units, the other hit a harbor tugboat. Firefighters immediately extinguished the fire. There are no injuries," the Facebook post said.
It continued: "Another kamikaze drone Shahed-136 attacked Kryvyi Rih. As a result of the impact on a two-story non-residential building, a fire broke out, which was immediately extinguished. There are no injuries."
In response to the provision of drones, the US imposed sanctions on three Iranian drone companies early last month.
Brian E. Nelson, Treasury Department undersecretary for terrorism and financial intelligence, said in a news release that the US "will not hesitate" to target UAV manufacturers that contribute to terrorist proxies in the Middle East and regional destabilization.
However, in conversation with news week Last month, Alex Vatanka, director of the Iran program at the Middle East Institute, said he "very much doubts" the sanctions will be effective.
"This is the basic reality: the US has imposed over a thousand sanctions on Iranian individuals and entities," he said. "There is not much the US can sanction to change Iran's overall approach. Drones are classified as Iranian misconduct or non-compliance with US sanctions against Russia."
news week contacted the Russian Defense Ministry for comment.
https://www.newsweek.com/russias-iran-made-drones-failing-not-meeting-expectations-pentagon-1748147 Russia's Iran-Made Drones 'Fail', Not Live Up to Expectations: Pentagon