Russia's losses in Ukraine exceed 100,000
More than 100,000 Russian soldiers have been killed in Ukraine since the invasion of Moscow began on February 24, according to daily updates from the Ukrainian government.
On Wednesday, 600 Russian soldiers were killed in Ukraine, bringing the total Russian death toll to 100,400.
This means that Russian forces have lost an average of about 10,000 soldiers killed every month since February. The conflict since February was Russia's deadliest war since World War II.
The total, determined by the Ukrainian military on Wednesday, included another Russian plane, a tank and seven vehicles.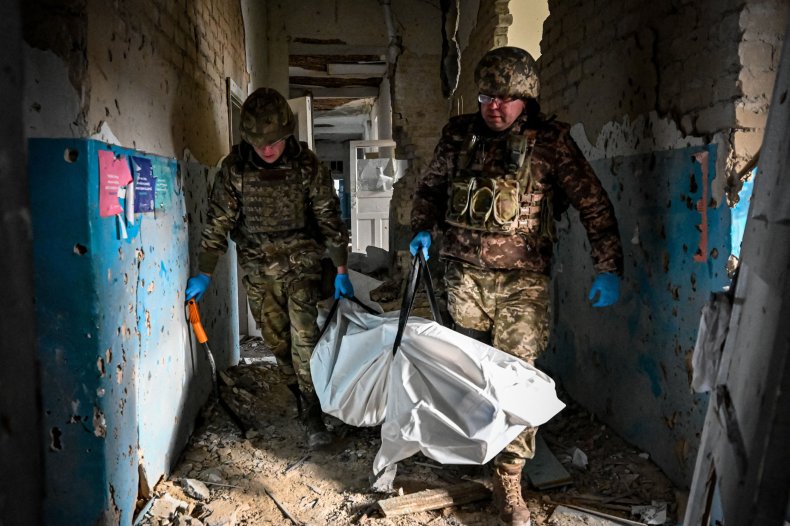 Russia does not routinely release figures on troop losses or equipment losses. Moscow has so far confirmed the deaths of fewer than 6,000 soldiers, plus fewer than 4,000 additional fighters from Russia's puppet "people's republics" that established the occupied Donetsk and Luhansk oblasts after the 2014 invasion.
news week has contacted the Russian Ministry of Defense for comment.
Ukraine is equally mindful of its own military casualties. So far, Kyiv has only allowed 13,000 deaths since February 24.
Ukraine's supporters abroad have shed a little more light on Kiev's potential losses. General Mark Milley, chairman of the Joint Chiefs of Staff, and European Commission President Ursula von der Leyen have pointed to a total of around 100,000 Ukrainian casualties, although this could include military and civilian deaths as well as wounded.
Winter has slowed hostilities on the southern and eastern fronts, but heavy fighting continues around the Donetsk town of Bakhmut, where Moscow appears determined to claim a largely symbolic victory despite significant casualties.
President Volodymyr Zelenskyy visited the city on Tuesday and called on the "heroes" fighting there to "maintain perseverance". The President added: "History remembers only the victors, the strong and the brave."
President Vladimir Putin, meanwhile, hopes hundreds of thousands of mobilized troops can plug the holes in Russia's lines and prepare his forces to resume offensive operations in 2023.
Putin acknowledged this week that the situation in the Russian-held areas of Ukraine is "extremely difficult".
Ukrainian leaders have warned that Moscow could try to open a new front along the Belarusian-Ukrainian border and speculated that Putin's visit to Minsk this week was the latest step in an attempt to persuade Belarusian counterpart Alexander Lukashenko to to send his own troops across the border.
Such a step would be risky, experts suspected. A Russo-Belarusian invading force pushing south into Ukraine would face the same problems – and perhaps the same heavy casualties – as the group that attempted to capture Kyiv in the spring.
The defeat of a Belarusian force could also prompt a resurgence in the pro-democracy mass movement that nearly toppled Lukashenko in 2020.
The pace of combat is expected to pick up in January when frozen ground allows for new mechanized offensives.
Both Ukraine and Russia are believed to be planning their own operations, with Kyiv likely focusing on the occupied southern corridor stretching from Zaporizhia through occupied Melitopol to the Azov Sea coast and Crimea.
https://www.newsweek.com/russia-losses-ukraine-surpass-100k-casualties-killed-wounded-captured-mobilization-1768805 Russia's losses in Ukraine exceed 100,000